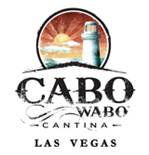 WATCH UFC 141: LESNAR VS. OVEREEM LIVE AT CABO WABO CANTINA
Catch the Full Fight Card at Sammy Hagar's Cantina Friday, December 30
It will be a battle between two of the biggest heavyweight names in the UFC, as Brock Lesnar takes on Alistair "The Reem" Overeem in the main event of UFC 141, live from Las Vegas on Friday, Dec. 30. Cabo Wabo Cantina in Miracle Mile Shops at Planet Hollywood Resort & Casino is the place to be on the Strip to catch all of the action.
Admission to the viewing party is $30 and includes access to Cabo Wabo's viewing party where UFC enthusiasts can catch the heavyweight fight on a large projector screen, as well as multiple high-definition televisions throughout the restaurant and bar. While guests cheer on their favored fighters, they may also enjoy the cantina's killer margaritas and tasty Mexican fare.
Doors open at 5 p.m. and include the showing of all matches leading up to the main event. For more information or to reserve a seat, guests may contact Cabo Wabo Cantina at 702.385.2226 or visit www.cabowabocantina.com.
Sammy Hagar's hard rockin' dining and live music venue Cabo Wabo Cantina combines the laid back beach-town vibe of Cabo San Lucas, Mexico, with the excitement of the Las Vegas Strip. Blending coastal Mexican and Tex Mex cuisine, the menu offers a tantalizing mix of flavorful food, killer margaritas and an awesome venue where it is never uncommon to catch the red rocker himself jamming out with a live set on stage. Cabo Wabo Cantina opens daily at 11 a.m., with live entertainment on Friday and Saturday nights from 9:30 p.m. until close. For more information about Cabo Wabo Cantina, visit www.cabowabocantina.com or call 702.385.2226. For more information about Hagar and his famous Cabo Wabo Tequila, visit www.redrocker.com  and www.cabowabo.com . Be sure to follow Cabo Wabo Las Vegas on Twitter @CaboWaboLV and become a fan on Facebook at www.Facebook.com/CaboWaboLasVegas .
About Miracle Mile Shops:
Miracle Mile Shops at Planet Hollywood Resort & Casino is a 1.2 mile retail/entertainment complex at the heart of the famed Las Vegas Strip featuring 170 specialty stores, 15 restaurants and three live entertainment venues. The center is home to PBR Rock Bar & Grill, boasting a Strip-side location with excellent food, drinks and bull riding; H&M; Sugar Factory, the sweet shop adored by Hollywood's hottest celebrities; American clothing line and complete lifestyle brand Original Penguin; GUESS; Urban Outfitters; True Religion Brand Jeans; 15,000-square-foot bar and restaurant Cabo Wabo® Cantina; Las Vegas' very own Sin City Brewing Co.; Club Tattoo, featuring some of the best tattoo artists and body piercers in the nation; the only House of Hoops by Foot Locker in the city; as well as a multi-million dollar fountain show. Miracle Mile Shops is owned by David Edelstein and Aby Rosen, in conjunction with leasing and marketing consultant Robert K. Futterman & Associates LLC.
Miracle Mile Shops is open 10 a.m. – 11 p.m. Sunday – Thursday and 10 a.m. – midnight Friday – Saturday. For more information, call (888) 800-8284 or visit www.miraclemileshopslv.com.  Keep up with the latest Miracle Mile Shops news via Facebook, Twitter and YouTube.