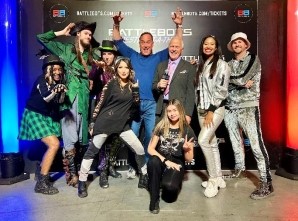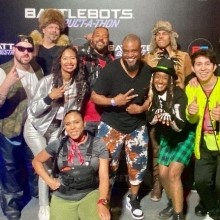 L to R: Matt Iseman (Pictured Center) Poses with The "DESTRUCT-A-THON" Cast;
Faruq Tauheed (Pictured Center) Poses with the "DESTRUCT-A-THON" Cast.
(Photo Courtesy of BattleBots)
BATTLEBOTS "DESTRUCT-A-THON" WELCOMES TV STARS
MATT ISEMAN, FARUQ TAUHEED
WHAT:
"BATTLEBOTS: DESTRUCT-A-THON," the live robot-combat experience inspired by the TV show, recently welcomed TV stars Matt Iseman and Faruq Tauheed to the BattleBots Arena.
On Friday, May 5, "DESTRUCT-A-THON" welcomed three-time Emmy Award-nominated "American Ninja Warrior" host Matt Iseman. He spent time watching robot-on-robot combat and posed with the show's cast. On Friday, April 21, Faruq Tauheed, the renowned ring announcer for the globally-recognized BattleBots TV series, also watched a "DESTRUCT-A-THON" show. During the experience, Tauheed, in his formidable, booming voice for which he is famous, announced to the "DESTRUCT-A-THON" crowd, "It's robot fighting time!"
WHERE:
BattleBots Arena
4165 Koval Lane
Las Vegas, NV 89109
ABOUT BATTLEBOTS: DESTRUCT-A-THON
"BATTLEBOTS: DESTRUCT-A-THON" is the live experience inspired by the drama, action and destruction of the TV series, condensed into an intense, fast-moving, 75-minute theater show. All the fights that take place during "BATTLEBOTS: DESTRUCT-A-THON" are real, and no one—not even the drivers—know which robot will be victorious each night. Each show is full of shocks, surprises and the kind of robot carnage for which BattleBots is famous. Each show consists of five to six one-on-one robot battles—the results of which are not only unpredictable but also sure to be chock full of surprises as the bots and their weapons—such as deadly spinning blades that can slice through steel like butter and flame throwers that can shoot fire six feet into the air—take over the arena. Guests can also marvel at the spectacle of 300 pound robots—the weight of an NFL lineman—or parts of robots soaring more than 16 feet in the air. DESTRUCT-A-THON" robots include many of the most famous which have delighted millions of fans all over the world. With names such as Witch Doctor, Kraken, Mammoth, HyperShock, Ginsu, Malice, Nightmare, Overkill, Tazbot and Whiplash – the lineup also includes new robots created specifically for the live show. Las Vegas audiences will have the unparalleled chance to see new robots, Chopper and Diablo, before they are featured on the TV series.
ABOUT BATTLEBOTS
BattleBots is the world leader in the fast-growing sport of robot fighting. For more than 20 years, BattleBots has brought its unique mix of metal mayhem, flames, explosions and high drama to its passionate fans around the world. Created by Edward (Trey) Roski and Greg Munson and now seen in over 150 countries, the sport has over 10 million followers on social media, as well as tens of millions of television viewers. For more information, go to www.battlebots.com, or follow on Facebook, Instagram, Twitter, TikTok and YouTube.
Summary
Article Name
BattleBots "DESTRUCT-A-THON" Welcomes TV Stars Matt Iseman, Faruq Tauheed
Description
BattleBots "DESTRUCT-A-THON" Welcomes TV Stars Matt Iseman, Faruq Tauheed