UNLV SELECTS CARMELITA JETER TO LEAD ITS TRACK & FIELD AND CROSS COUNTRY PROGRAMS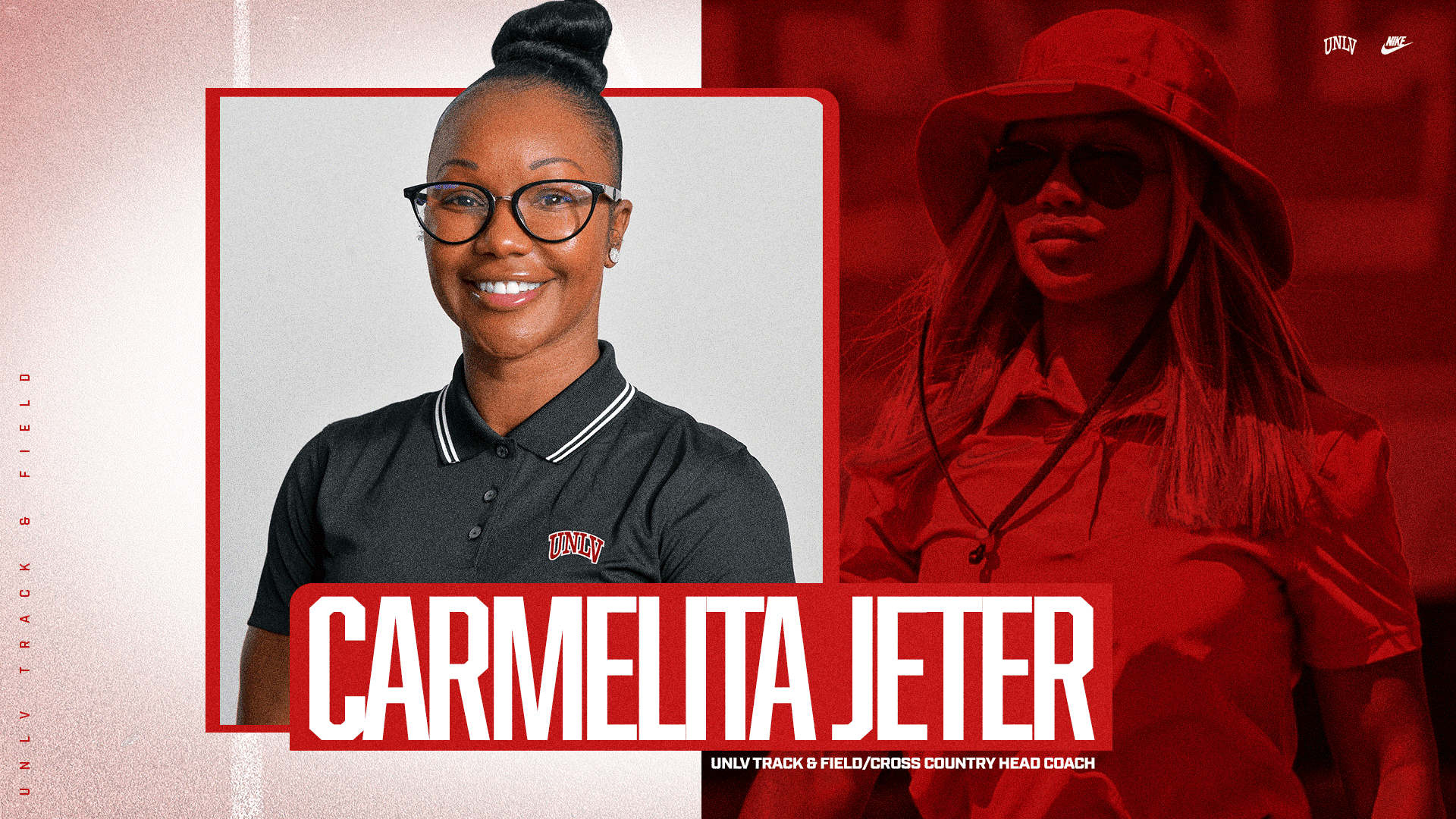 Former Olympic Champion comes to Las Vegas after coaching at national powers USC and Alabama
Carmelita Jeter (JETT-er) has been named the new head coach of the track & field and cross country programs at UNLV, Director of Athletics Erick Harper announced on Thursday. Jeter, a former Olympic Champion, comes to Las Vegas after serving as assistant coach at USC for the last two years. She has also coached at Alabama, Missouri State and Cal State Dominguez Hills. "We are excited to welcome Coach Jeter to the Rebel Family," Harper said. "She has proven to be an exceptional coach and we look forward to her growth as a head coach to take our program to the next level.
Coach Jeter's experience as a world-class sprinter will undoubtedly provide a great opportunity to recruit some of the best track & field/cross country talent to UNLV. Our program has had success in the past and we believe that Coach Jeter will lead us back to the top of the Mountain West and beyond. Throughout the hiring process she demonstrated her determination, dedication and commitment to winning, while illustrating the importance of mentoring our young ladies to achieve their respective goals." At USC, working with the sprinters, she coached the first men's 60-meter NCAA Champion in the school's history.
Additionally, the men's 4x100m relay NCAA Champion set school records under her watch, and one of her student-athletes set the school record in the women's 60m. In all, 12 student-athletes that she coached at USC have earned All-America honors. "I would like to thank UNLV President Keith Whitfield and Director of Athletics Erick Harper for their confidence in me and for selecting me to lead this program," Jeter said. "It is an incredible honor to become the head coach of track & field and cross country at UNLV. "I would also like to thank Coach Quincy Watts and the administration at USC for entrusting me with recruiting and developing the team's amazing athletes. Being a part of USC's staff has been an important part of my professional development."
During her first season with the Trojans, the men's 4x100m relay team ran three of the top four times in school history. She also coached two athletes who placed No. 2 in the all-time USC record books in both the women's and men's 100m dash. As an athlete herself, Jeter earned one of each Olympic medal at the 2012 London Games, earning a silver in the 100m, a bronze in the 200m and a gold in the 4x100m for the USA in world-record fashion. She is also an eight-time medalist in the sprints and relays at the World Championships. Known as "The Jet," she is the second-fastest American woman sprinter of all-time with a personal best of 10.64 set in 2009, also ranking fourth in the world. Prior to her time at USC, she served as the sprints coach at Alabama during the 2021-22 season.
Prior to that, she spent two seasons on the Missouri State track & field coaching staff. While at MSU she was promoted from assistant coach to associate head coach. From 2016 to 2017, Jeter was sprints and hurdles coach at her alma mater, Cal State Dominguez Hills. She has been a certified Level 1 professional track coach since 2017, helping emerging athletes reach their potential with her own company, TeamJet, LLC. Jeter began her coaching career in 2004 as the track & field coach at Bishop Montgomery High School in Torrance, California, where she also served as assistant athletic director. She graduated from the school in 1998. She earned her bachelor's degree in physical education from Cal State Dominguez Hills in 2006 where she earned six All-America honors, set five school records and became the university's first U.S. Olympic Trials qualifier. She later earned her master's degree in sports management from Missouri State in 2020. Jeter was awarded an Honorary Doctor of Humane Letters degree in 2019 by CSUDH and the California State University Board of Trustees in recognition of her incredible athletic achievements, her continued contributions to the sport of track & field, her dedication to her community and her success as a speaker and businesswoman.
Summary
Article Name
Carmelita Jeter Selected To Lead Track & Field/Cross Country Programs
Description
Carmelita Jeter Selected To Lead Track & Field/Cross Country Programs