CIRCA SPORTS REVEALS DETAILS ON NEW SPORTSBOOK OPENING AT LEGENDS BAY CASINO THIS SUMMER
Upon Opening, Northern Nevada Residents and Visitors Can Enter Circa Sports' $12 Million, No Rake 2022-2023 Pro-Football Contests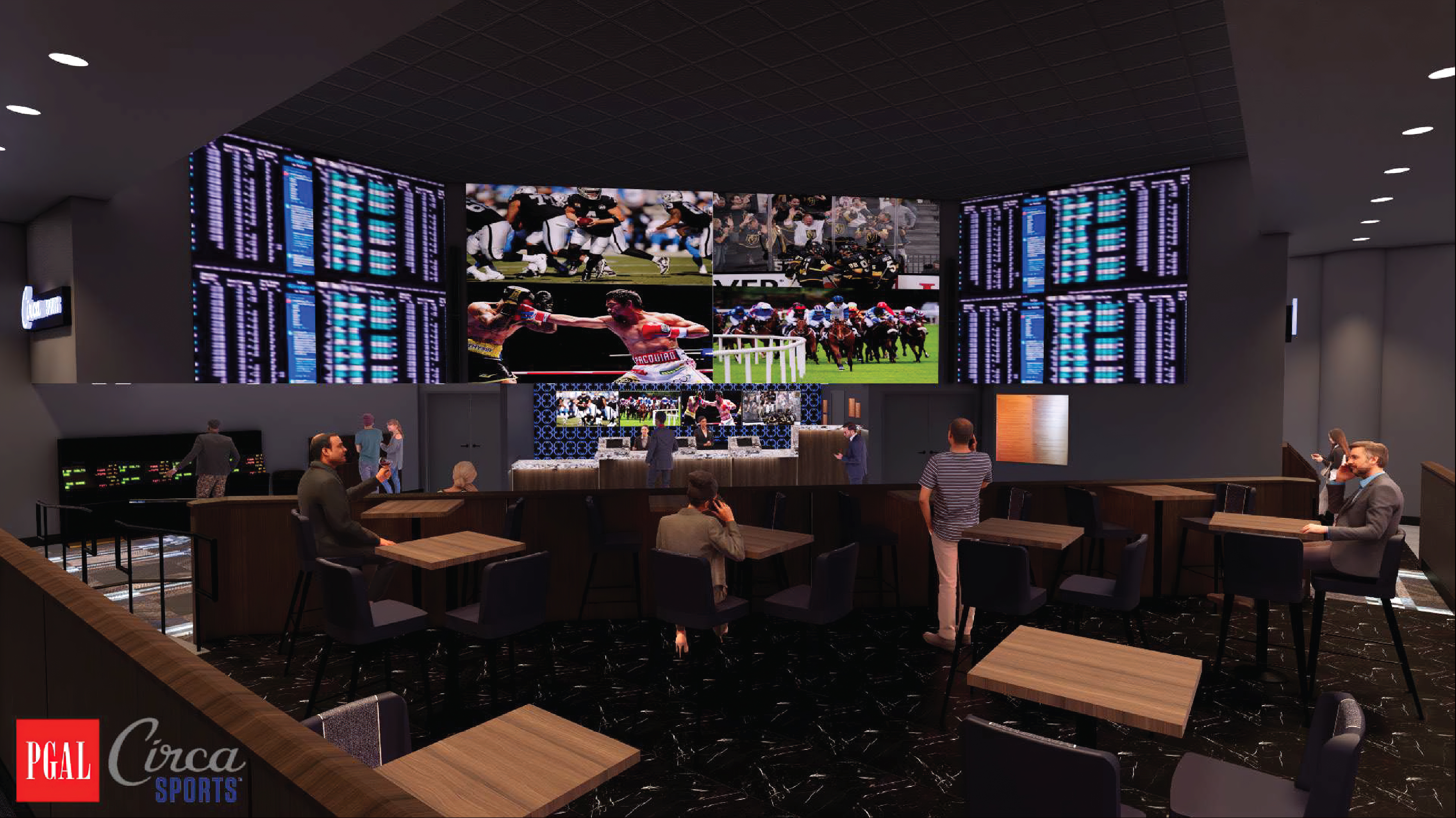 Las Vegas-based sports betting brand Circa Sports is revealing details for its first northern Nevada sportsbook, coming to Olympia Gaming's new Legends Bay Casino in Sparks this summer. Circa Sports will bring an ultramodern and technology-forward sportsbook to the city, as well as a leadership team consisting of the industry's top oddsmakers and a menu featuring some of the best odds in the country.
Upon opening, bettors in the area also will be able to enter Circa Sports' record-breaking pro-football contests Circa Million IV and Circa Survivor, promising its largest guaranteed payout ever of $12 million, no rake.
"Our team searched for a long time to find a great location for our first northern Nevada outpost, and we have found the perfect fit with Legends Bay," said Derek Stevens, CEO of Circa Sports. "The Circa Sports team is honored to be a part of Legends Bay and the exciting new concepts it is bringing to the area. We're proud to become a part of the community and eager to introduce our brand of hospitality to the market."
Promising guests one of the most approachable betting scenes, Circa Sports is defined by incredible customer service, as well as an unrivaled team of experts leading the charge. This includes a diverse menu of wagering options and the option to take custom bets from the public. The betting brand is now available to bettors in five properties across Southern Nevada – including the brand's flagship location: the world's largest sportsbook at Circa Resort & Casino in Las Vegas – via mobile betting offerings in Colorado and Iowa, and soon in a temporary book in Waukegan, Ill.
"We are so proud to partner with Derek Stevens and the entire Circa Sports team to bring a sports betting experience that will be unlike any other in town, " said Garry Goett, Chairman and CEO of Olympia Companies. " Circa Sports at Legends Bay Casino will offer the highest limits, the best odds, and the biggest contests. Bettors will enjoy the modern, immersive technology, the largest crisp hi-def screens, and reserved booths. We can't wait to open the doors."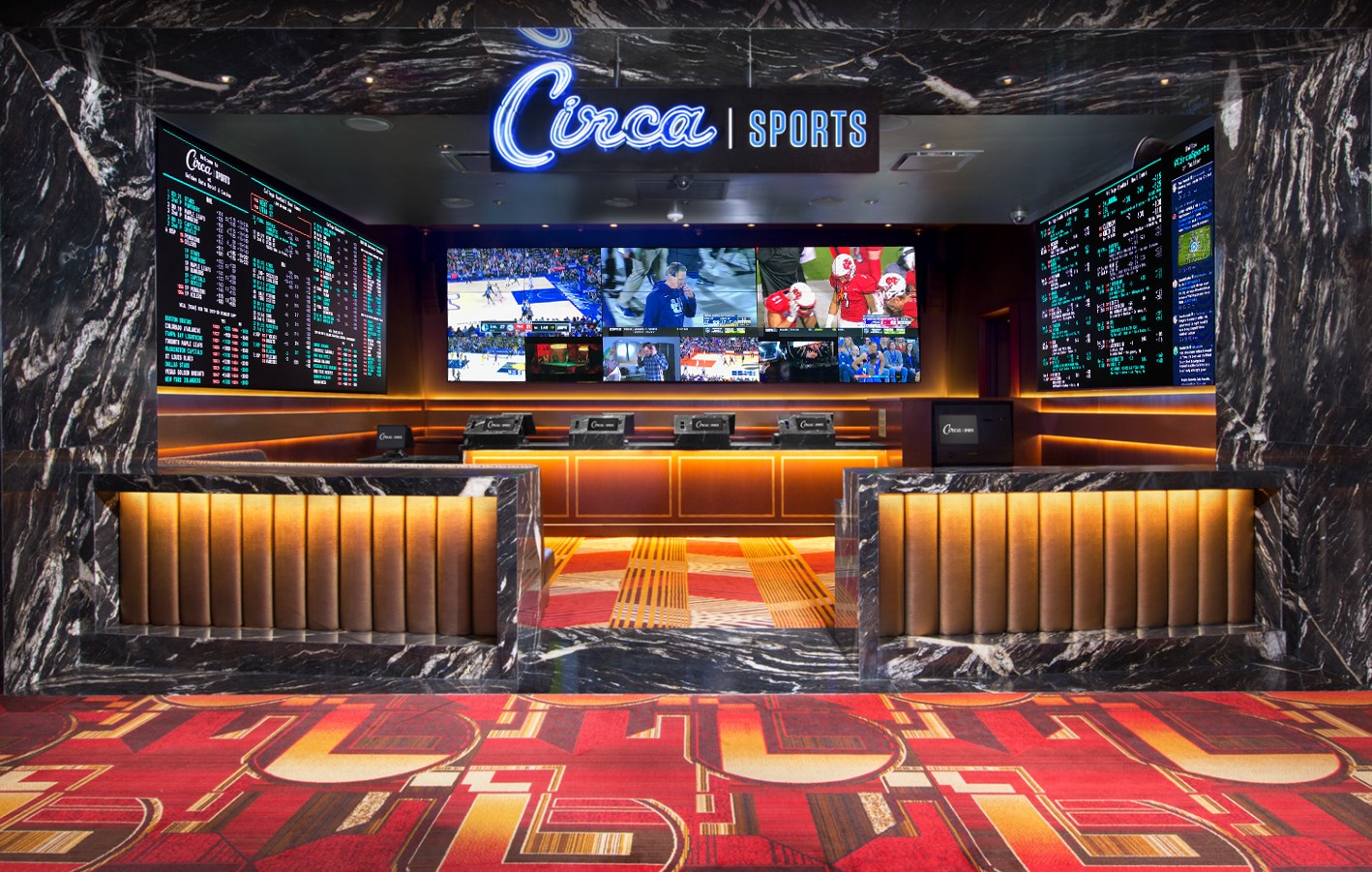 Design
Circa Sports at Legends Bay will be open from 8 a.m. to 10 p.m. and will boast a 10-by-15-foot Daktronics video board displaying live odds and six of the day's hottest games. The biggest events in sports will always be broadcasted, including the full Sunday football lineup.
With a capacity of nearly 140, the venue will feature multiple 60-inch TVs and a variety of seating options, including:
Stadium-Style – 18 comfortable, stadium-style seats in the front rows of the sportsbook
Banquette Booths – Six banquette booths will be able to fit up to 24 people
Table-Top – 10 high-top tables can hold two people each plus two ADA style tables
Bar-Style – Additional seating behind the high-top tables will feature video poker machines and overlook the sportsbook
Each seat will include USB and power outlets for guests' convenience. During their visit, guests can order a variety of gameday bites or libations. Three ticket counters and an ADA window will be open for bettors to place bets, register for the sports betting app, make deposits/withdrawals and more.
Circa Million IV and Circa Survivor Contest
Circa Million IV and Circa Survivor will take entries through September 10 at Legends Bay, either in person or via proxy beginning the opening day of the book. Details on the contests are as follows:
Circa Million IV
Circa Million IV will deliver $6 million in guaranteed total prizes, with a $1 million first place prize that comes with a coveted, handmade Circa Sports blue jacket. The contest includes no rake, and any extra fees go into the quarter and full-season prize pools.
$3.65 million will be allocated amongst places two through 100 and $300,000 of prizes per quarter will be awarded every four to five weeks. The last place booby prize winner will receive $100,000 and second to last place booby prize winner will receive $50,000.
Each player will make five professional football picks against the spread each week. One point will be awarded for each correct selection and one-half point for each push. Each entry for Circa Million IV is $1,000, with a maximum of three entries per person.
Circa Survivor
Circa Survivor will offer a $6 million payout for the last entry standing. A $1 million undefeated bonus prize will be gifted for any entry that goes 20-0. To be eligible for this bonus prize, an entrant must not choose either of the teams that played in the 2022 Big Game.
Circa Survivor will consist of up to 20 legs throughout the year, one for every week of the football season plus two special weeks. Each week, participants will choose one different team to win straight up, but the player cannot pick the same team twice for the duration of the season. Thanksgiving and Christmas will each be considered their own contest weeks. Entries are $1,000 each, with a maximum of six entries per participant. An entrant can purchase up to six additional entries if they lose their original entries on the opening Thursday Night Football game. An entrant cannot go into the Saturday deadline with more than six active entries.
Entries are eliminated from the contest by selecting a team that subsequently loses or ties its game that week. If more than one entry remains after 20 legs, the pool will be split equally amongst all the entries that successfully submitted a selection during the leg. If an entry wins before the 20th leg of the contest, the winner will have the opportunity to continue making selections each week to try and achieve the 20-0 record.
An opening date for Legends Bay will be announced in the coming weeks.
About Circa Sports
Helmed by casino owner and downtown Las Vegas developer Derek Stevens, Circa Sports is blazing a new trail in the gaming industry by combining customer-first approach to business with a team of the country's top oddsmakers. Circa Sports boasts one of the most competitive wagering menus in Las Vegas and is a leader in the city for sports futures. The venture currently operates in the world's largest sportsbook at Circa Resort & Casino, as well as sister properties Golden Gate Hotel & Casino and the D Las Vegas. Stevens launched his first Las Vegas books outside of his downtown properties at Tuscany Suites & Casino and The Pass Casino in Henderson. Additionally, Circa Sports' mobile app is available in Colorado and Iowa. This summer, the brand will launch a sportsbook at the new Legends Bay Casino in Sparks, Nev.
About Olympia Gaming
Olympia Gaming is the gaming development division of Olympia Companies, whose subsidiaries and related entities include Casino Fandango in Carson City and Legends Bay Casino in Sparks, opening in summer 2022. In addition, through its affiliated companies, Olympia owns the Courtyard by Marriott hotel in Carson City and co-owns the Hampton Inn and Suites, and Residence Inn hotels in Sparks. For more information, visit Olympia Gaming.
About Legends Bay Casino
Building upon Olympia's success in Carson City, Legends Bay Casino will feature the latest slots and table games, northern Nevada's only Circa Sports | Sportsbook, several original dining and bar concepts, as well as seamless access to the open-air shopping and dining at The Outlets at Legends and the adjacent Sparks Marina. For more information, visit Legends Bay Casino.
Summary
Article Name
Circa Sports Reveals Details on New Sportsbook Opening at Legends Bay Casino This Summer
Description
Circa Sports Reveals Details on New Sportsbook Opening at Legends Bay Casino This Summer