GO BLUE FOR WORLD AUTISM DAY 
AND AUTISM AWARENESS MONTH
The Collaboration Center Foundation to Host Las Vegas' Largest Autism and Developmental Disability Resource Fair and Family Fun Night on April 2
WHAT:
Autism now affects a staggering one in 44 children and youth, and is on the rise of being diagnosed as a co-occurring condition with other disabilities. In recognition of Autism Awareness Month in April and World Autism Day, the Collaboration Center Foundation is hosting Blue Light Night, a free resource fair at the Collaboration Center at LV Ranch as well as a magical blue lighting of the ranch and a family fun evening complete with special characters, carnival games, petting zoo, food trucks and more.
WHO:
Collaboration Center is a total destination for community inclusion, focused upon family and peer engagement, social interaction, recreation, therapy and education to enhance the lives of those touched by Intellectual, Developmental and Physical Disabilities (ID/DD/PD) of ALL ages. The organization recently broke ground on Phase One of their renovation of the center that will feature more than 23,000 square feet of treatment and therapy space for community partners to operate, which will include a developmental pre-school, treatment facilities, educational classrooms, a medical and mental health clinic, an autism assessment clinic, an adaptive exercise gym, a new grab and go café, a full garden, tortoise habitat, outdoor amphitheater for community gatherings and much more.  Blue Light Night will be the last event at LV Ranch before the work begins.
The Resource Fair includes various community organizations including NEAT Services, Boys Town Nevada, Grant a Gift Autism Foundation, Christopher Smith Foundation and Down Syndrome Organization of Southern Nevada.  The event is sponsored by Brownstein, SilverSummit Healthplan and Focus Mental Health Solutions.
WHEN:
Saturday, April 2
5 p.m. Resource Fair and activities begin
7 p.m. Official Lighting Ceremony
7:30 p.m. Event concludes
WHERE:
Collaboration Center Foundation at LV Ranch
8390 W. Windmill (between Durango and Cimarron on the north side of the road)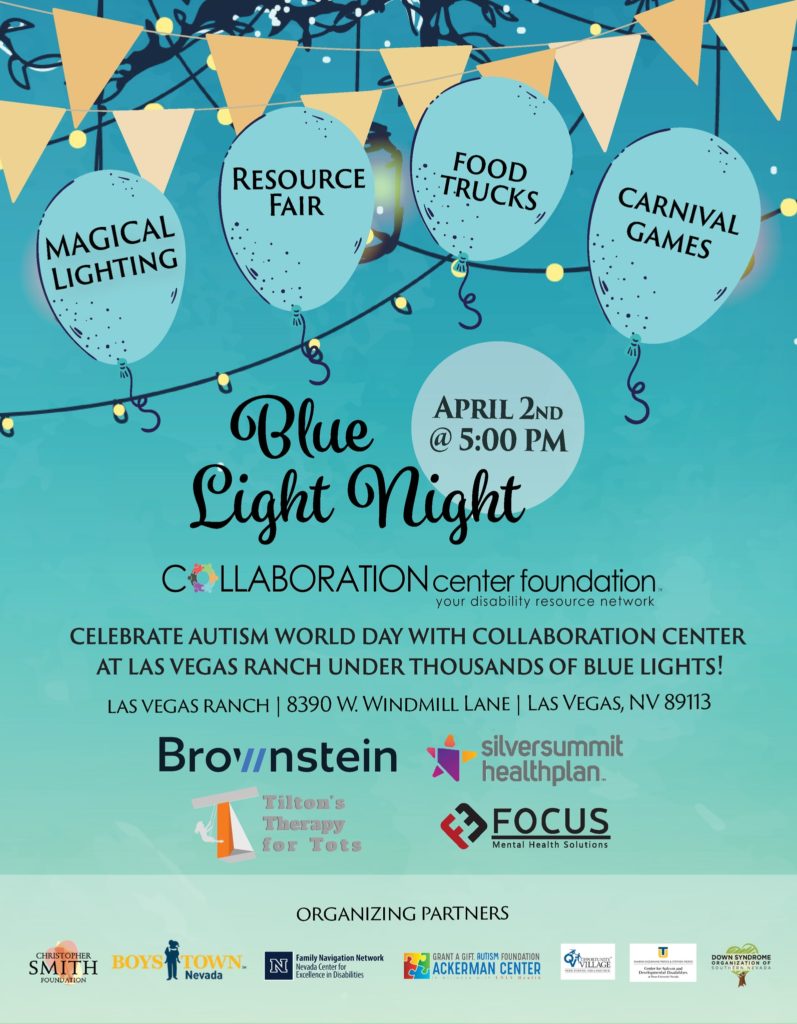 About Collaboration Center Foundation
Collaboration Center Foundation was established in February 2019, to serve and support the lives of families and individuals living with Intellectual, Developmental and Physical Disabilities of all ages. Its main purpose is to create the largest disability resource network in Nevada that will help every individual and family in need of disability services get connected to the best resources for their needs, while creating a safe campus community that meets families where they are and promotes health and wellness, physical and mental health and strong supportive relationships. CCF's core concept, Pathways, helps individuals and their families access care and support systems through a unique, concierge case management approach. 2022 will see the foundation's campus come to life where they can engage with therapy, support, peer groups, family support, recreation and more, all under one roof.
For Collaboration Center Foundation information, call (702) 329-3208, visit www.collablv.org or follow on social media @collaborationlv.
Summary
Article Name
Collaboration Center Foundation Hosts Blue Light Night for Autism Awareness on April 2
Description
Collaboration Center Foundation Hosts Blue Light Night for Autism Awareness on April 2