DOWNTOWN SUMMERLIN® ANNOUNCES RETURN OF SPECIAL HOLIDAY APPEARANCE BY WORLD-RENOWNED BUDWEISER CLYDESDALES
Saturday, December 3 during 6 p.m. Holiday Parade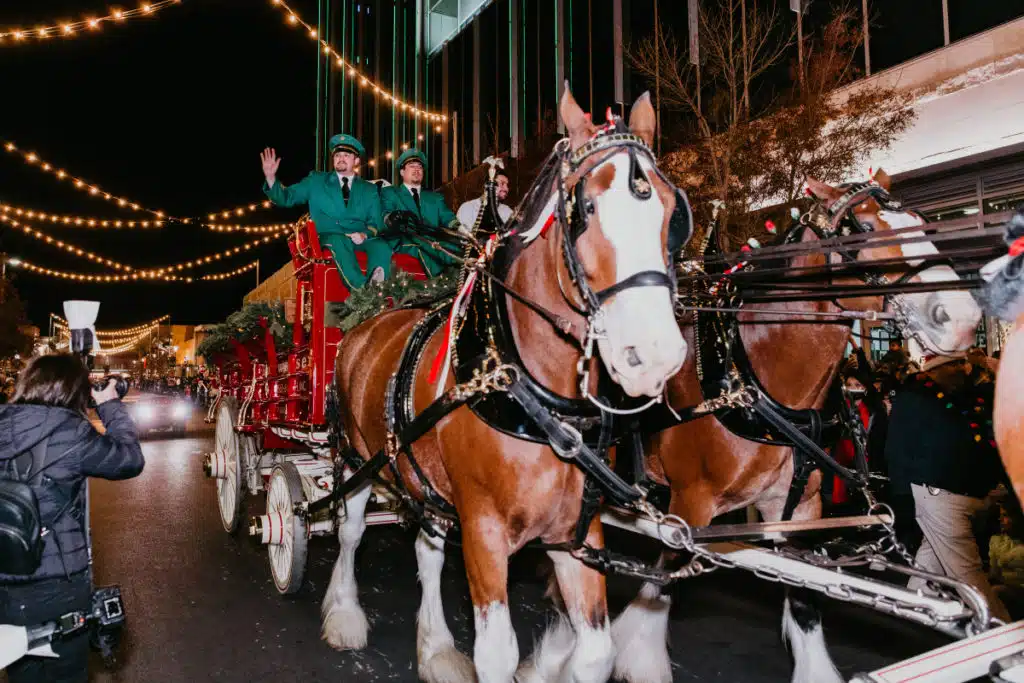 WHAT: Downtown Summerlin® a development of The Howard Hughes Corporation® located in the heart of the Summerlin® master planned community, announces a special appearance by the world-renowned Budweiser Clydesdales who will Grand Marshall the Holiday Parade at 6 p.m. on Saturday, Dec. 3.
The iconic team features eight horses pulling the famous red, white, and gold beer wagon carrying two traditionally clad drivers and a Dalmatian coach dog.
Starting at 4 p.m. on Saturday, Dec. 3, guests are welcome to head to a designated public viewing area in the Northwest parking lot at Downtown Summerlin to get and up-close look, snap a photo with the iconic Clydesdales and enjoy an ice-cold Budweiser for purchase until 5:30 p.m.
The public viewing area and annual Holiday Parade are both complimentary experiences.
DID YOU KNOW:
Each of the Clydesdales' handcrafted harnesses and collars weigh approximately 130 pounds.
The Budweiser Clydesdales are given short names, such as Duke, Mark and Bud, to make it easier for the driver to give commands to the horses during a performance.
Budweiser Clydesdales' horseshoes measure more than 20 inches from end to end and weigh about 5 pounds.
Dalmatians were known as coach dogs because they ran between the wheels of coaches or carriages and were companions to the horses. Since the 1950s, Dalmatians have traveled with the Budweiser Clydesdales hitch, perched atop the wagon proudly seated next to the driver.
The turn-of-the-century beer wagons have been meticulously restored and are kept in excellent condition. The wagons are equipped with two braking systems: a hydraulic pedal device that slows the vehicle for turns and downhill descents, and a handbrake that locks the rear wheels when the wagon is at a halt.
WHEN: Saturday, December 3
4 p.m. – 5:30 p.m. Public viewing area located in the Northwest parking lot of Downtown Summerlin for an up-close look to snap photos with the Clydesdales and enjoy an ice-cold Budweiser. *Viewing based on first-come, first-served basis.
6:00 p.m. – Watch the Clydesdales Grand Marshall the Downtown Summerlin Holiday Parade on Park Centre Drive.
WHERE: Downtown Summerlin
Las Vegas, NV 89135
About Downtown Summerlin®
Downtown Summerlin is part of a planned urban center, serving the entire Las Vegas Valley. It includes retail, entertainment/sports, office, hotel and multi-family residential elements, all designed to create a vibrant, walkable urban core within the award-winning 22,500-acre Summerlin® master planned community. Downtown Summerlin totals nearly 400 acres and features more than 125 stores and restaurants in a streetscape-shopping environment with pedestrian thoroughfares and dynamic storefronts. The first phase of development opened to the public in October 2014. Today, Downtown Summerlin is also home to City National Arena, practice facility for the National Hockey League's Vegas Golden Knights and Las Vegas Ballpark®, a 10,000-capacity minor league baseball stadium that is home to the Las Vegas Aviators® of the Pacific Coast League. Downtown Summerlin boasts two Class-A office buildings – ONE and TWO Summerlin – that encompass a combined 380,000 square feet in the heart of the retail epicenter. A third Class-A office building, 1700 Pavilion, spans 267,000 square feet on three acres directly south of Las Vegas Ballpark and will open by Q4 2022. In addition to Downtown Summerlin's two luxury multi-family developments, Constellation and Tanager, a third, Tanager Echo, is on target to open in early 2023, providing an inclusive community with an abundance of residential, optimal office space and connected walkability within the master plan that creates a destination unlike anything else in Southern Nevada. Additional information can be found at www.summerlin.com.
Summary
Article Name
DOWNTOWN SUMMERLIN® ANNOUNCES RETURN OF SPECIAL HOLIDAY APPEARANCE BY WORLD-RENOWNED BUDWEISER CLYDESDALES: SATURDAY, DEC. 3
Description
DOWNTOWN SUMMERLIN® ANNOUNCES RETURN OF SPECIAL HOLIDAY APPEARANCE BY WORLD-RENOWNED BUDWEISER CLYDESDALES: SATURDAY, DEC. 3