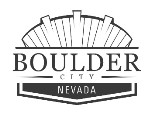 Fall Adventures and Entertainment Are Just a Quick Trip from Vegas
Escape Vegas to Enjoy World-Class Entertainment, Outdoor Activities and More
As the weather starts to cool down, activities are heating up just outside Las Vegas. Visitors looking to escape for a day can find star-studded entertainment and a variety of exciting outdoor activities in Boulder City, Laughlin and Mesquite this fall.
Can't-miss events and activities include:
Boulder City
Take a ride and experience the thrill and excitement on an 8 mile excursion on a custom built rail bike through the picturesque landscape of southern Nevada. The adventure departs from the Nevada State Railroad Museum and travels west through the desert to the Railroad Pass Casino before returning to Boulder City.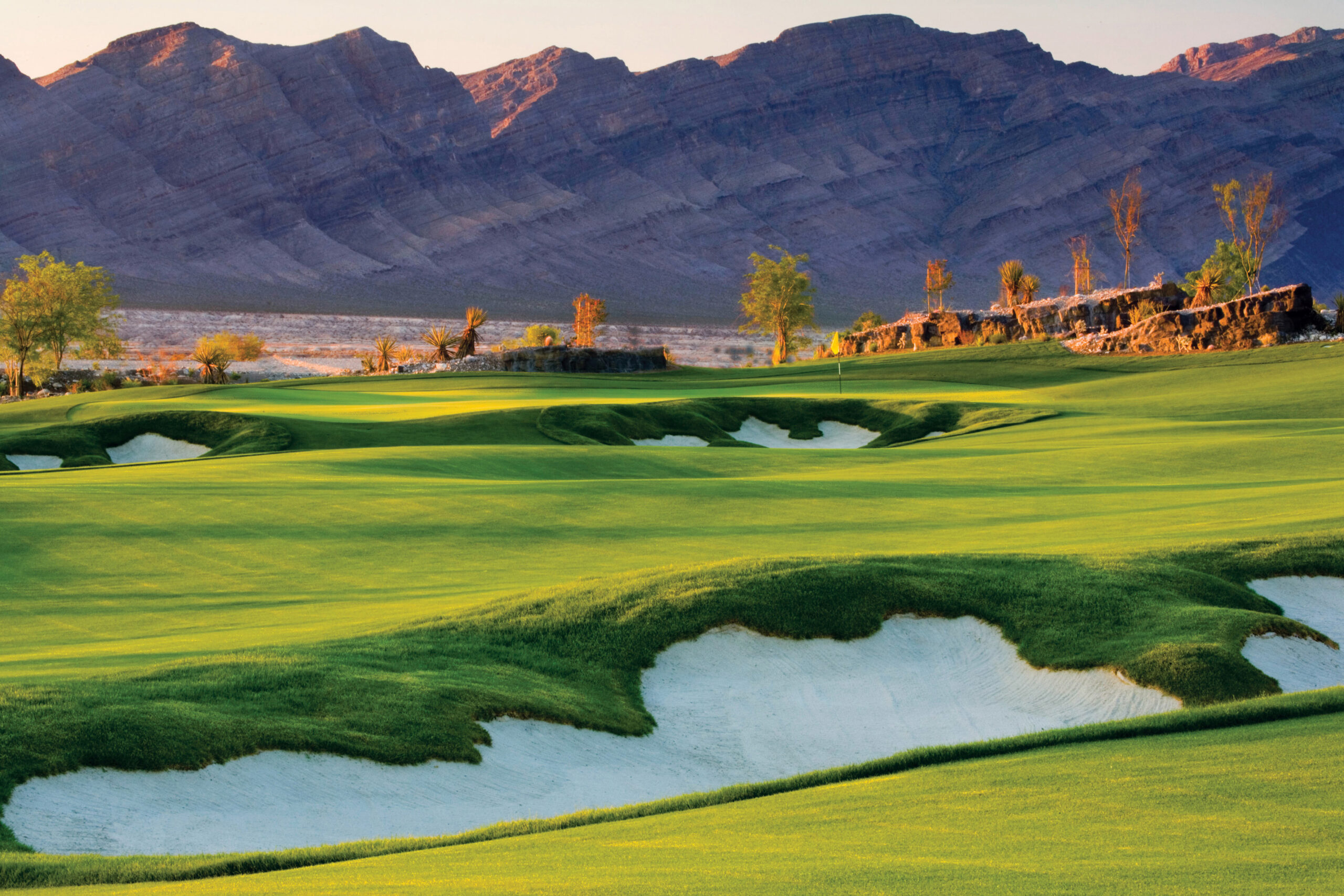 Get Out on The Green
With three stunning courses, visitors can enjoy a little bit of everything in Boulder City. Featuring towering red mountain peaks and lush fairways, Cascata Golf Club is one of Nevada's premier golf destinations. The meticulously manicured, 72-par course offers stunning vistas at every turn and a luxurious 37,000-square-foot clubhouse, ideal for relaxing when not on the green. Boulder Creek Golf Club is a public, 27-hole facility created for golfers of every skill level. Oasis-themed holes feature palm trees, beach bunkers, lakes and waterfalls. Golfers can also check out Boulder City Golf Course for wide-open fairways, two lakes and a clubhouse, as well as a driving range where visitors can practice their swing or take golf lessons.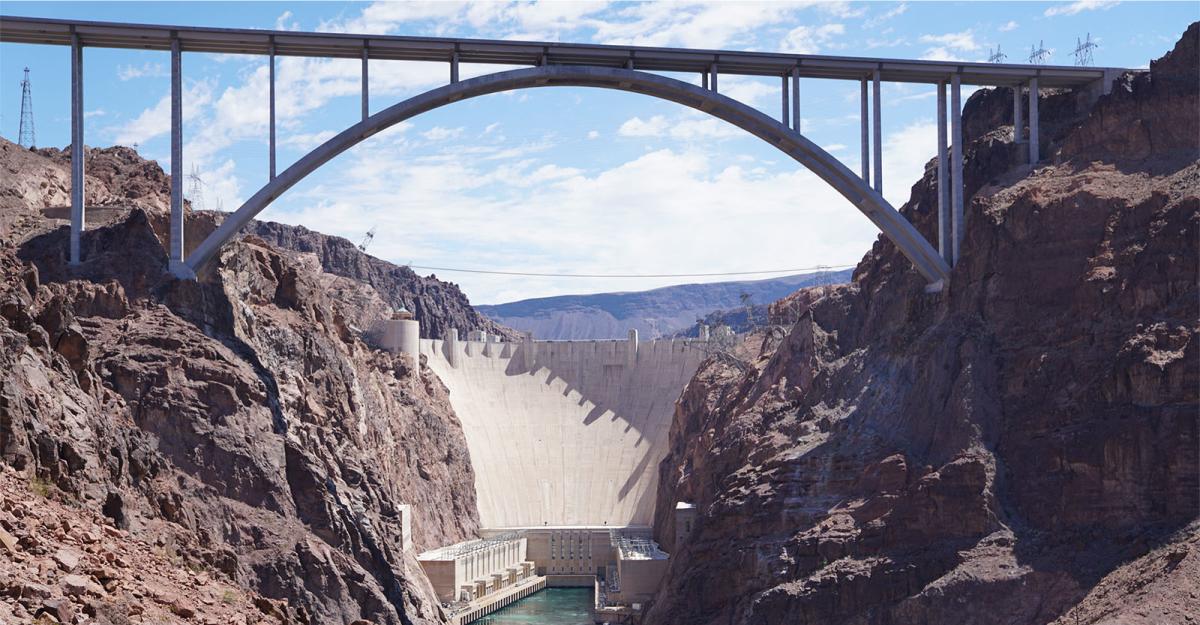 Lake Mead National Recreation Area
Famous for its connection to the Hoover Dam, Lake Mead is the largest reservoir in the United States. Lake Mead National Recreation Area (LMNRA) is made up of the 112-mile-long lake, and includes trails, scenic drives, and campsites for those looking for a quick outdoor escape. Adventure outfitter companies like Vegas Glass Kayaks, Blazin' Paddles and Evolution Expeditions offer a variety of kayaking options for every skill level and desired experience. Visitors can partake in leisurely tours through Black Canyon or excursions from the Hoover Dam down the Colorado River. The recreation area is open year round, 24 hours a day.
Gold Strike Hot Springs
The two-mile trek through Gold Strike Canyon leads to a collection of hot springs right next to the Colorado River. The trail is recommended for advanced hikers due to the steep 600-foot descent through the canyon, which incorporates eight ropes to help navigate down. Peppered through the canyon are pockets of hot pools, grottos and waterfalls.
River Mountains Loop Trail
Great for hiking, climbing and cycling, this 34-mile-long trail connects Lake Mead NRA with the Las Vegas valley. The long loop winds through the quaint town of Boulder City before quickly escaping to the more primitive desert surrounding the River Mountains. Visitors can enjoy views of Lake Mead here, with several places to pause and admire the scenery. The trail then winds through Henderson before returning to Boulder City.
Visitors can enjoy Boulder City's eclectic art scene by simply taking a leisurely stroll around the small town. To navigate the town's sculptures and vibrant murals, a downloadable map is available that highlights artists' works. For a step-by-step tour and in-depth look at each sculpture and mural, visitors can download the Boulder City Chamber of Commerce app.
Desert Adventures
Desert Adventures provides unforgettable day trips, including hiking, backpacking, mountain biking, ATV tours, horseback riding, ziplines, and adventures in nearby national parks, Zion, Bryce Canyon, and the Grand Canyon. Known for its expertise in paddling, the company has 175 boats in their fleet, as well as other camping and outdoor gear available to rent.
Laughlin
GRAMMY Award-winning entertainer, author and actor Tim McGraw will take the stage at Laughlin Event Center.
With over 250 million records sold worldwide, Sir Rod Stewart will grace the stage with his timeless hits at Laughlin Event Center.
Fans can sing along to Frankie Avalon's No. 1 hits like "Why", "Venus" and "Beauty School Dropout" at Don Laughlin's Riverside Resort.
Celebrity medium and psychic Matt Fraser will shock the audience with his jaw-dropping readings at Edgewater Casino Resort.
Larry the Cable Guy will "Git-R-Done" as he takes on Laughlin at the Edgewater Casino Resort.

Hike the Colorado River Heritage Greenway Trail
Visitors can hike in the picturesque desert wilderness and enjoy 10.5 miles of light trails that run alongside the Colorado River. The paths feature unique desert wildlife and natural formations along the way, all while taking visitors to the base of Davis Dam, a wonder of American engineering.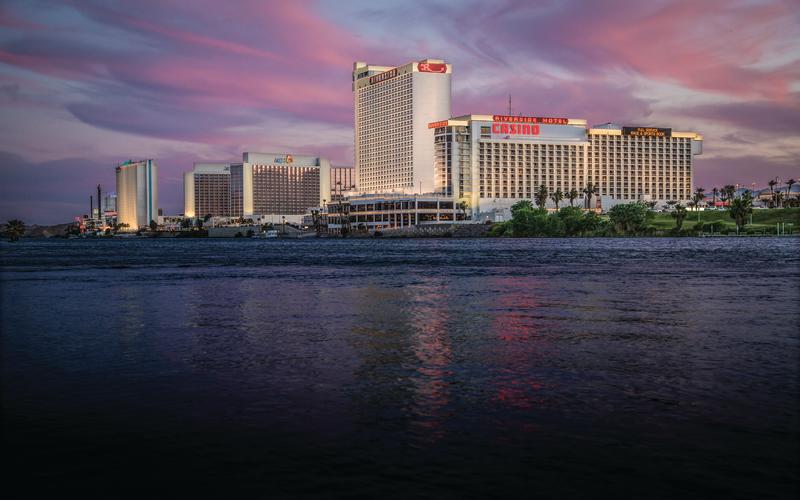 Explore the Laughlin Labyrinths
Discover the beauty and serenity of the Laughlin desert by exploring the nearby labyrinths, which consist of nine stone mazes within a quarter-mile radius, ranging from 25-55 feet. Visitors can check out the collection's newest additions: a 36-foot, seven-circuit octagon and a 33-foot, seven-circuit square labyrinth. Marked by a monument marker with a purple etched disc, the labyrinths can be found on the east side of Thomas Edison Drive, between Bruce Woodbury and Casino Drives, a quarter mile from the intersection.
Cruise the Colorado River
With a wide variety of river tours and rentals, visitors can enjoy the Colorado River feature in more ways than one. London Bridge Jet Boat Tours allows guests to experience the river and all its wonder in a sleek and quick jet boat. Those looking for a more relaxed tour of the river can either enjoy the only dinner cruise on the Colorado River by Laughlin River Tours, or board the U.S.S. Riverside for a guided excursion detailing the history of the Colorado River region.
Mesquite

Nevada Open Golf Tournament (Tuesday, Nov. 7-Thursday, Nov. 9)
With over 40 years of championship history, the Nevada Open is one of the most respected and anticipated golf tournaments in the state. With a $150,000 prize purse, the championship round will take place at the CasaBlanca Golf Club on Thursday, Nov. 9.
This year, the CasaBlanca II-Man golf tournament will be expanding to take up to 150 teams. Taking place across three stunning golf courses—CasaBlanca Golf Club, Conestoga Golf Club and Palms Golf Club—the tournament will offer Gross and Net Flights, as well as 6 flights with a full field of 150 teams.
The Desert Ranch Experience by Camel Safari
Visitors can experience the desert in a new and unique way at this ranch situated on 176 acres along the Virgin River. With tours available via tram or ATV. participants will learn about and interact with several exotic animals such as camels, sloths, llamas and sand cats.
About Mesquite
Close to home and yet a world away! Mesquite is located 90 miles north of Las Vegas and offers visitors an excitingly laid-back experience. Choose from several fabulous championship golf courses; explore astonishing, nearby national and state parks; or lounge by a sparkling pool. If you'd rather play indoors, then unwind and be pampered at a luxurious day-spa, practice your skill at bowling, dance the night away, or try your luck at the tables and slot machines. For more information on the destination, visit www.visitmesquite.com.
About Laughlin
Located 90 miles south of Las Vegas, Laughlin is a unique resort destination with a relaxed and friendly atmosphere that welcomes nearly two million visitors annually. This oasis along the Colorado River boasts many options for water sports and boating activities, including eight resorts with stunning accommodations that offer fine dining, spa experiences, golfing, and a close proximity to the recreational paradise known as Heritage Trails. Laughlin has also become a leading special event destination in the Southwest. For more information: www.visitlaughlin.com.
About Boulder City
Boulder City is known as a green oasis in the desert. Located approximately 20 miles from the glitter and excitement of Las Vegas and just a few miles from the grandeur of Hoover Dam and Lake Mead, the destination offers a quiet, relaxed living environment. Boulder City takes pride in its quality recreational facilities such as Bootleg Canyon mountain bike trails, Boulder City Golf Course, and Boulder Creek Golf Club. For more information visit, www.visitbouldercity.com.
Summary
Article Name
Fall Adventures and Entertainment Are Just a Quick Trip from Vegas
Description
Fall Adventures and Entertainment Are Just a Quick Trip from Vegas