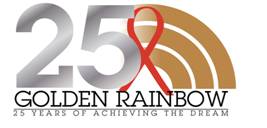 Golden Rainbow UNVEILS TALENTED LINEUP FOR 26th "Ribbon Of Life" Spectacular
Las Vegas Strip Cast Members and Legendary Headliners Confirmed to Perform at Local HIV/AIDS Nonprofit's Annual Fundraiser
Golden Rainbow reveals the talent lineup for the 26th "Ribbon of Life" fundraising production taking place at 1 p.m. inside The Smith Center for the Performing Arts on Sunday, June 24.
Confirmed performers include:
Broadway in the Hood, nonprofit theatrical program for inner-city youth
Performers from Centrifuge, one of MGM Grand Hotel & Casino's illustrious bars
Chippendales, famed Las Vegas male revue
Clint Holmes, The Smith Center for the Performing Arts headliner and award-winning singer
Dancing Queen, Las Vegas headliner
Performers from David Saxe Productions, local entertainment company
Frank Marino's Divas Las Vegas, Las Vegas headliner
Human Nature, Las Vegas headliner and Australia's lead pop vocal group
Jubilee!, authentic Las Vegas showgirl revue
Las Vegas City Ballet, Tara Foy's elite ballet company
Las Vegas Deaf Theatre, local deaf entertainment group that stages unique performances for the hard of hearing
Las Vegas Men's Chorus, community-based men's organization that promotes acceptance and tolerance through performing arts
Mo5aic, local a cappella group
Nevada Ballet Theatre, the largest ballet and dance company in Nevada
PEEPSHOW, Las Vegas headliner
Phantom: The Las Vegas Spectacular, Las Vegas headliner
Reva Rice and the cast of VEGAS! The Show, Las Vegas headliners
Performers from RagTag Entertainment, local entertainment company
Performers from Searcy Entertainment, local entertainment company
Showgirls Across America, U.S. kick line tour featuring Las Vegas showgirls
Spirit of the Dance, award-winning entertainment company
The Asian Pacific Performing Arts Alliance, local entertainment company
The Desert Angels Gospel Choir, world-renowned performance choir
The Las Vegas Tenors, one of the city's most recognizable musical groups
Viva Elvis, Las Vegas headliner
X Burlesque, Las Vegas' hottest topless revue
"Ribbon of Life" is one of the largest HIV/AIDS fundraisers in the state of Nevada and Golden Rainbow's main source of revenue. The fundraiser is a completely original show unlike any other in the city, featuring some of the best artists from shows on the Las Vegas Strip as well as local entertainment companies like RagTag Entertainment and the Las Vegas Deaf Theatre performing never-before-seen, one-of-a-kind acts.
Tickets start at $38 and are available for purchase at thesmithcenter.com, goldenrainbow.org and The Smith Center box office at 702-749-2000. All proceeds directly benefit the nonprofit's Direct Financial Assistance and Affordable Housing programs. Keep up with the latest news on the 26th annual "Ribbon of Life" event on Facebook or Twitter.
About Golden Rainbow
Celebrating 25 years of service to the Southern Nevada area, Golden Rainbow is a nonprofit organization that provides housing and direct financial assistance to men, women and children living with HIV/AIDS. Founded by members of the entertainment industry in 1987, Golden Rainbow is committed to serving the HIV/AIDS community through fundraisers like Ribbon of Life and HIV/AIDS related education. For more information, visit www.goldenrainbow.org or call 702-384-2899.