Hear Ye, Hear Ye –
The Age of Chivalry Renaissance Festival returns for its 29th year at Sunset Park.
Tickets on sale now for the three-day festival October 13 – 15, 2023
Buy your Age of Chivalry Renaissance Festival tickets early so you don't wind up in the pillory like this lad.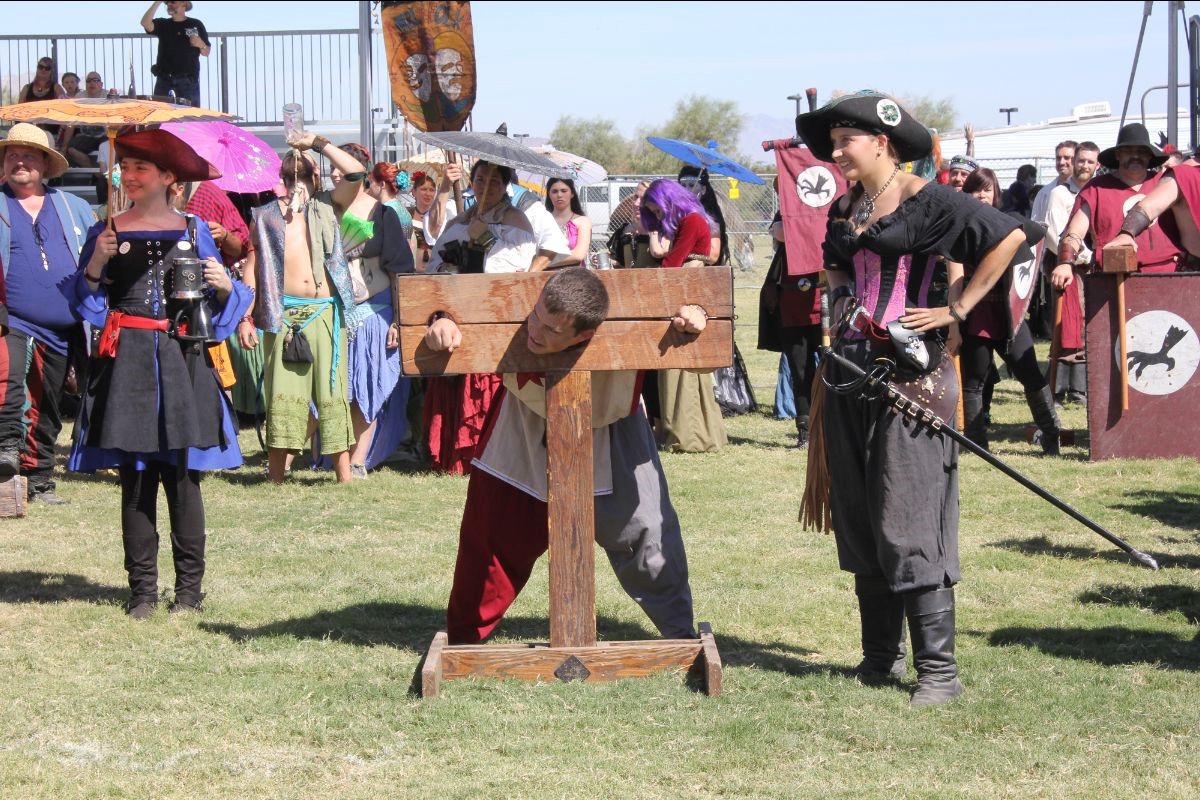 Stroll amongst villages and guilds, converse with royalty and show your renaissance style as Clark County Parks & Recreation presents the 29th Annual Age of Chivalry Renaissance Festival at Sunset Park October 13 – 15, 2023.
For almost three decades, the three-day outdoor festival has brought more than 35,000-plus locals and visitors together for a long weekend full of fantasy and medieval fun as Sunset Park is transformed into a magical wonderland. The Age of Chivalry is an immersive Renaissance era experience with numerous villages and guilds, activities, historical reenactments, fantasy creations, live performances and an array of foods and beverages – truly an event that is fun for the entire family. The festival boasts more than 100 artisans from throughout the U.S. and Canada including gold and silver smiths, stained glass designers, costume makers, wood workers, toy makers, leather workers, perfume blenders, potters armor makers and many more.
The Age of Chivalry Renaissance Festival will be open from 10:00 a.m. to 10:00 p.m. on Friday and Saturday and 10:00 a.m. to 5:00 p.m. on Sunday. Pre-sale admission is $15 per day for adults ($25 day of event) and $8 per day for children ages 6-12 and seniors ages 60 and older ($20 day of event). Children 5 and younger are free. Three-day passes are available in advance for $35 for adults and $20 for children ages 6-12 and seniors ages 60 and older. The Royalty Package is available in advance for $45 for adults and $30 for children ages 6-12 and seniors ages 60 and older and includes three-day admission with unlimited re-entry and a commemorative event T-shirt. Three-day passes and advance tickets are available through www.lvrenfair.com. The box office will be open at the festival starting at 9:00 a.m. daily during the fair and will accept credit cards only (no cash accepted).
For those looking for an opportunity to camp at Sunset Park while enjoying three full days of the Renaissance Festival, the festival announces the return of the Yurt Package for $699. Its most popular, spacious and convenient overnight option includes a 12×12 pre-assembled yurt, early arrival pass, overnight camping Thursday through Sunday, one parking pass, four three-day fair passes, four festival t-shirts and four festival posters. Camp spots are limited and are on a first-come, first-served basis. Additional camping packages and amenity upgrades are also available. Camping can be booked online at www.lvrenfair.com.
The festival presents various shows per day including historical re-enactments such as full-contact jousting tournament, live combat battles, no-holds-barred gladiator battles, black powder demonstrations, strolling minstrels, magicians, storytellers, jokers, jugglers, flame eaters, belly dancers, trained parrots and pirates. Additional attractions include bow and arrow and axe target games, medieval barber and surgeon demonstrations, Princess Tea Party and storytelling, Scavenger Hunt and Renaissance guilds. Feast on a variety of food and drink offerings such as turkey legs, Shepard's pie, beers, ales, mead and more.
Patrons may bring one bottle of water and sunscreen. No unauthorized vending, concessions, merchandise, literature or promotions allowed. Any participants in costume must have all related props or weapons peace tied, or those items will be denied at time of entry. No carry-in food or beverages, pets, lawn chairs or weapons (with or without permit) are allowed inside the festival area. No re-entry allowed for single day admission tickets. ATMs will be available onsite.
For more information about Age of Chivalry Renaissance Festival, please visit www.lvrenfair.com or connect on Facebook, Twitter, or Instagram. For more information on Clark County Parks and Recreation, please visit their website or follow on social media. Text "ROYALTY" to 888111 to download the mobile app on your smartphone or tablet.
ABOUT CLARK COUNTY PARKS AND RECREATION
Clark County is a dynamic and innovative organization dedicated to providing top-quality service with integrity, respect, and accountability. With jurisdiction over the world-famous Las Vegas Strip and covering an area the size of New Jersey, Clark is the nation's 11th-largest county and provides extensive regional services to 2.3 million citizens and 45.6 million visitors a year (2019). Included are the nation's 8th-busiest airport, air quality compliance, social services and the state's largest public hospital, University Medical Center. The County also provides municipal services that are traditionally provided by cities to 1 million residents in the unincorporated area. Those include fire protection, roads and other public works, parks and recreation, and planning and development.
Summary
Article Name
Hear Ye, Hear Ye – The Age of Chivalry Renaissance Festival Returns for Its 29th Year at Sunset Park.
Description
Hear Ye, Hear Ye – The Age of Chivalry Renaissance Festival Returns for Its 29th Year at Sunset Park.