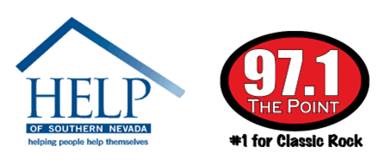 HELP OF SOUTHERN NEVADA, 97.1 THE POINT & KOMP TEAM UP FOR
HELP2O WATER DRIVE EXTRAVAGANZA ON SATURDAY, JULY 15
WHAT: In honor of its 12th annual HELP2O Water Drive, HELP of Southern Nevada is teaming up with 97.1 The Point and KOMP to host the first-ever HELP2O Water Drive Extravaganza on Saturday, July 15. In an effort to raise awareness around HELP's mission to provide assistance to at-risk families and individuals throughout the Valley, the event will include food trucks and water games. Locals are encouraged to stop by, enjoy the summer fun-filled event and donate bottles of water towards HELP2O's cause As an incentive the first 100 people who bring 2 or more cases of water will receive a Pony Express one complimentary car wash courtesy of Terrible's. All donations will be directly distributed to homeless individuals throughout Southern Nevada enduring extreme temperatures throughout the summer.
WHEN: Saturday, July 15 l 10 a.m. -1 p.m.
HELP of Southern Nevada
1640 E. Flamingo Rd.
Las Vegas, NV 89119
About HELP of Southern Nevada:
HELP of Southern Nevada provides assistance to low-income families, homeless youth and other individuals, to help them reach self-sufficiency through direct services, trainings and referrals. HELP operates 10 departments, consists of 200 employees and serves tens of thousands of unduplicated clients each year. Programs available include Behavioral Health Services, Coordinated Entry Community Matchers, Homeless Response Teams, Family Housing Services, Framing Hope Warehouse, Holiday Assistance, Adult Housing Programs, Community Relations, Shannon West Homeless Youth Center, Weatherization and Workforce Services. For more information, call HELP of Southern Nevada at 702.369.4357 or visit www.helpsonv.org. Follow HELP of Southern Nevada on Facebook, Twitter and Instagram.
About Lotus Broadcasting:
Lotus Communications Corp. is a company headquartered in Los Angeles, California that owns and operates 44 radio stations, a digital agency, low-power television stations and e-commerce websites. The radio stations serve the Los Angeles, Bakersfield, Fresno, Las Vegas, Reno, Sacramento, Tucson and Boise radio markets. The low-power television stations serve the Phoenix and Houston markets. The e-commerce operations are based in Los Angeles.
Lotus Communications Corp. was established in 1962 and is one of the largest privately owned radio station groups in the United States. Lotus was founded by Howard A Kalmenson with the purchase of KWKW one of Los Angeles' original heritage Spanish Language station. James Kalmenson, son of Howard Kalmenson, is an Executive VP of Lotus. He continues to fulfill the legacy of his father.
Summary
Article Name
HELP OF SOUTHERN NEVADA, 97.1 THE POINT & KOMP TEAM UP FOR HELP2O WATER DRIVE EXTRAVAGANZA ON SATURDAY, JULY 15
Description
HELP OF SOUTHERN NEVADA, 97.1 THE POINT & KOMP TEAM UP FOR HELP2O WATER DRIVE EXTRAVAGANZA ON SATURDAY, JULY 15