HIT A HOLE-IN-ONE FOR SERVING OUR KIDS FOUNDATION 
Plan to swing at 11th Annual Golf Tournament on November 5 at Stallion Mountain Golf Club.
Serving Our Kids Foundation will hold its 11th annual golf tournament at The
Stallion Mountain Golf Club. This is their major fundraiser to continue providing 4,000 weekly
meal bags across more than 100 schools to food-insecure children in grades K-8th in Clark
County.
The Player packages include breakfast, 18 holes of golf, breakfast, raffles, prizes, on-course
contests including closest-to-the-pin chances to win cash, goodie bags, 50/50 drawing, luncheon,
and silent auction. A foursome is $500, and an individual player is $150.
"The weather is perfect for a golf outing and to help raise funds to serve even more children,"
said Dale Darcas, Executive Director of the Serving Our Kids Foundation. "No child should have
to worry about whether or not they will have food to eat on the weekend."
With the growing number of food-insecure children across the Las Vegas Valley, the Serving
Our Kids Foundation launched Reaching Out to Serve MORE this year. Its goal is to raise an
incremental $90,000 to be able to serve 4,800 children weekly meal bags. This is a 20 percent
increase over the prior year.
Along with the golf tournament, additional funds will be raised thru grants, community events,
and donations. Serving Our Kids Foundation partners with teachers, counselors, and school
administrators to identify the children who need assistance. Once a child is identified for the
program, Serving Our Kids commits to the child that they will receive a meal bag every week for
the remainder of the school. The long-term goal is to partner with schools to measure the impact
weekly meal bags have on a child's school attendance and academic performance.
Serving Our Kids thanks the golf tournament sponsors, including the Event Sponsor Ford Country, Signature Sponsor Diazo Wealth Group, Luncheon Sponsor WBF Management, Towel Sponsor Marcos Pizza and Hat Sponsor New Creation Embroidery. Additional sponsorships are still available.
The 11th Annual Golf Tournament will be held at The Stallion Mountain Golf Club, 5500 E. Flamingo Road, on Nov. 5. To register for more information, email
[email protected] or visit servingourkids.org.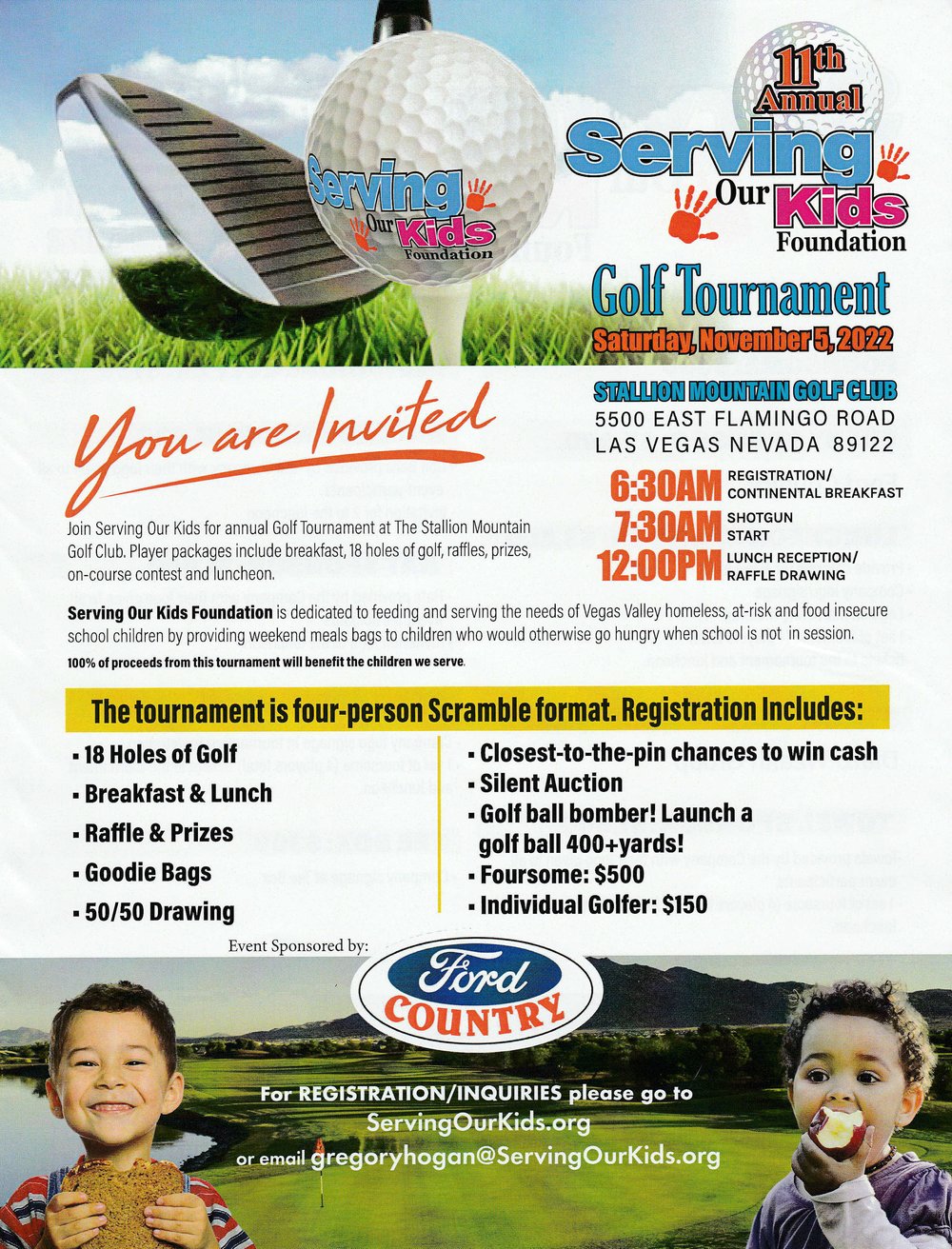 Serving our Kids Foundation is dedicated to feeding and serving the needs of Clark County
children. While there are governmental programs and other organizations that provide children in
need with breakfast and lunch on weekdays during school, weekends can be an issue. Since
2012, Serving Our Kids has stepped in to fill the weekend nutrition gap of vulnerable kids and
now assists 4,000 children, grades K-8, in over 100 schools who would otherwise go hungry.
Referrals for weekend food bags are up 27 percent over last year, but the actual number of kids
needing weekend nutrition assistance is estimated between 8,000 to 10,000. The nonprofit
organization mobilizes the strength of community volunteers and donations. In addition to non-
perishable food items, personal care items also are collected. For information, donations,
volunteering, and partnership opportunities, visit servingourkids.org or call 702-358-1056
Summary
Article Name
HIT A HOLE-IN-ONE FOR SERVING OUR KIDS FOUNDATION
Description
HIT A HOLE-IN-ONE FOR SERVING OUR KIDS FOUNDATION