HUYNH NAMED MOUNTAIN WEST FRESHMAN OF THE YEAR
She becomes the first Rebel to win the award since Polly Mack in 2018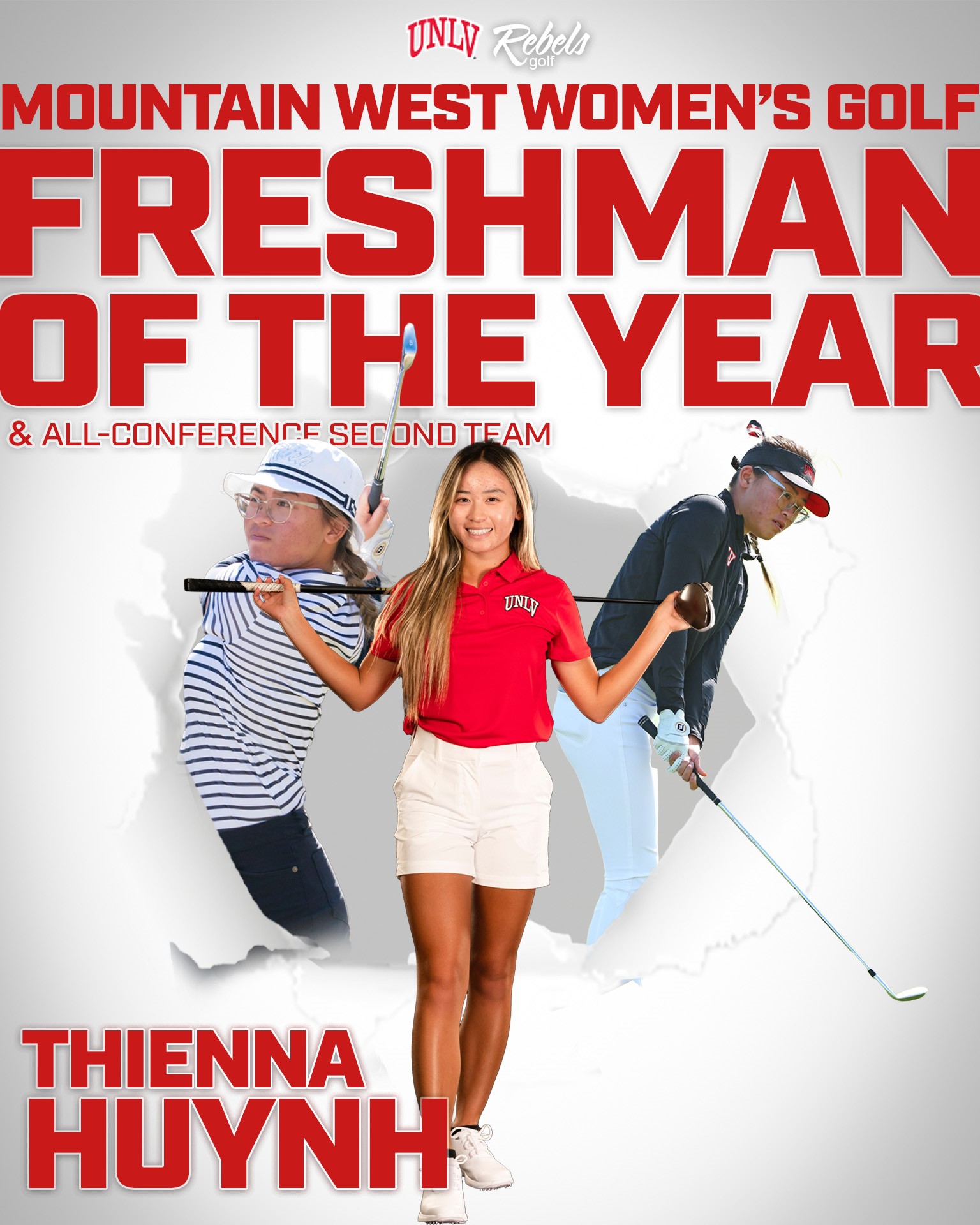 UNLV women's golf freshman Thienna Huynh received a pair of postseason accolades as she was named the 2023 Mountain West Women's Golf Freshman of the Year and selected to the MW All-Conference Second Team, announced by the conference office Thursday afternoon. Huynh becomes the ninth Rebel to receive the honor reserved for the league's top freshman, while she is the first to earn the accolade since Polly Mack in 2018.
"Thienna has had a great year," said UNLV head coach Amy Bush-Herzer. "She came into UNLV with many golf accolades, and being named Freshman of the Year adds to her golf career accomplishments. Thienna has an incredible golf game and is a joy to have on the course, so I couldn't be more proud of her for earning this award."
Hailing from Lilburn, Georgia, Huynh led all freshmen in the Mountain West with a 73.80 scoring average, a 1.80 scoring average against par and a national ranking of 199th. She was the only freshman to rank in the conference's top 15 in scoring average, checking in at 14th on the list. During the season, Huynh recorded three top-20 and seven top-25 finishes, including a tie for 13th at New Mexico's Dick McGuire Invite, a 16th-place showing at the MW Championship and an 18-place outing at the Blessings Collegiate Invitational hosted by Arkansas. Additionally, she posted a season-best 54-hole score of par 216 in two tournaments, UNM's event and Miami's Hurricane Invitational, the latter of which saw her shoot a season-low round of 4-under 68.
UP NEXT FOR THE REBELS: UNLV will travel to Pullman, Washington for the NCAA postseason at the Pullman Regional, which is being hosted by Washington State at Palouse Ridge Golf Club from May 8-10.

2023 Mountain West Women's Golf Honors
Golfer of the Year: Victoria Gailey, UNR
Freshman of the Year: Thienna Huynh, UNLV
Coach of the Year: Jill Trujillo, New Mexico
2023 Mountain West All-Conference
First Team
Victoria Gailey, UNR
Jenny Lertsadwattana, New Mexico
Kajsa Arwefjall, San Jose State
Lucia Lopez-Ortega, San Jose State
Antonia Malate, San Jose State
Second Team
Harriet Lynch, Fresno State
Louisa Carlbom, San Jose State
Lauren Lehigh, New Mexico
Thienna Huynh, UNLV
Sofia Torres, Colorado State
Summary
Article Name
Huynh Named Mountain West Freshman Of The Year
Description
Huynh Named Mountain West Freshman Of The Year