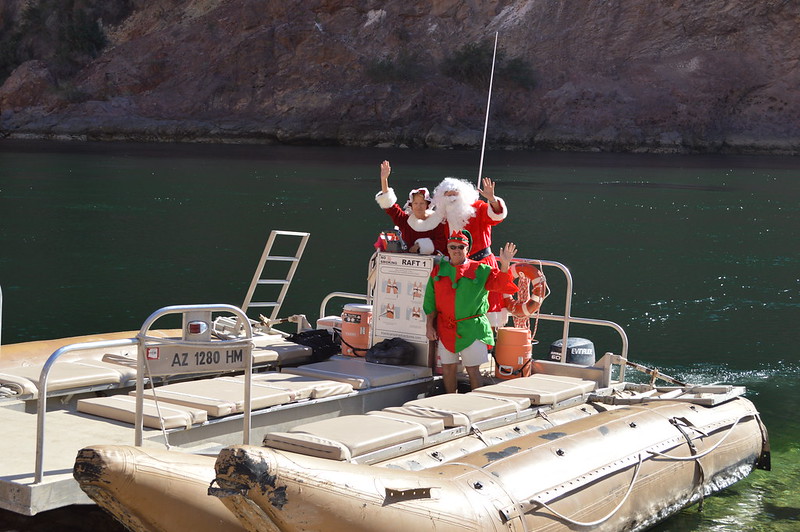 L to R: Santa and Friends Pose for a Photo in front of the Hoover Dam; A Raft Docked Along the Colorado River.
LAKE MEAD MOHAVE ADVENTURES INVITES GUESTS TO RAFT THE COLORADO RIVER WITH SANTA THIS CHRISTMAS SEASON
Festive Hoover Dam Rafting Adventures Tours Available
Thursday, Dec. 21 – Sunday, Dec. 24
Lake Mead Mohave Adventures (LMMA) announces the return of the festive "Rafting with Santa" experience aboard Hoover Dam Rafting Adventures. The 12-mile journey along the mighty Colorado River makes for an extraordinary way for families to enjoy the excitement of the holiday season in a raft piloted by jolly old St. Nick and his helpers. Rafting tours with Santa will take place from Thursday, Dec. 21 through Sunday, Dec. 24.
The holiday-themed tour includes:
Santa Claus and his helpers piloting rafts on this smooth-water river adventure.
Ground transportation provided by one of Santa's elves from Lake Mead RV Village.
Gifts for each passenger.
Boxed lunch and bottled water for a picnic stop on a sandy beach along the way.
Complimentary cookies, hot chocolate and Christmas music at Willow Beach Marina, where the river trip ends.
Tours will begin near the base of Hoover Dam aboard a motor-assisted raft. Guests will also receive the opportunity to learn about the history, desert wildlife and beauty in the Black Canyon of the Colorado River.
"'Rafting with Santa' tours are a holiday adventure like none other," said Chad Taylor, director of marketing and guest experience, Lake Mead Mohave Adventures. "Combining the magic of the season with the majesty of the Hoover Dam, these festive experiences are ideal for children and adults alike."
The "Rafting with Santa" tour departs at 10 a.m. and includes three hours spent on the river. Guests are asked to check in by 9:30 a.m. at the Lake Mead RV Village, located at 268 Lakeshore Road, Boulder City, NV 89005. This tour is free for children four and under and starts at $110 for children ages 5 to 15 and $125 for guests 16 years or older. Adult admission does not include the $15 National Park entrance fee. For adult passengers holding National Park, Golden Age, Eagle or Access passes, the $15 entry fee will be waived. Round-trip transportation to and from Las Vegas hotels is also available for $69 per person.
To make reservations for this tour, visit hooverdamraftingadventures.com or call (800) 455-3490. For more information on LMMA, visit lakemeadmohaveadventures.com.
ABOUT GUEST SERVICES
Since 1917, Guest Services, Inc. has earned the reputation as a premier hospitality management company and national and state park concessionaire that has taken great care and pride in delivering best-in-class food, lodging, retail and recreation services. The Fairfax, Virginia-based company and its subsidiaries employ more than 3,500 staff at more than 250 facilities, which welcome approximately 30 million guests annually across the United States. Guest Services, Inc. is proud to welcome visitors at Mount Rainier National Park, North Cascades National Park and Lake Roosevelt National Recreation Area in Washington, several parks in the Washington, D.C. area, and state parks such as Bear Mountain in New York, in addition to Missouri's newest state park in the Ozarks – the much-anticipated Echo Bluff State Park. To learn more visit www.guestservices.com.
Summary
Article Name
Lake Mead Mohave Adventures Invites Guests To Raft With Santa This Christmas Season
Description
Lake Mead Mohave Adventures Invites Guests To Raft With Santa This Christmas Season