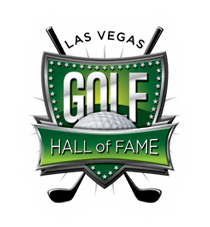 Las Vegas Golf Hall of Fame Induction to Kick Off
PGA TOUR Week and Debut New Club360 Experience
The Class of 2023 – Chuck Bombard, Tim Cashman, Jim Hart, Todd Roberts, Warren Schutte – will be honored during the Night of Induction Oct. 7, 2023, at The Hill and Club 360 at TPC Summerlin.
A highly-anticipated Shriners Children's Open tradition returns as the Las Vegas Golf Hall of Fame Night of Induction will kick off the 2023 PGA TOUR event on Saturday, Oct. 7 at The Hill and the new Club360 at TPC Summerlin. The enshrinement features the Class of 2023, Las Vegas golf community dignitaries and celebrities, families, and friends. The 2022 Night of Induction was sold out.
The Class of 2023 is Chuck Bombard, Tim Cashman, Jim Hart, Todd Roberts and Warren Schutte. Bombard, Cashman, Hart and Schutte each are part of the Shriners Children's Open deep history in Las Vegas.
Inductee Ties to Shriners Children's Open
Chuck Bombard is a former TPC Summerlin general manager who helped operate Las Vegas' PGA Tour event from 2001-2010; Tim Cashman was a prominent member of the Las Vegas Founder's Club that operated the event in addition to the Las Vegas Senior Classic; Jim Hart has served as a longtime volunteer who oversees the Shriners standard bearer program; Warren Schutte won an NCAA individual golf title at UNLV and played in the Las Vegas PGA Tour event in 1993 and 2010.
The fifth inductee is top Southern Nevada amateur golf supporter Todd Roberts, a three-time Nevada State Amateur champion who quietly supports local causes.
"It is always an honor for us to host the Las Vegas Golf Hall of Fame induction ceremony to kick off Shriners Children's Open tournament week, and this year is even a little more exciting for us because it will be the first official event in our new Club360 experience that is located on the second level of the popular spectator area, The Hill," said Patrick Lindsey, executive director of Shriners Children's Open. "Las Vegas has a long and storied golf history, and the Shriners Children's Open is proud to be a part of it. This will be a perfect evening to celebrate some of Las Vegas Golf Hall of Fame's Inductees with ties to the tournament in our brand new venue."
The public is welcome to attend the Night of Induction and tickets and all proceeds benefit the Las Vegas Golf Hall of Fame and junior golf in Southern Nevada. Tickets are available at www.LasVegasGolfHOF.com.
The 2023 inductees join a long list of deserving golfers with strong ties to the Las Vegas golf region who have been previously inducted including Butch Harmon, Ryan Moore, Charley Hoffman, Chris Riley, Stephanie Louden, Dwaine Knight, the 1998 National Championship UNLV Golf team, Helen Cannon and Lou Redden, among others. Jim Colbert, one of the founders of the 1983 Las Vegas PGA TOUR event that blossomed into what is now the Shriners Children's Open, is also a Las Vegas Golf Hall of Fame member.
More About Class of 2023
Chuck Bombard is a longtime PGA of America professional who helped operate PGA Tour and PGA Tour Champions events as general manager of TPC Summerlin from 2001-10 and TPC Las Vegas from 1996-2001. He was recognized with the 2020 Southwest Section Bill Strasbaugh Award, which recognizes professionals who mentor their fellow PGA Professionals in improving their employment situations and through service to the community.
Tim Cashman joins his father, James Cashman, as an inductee into the Hall of Fame. Tim has made an indelible impact on golf in Las Vegas via philanthropy and leadership during his time with the Las Vegas Founders Club that operated PGA Tour, PGA Tour Champions and UNLV golf tournaments including serving as Las Vegas Senior Classic chairman among other roles.
Jim Hart has dedicated much of his life to helping deserving young people learn the game of golf via his work with the So. Nev. Inner-City Youth Golf Association, The First Tee, and Hart Academy of Golf. Volunteerism shines through with Hart. Former Hart students have gone on to play collegiately, becoming LPGA and PGA teaching professionals, attorneys and other success stories.
Todd Roberts is a top Southern Nevada Golf Association amateur golfer who has won three state senior amateurs and multiple player of the year honors. He also very quietly helps golf causes through philanthropy and other efforts.
Warren Schutte was one of the first top recruits that helped put UNLV golf on the map Schutte won the 1991 NCAA title while playing for the Rebels, which secured a spot in The Masters. He now is a top teaching professional in Arizona and inspiring the next generation of golfers. He also played on the PGA Tour including in the 1993 and 2010 events held in Las Vegas.
About the Las Vegas Golf Hall of Fame:
The mission of the Las Vegas Golf Hall of Fame is to celebrate and bring awareness to players, administrators, benefactors, groups, instructors, teams, and other worthy golfers who have served the game of golf in Las Vegas in a positive and meaningful way; whether through performance on the course, volunteerism, financial support, promotion, or other dedicated service. The organization annually awards the Bill Walters Las Vegas Golf Hall of Fame scholarship to a deserving graduating high school student. The museum-quality exhibit in the clubhouse of Las Vegas National Golf Club features an in-depth Las Vegas golf time line, historic photos, and a special area honoring the Las Vegas Founders Club that features the official trophies. Public nominations are accepted and appreciated. www.LasVegasGolfHOF.com
About Shriners Children's Open:
The 2023 Shriners Children's Open brings the FedExCup to TPC Summerlin as the PGA TOUR weeklong charitable tournament celebrates 40 years in Las Vegas. Defending champion, Tom Kim will be one of the many top golfers in the world that will participate in the competition and help support the mission of Shriners Children's from Oct. 9 – 15 at TPC Summerlin. For more information, visit www.shrinerschildrensopen.com.
Follow the Shriners Children's Open on Facebook, Twitter and Instagram.
Summary
Article Name
Las Vegas Golf Hall of Fame Induction to Kick Off PGA TOUR Week and Debut New Club360 Experience
Description
Las Vegas Golf Hall of Fame Induction to Kick Off PGA TOUR Week and Debut New Club360 Experience