MEOW WOLF'S OMEGA MART FREES YOUR TOES
AND MIND WITH NEW SHOES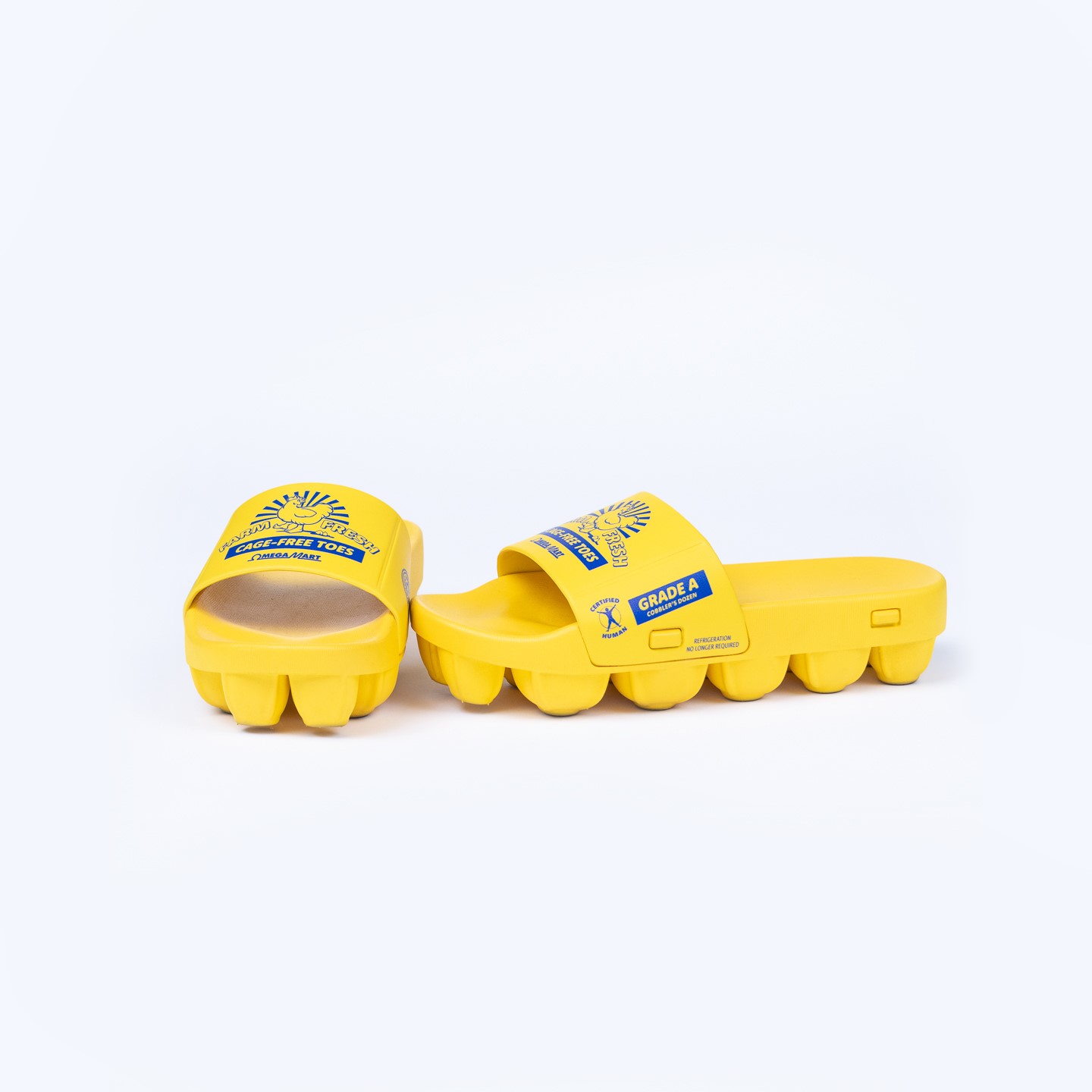 Today, US-based arts and entertainment company Meow Wolf announced a new era of footwear. Walking on eggshells is a thing of the past because now you can walk on egg cartons. Cage-Free Toes shoes, Meow Wolf's newest innovation comes by way of Omega Mart, America's most exceptional grocery store, ending the tyranny of closed-toe footwear.
Sharing the color of the most-exquisite egg yolks from the finest chickens, these shoes will make you the envy of all of your friends, and you'll be the cock-of-the-walk in any social situation. Your feet will be seated upon what looks like glorious egg cartons, complete with a "Certified Human" stamp on the top, just to let you know these are made for human feet. You do not need to refrigerate these shoes, and you do not need to worry about them "going bad" if you leave them out.
It's been said that after trying on Omega Mart's very comfortable Cage-Free Toes shoes, the wearer's mind had been opened to new ideas. Additionally, everyone will be able to see just how beautiful their toes are all year round, even in the winter months.
The Cage-Free Toes shoes from Omega Mart are currently available for purchase, both in-store at Omega Mart and online, for the cost of $49.99. They are available in four sizes: S (M6 W7.5), M (M7.5 W9), L (M9 W10.5), and XL (M10.5 W12). Get them while supplies last, or keep your toes forever caged, locked away in the dark.
ABOUT MEOW WOLF
Meow Wolf is a Santa Fe-based arts and entertainment company that creates immersive, interactive experiences that have transported participants of all ages into fantastic realms of story and exploration. Recognized in Fast Company's World's 50 Most Innovative Companies (2022 and 2020) and USA Today's Top 10 Best Immersive Art Experiences (2022), Meow Wolf experiences engage millions of curious seekers through discovery and play. The company's first exhibition in Santa Fe (2016) is the THEA Award-winning, international sensation, House Of Eternal Return, which reveals a multidimensional mystery house with secret passages, portals to magical worlds, and surreal, mesmerizing art exhibits. Omega Mart, at AREA15 in Las Vegas (2021) is an eye-popping smorgasbord of art in a dreamlike grocery store where other worlds gleam just beyond the frozen aisle. Denver's Convergence Station (2021) is a maximalist grandiosity of architecture, a quantum transit station that connects to four alien worlds forged together in a post-singularity moment of amnesia. Meow Wolf will open The Real Unreal in the Dallas-Fort Worth metroplex in July 2023 with the next location opening in Houston in 2024. Meow Wolf is proud to be the first certified B-Corporation in the themed entertainment industry.
Summary
Article Name
MEOW WOLF'S OMEGA MART FREES YOUR TOES AND MIND WITH NEW SHOES
Description
MEOW WOLF'S OMEGA MART FREES YOUR TOES AND MIND WITH NEW SHOES