REBELS HIT THE ROAD FOR LONG BEACH INVITATIONAL
@UNLVTRACKCC | 2023 Schedule | Meet Schedule | Live Results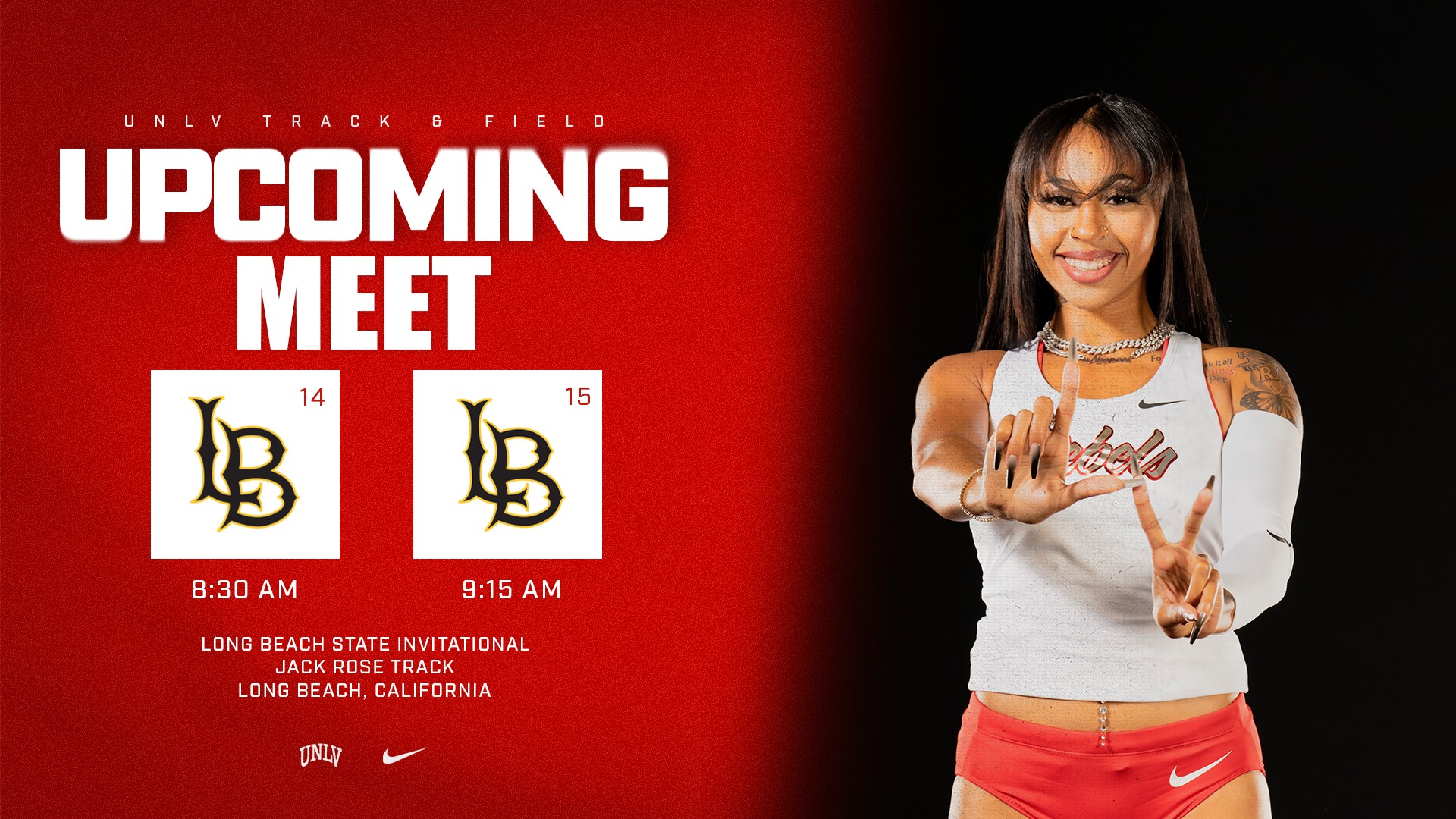 The UNLV track & field program will hit the road this weekend for the Long Beach State Invitational set to begin Friday morning. The two-day meet will be contested at Jack Rose Track on the campus of Long Beach State in Long Beach, California.
The Rebels will be competing against Mountain West foes Air Force, Boise State, Colorado State, Fresno State, UNR, Utah State and Wyoming, as well as nationally ranked BYU, Texas Tech, Iowa, USC, Miami, Michigan and Oklahoma State. The Long Beach Invitational will kick things off Friday morning at 8:30 a.m. with the women's 10,000m run and Saturday's events will start at 9:15 a.m. with the women's long jump.
MOUNTAIN WEST RANKINGS: UNLV has a total of 12 student-athletes ranked in the top 15 for 10 events in the Mountain West standings. Junior Deisiane Teixeira leads the conference in the women's javelin throw with a mark of 55.65m (182-07.00). Sophomore Rosa Santana sits first in the women's shot put with a mark of 18.39m (60-04.00), followed by senior Cassidy Osborne-Butler in fourth with a mark of 15.82m (51-11.00). Osborne-Butler also ranks third in the women's hammer throw (57.67m (189-02.00)). Senior Alia Scott leads the conference in the women's 400m hurdles (59.68). Sophomore Erin Thompson sits third in the women's high jump with a mark of 1.72m (5-07.75), followed by freshman Jennifer Soetebier in seventh (1.67m (5-05.75)). Sophomore Natalia Ruiz ranks fourth in the women's 5000m run (16:24.31). Sophomore trio Kennedi Porter, Shakeira Bowra and AnnaKay Maitland rank fifth, seventh and 13th in the conference for women's 100m dash with times of 11.79, 11.88 and 12.08, respectively. Freshman Jana Lakner sits fourth in the women's 400m run (54.41) and 12th in the women's 200m run (24.50). Junior Taylor Shorter ranks seventh in the women's 100m hurdles (14.25).
LAST TIME OUT: UNLV won the 2023 Triton Invitational last weekend with 135 points after winning a total of five events. Last weekend's outing also included two program records, the first in the 5000m run by Ruiz (16:24.31) and the second by Santana in the shot put event (18.39m (60-08.00)).
FOLLOW ALONG
Fans can follow this weekend's meet through live stats and social media. The link to live stats can be found online at UNLVRebels.com in the "schedule" section of the team's track & field page, as well as on the team's official social media channels. Updates will be provided through @UNLVTrackCC, the team's official Twitter account.
SCHEDULE OF EVENTS
Friday, April 14
Running Events
8:30 a.m. – Women's 10,000m Run (Gold Invitational)
12:15 p.m. – Women's 100m Dash (Heat #1)
12:25 p.m. – Women's 200m Dash (Heats #1-2)
Field Events
10:00 a.m. – Women's Long Jump (Flights #1-4)
10:00 a.m. – Women's Javelin (Flights #1-2)
11:30 a.m. – Women's Javelin (Gold Invitational)
12:30 p.m. Women's High Jump (Flight #1)
2:00 p.m. – Women's Hammer (Gold Invitational)
3:45 p.m. – Women's Hammer (Flights #1-3)
Saturday, April 15
Running Events
10:28 a.m. – Women's 4x100m Relay (Heals #2-3)
11:10 a.m. – Women's 100m Hurdles (Gold Invitational)
11:13 a.m. – Women's 100m Hurdles (Heats #2-10)
12:15 p.m. – Women's 400m Run (Gold Invitational)
12:19 p.m. – Women's 400m Run (Heats #2-10)
1:35 p.m. – Women's 100m Dash (Gold Invitational)
1:38 p.m. – Women's 100m Dash (Heats #2-13)
3:35 p.m. – Women's 400m Hurdles (Gold Invitational)
3:39 p.m. – Women's 400m Hurdles (Heats #2-5)
4:43 p.m. – Women's 200m Dash (Gold Invitational)
4:46 p.m. – Women's 200m Dash (Heats #2-16)
6:17 p.m. – Women's 4x400m Relay (Heats #2-3)
Field Events
9:15 a.m. – Women's Long Jump (Flights #1-3)
11:00 a.m. – Women's Discus (Gold Invitational)
11:00 a.m. – Women's Discus (Flights #1-4)
12:00 p.m. – Women's Long Jump (Gold Invitational)
12:30 p.m. – Women's High Jump (Flights #1-2)
2:15 p.m. – Women's High Jump (Gold Invitational)
3:00 p.m. – Women's Shot Put (Gold Invitational)
3:00 p.m. – Women's Shot Put (Flights #1-4)
Summary
Article Name
Rebels Hit The Road For Long Beach Invitational
Description
Rebels Hit The Road For Long Beach Invitational