REBELS RUN BACK TO GOLDEN STATE THIS WEEKEND
@UNLVTRACKCC | 2023 Schedule | Meet Schedule | Live Results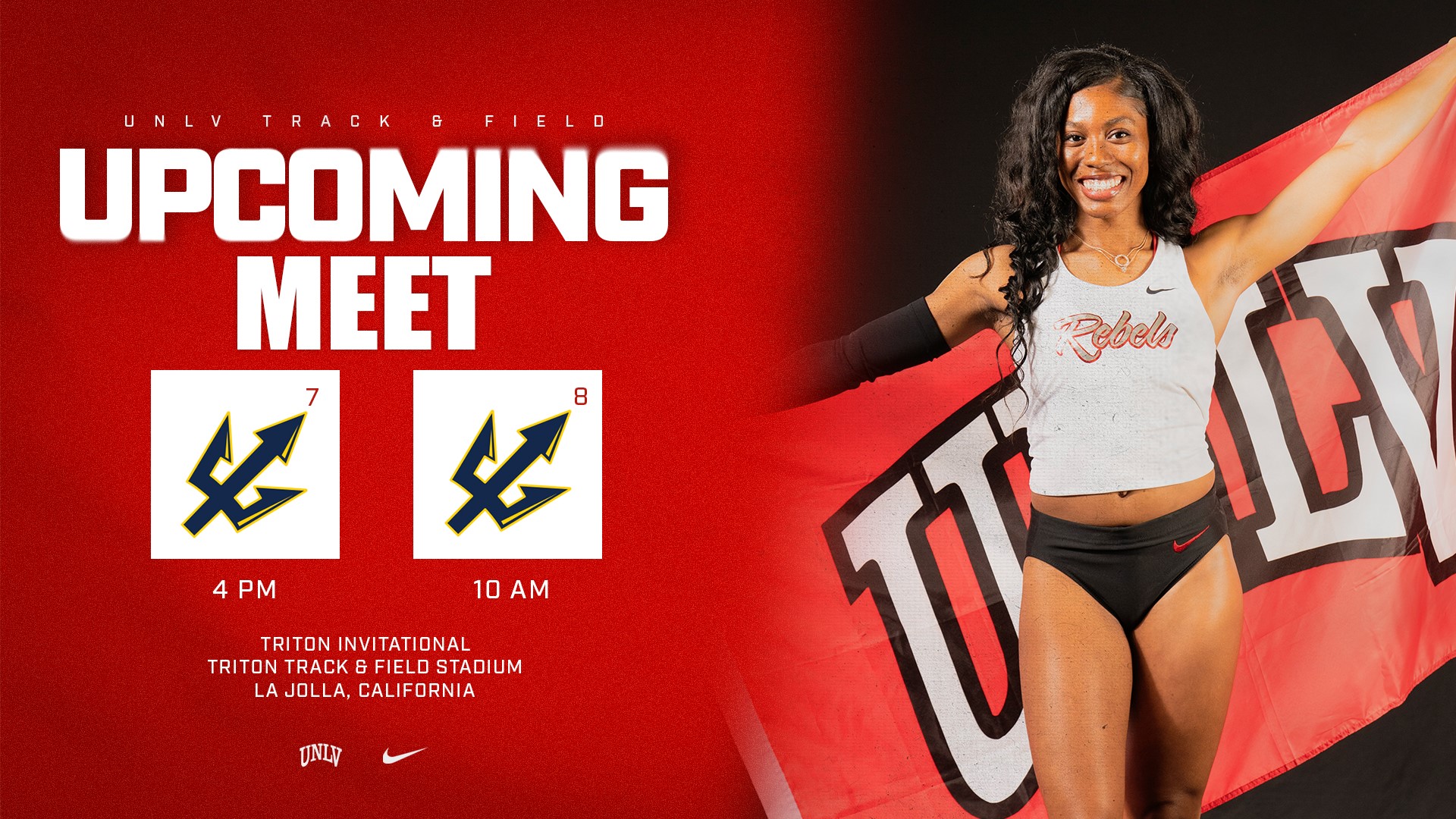 The UNLV track & field program will return to the Golden State this weekend for the 2023 Triton Invitational set to begin Friday afternoon. The two-day meet will be contested at Triton Track and Field Stadium on the campus of UC San Diego in La Jolla, California.
The Rebels will be competing against Mountain West foe San Diego State, Pac-12's Oregon and Washington, Big Ten's Indiana and Wisconsin, as well as many universities in the Big West Conference and additional Southern California universities.
The Scarlet & Gray will kick things off Friday evening at 4 p.m. with the women's open discus throw. Saturday's events will start at 10 a.m. with the women's invitational javelin throw on the field and the women's 400m relay on the track.
MOUNTAIN WEST RANKINGS: UNLV has a total of 12 student-athletes ranked in the top 15 for 11 events in the Mountain West standings. Junior Deisiane Teixeira leads the conference in the women's javelin throw with a mark of 55.65m (182-07.00). Sophomore Rosa Santana sits first in the women's shot put with a mark of 17.93m (58-10.00), followed by senior Cassidy Osborne-Butler with a mark of 15.27m (50-01.25). Osborne-Butler also ranks third in the women's hammer throw (57.57m (189-02.00)). Senior Alia Scott leads the conference in the women's 400m hurdles. Sophomore Erin Thompson sits sixth in the women's high jump with a mark of 1.62m (5-05.00). Sophomore Natalia Ruiz ranks eighth in the women's 5000m run. Sophomore duo Shakeira Bowra and AnnaKay Maitland rank ninth and 11th in the conference for women's 100m dash with times of 12.03 and 12.08, respectively. Freshman Jana Lakner sits ninth in the women's 400m run (55.69) and 11th in the women's 200m run (24.79). Freshman Roxene Simpson and senior Kimone Reid rank 12th and 13th in the women's discus event with marks of 42.78m (140-04.00) and 42.48m (139-04.00). Junior Taylor Shorter ranks 14th in the women's 100m hurdles (15.16).
LAST TIME OUT: UNLV recorded seven personal bests at the Texas Relays last week, including Santana setting the women's shot put outdoor program record with a mark of 17.93m and Teixeira setting the program record in the women's javelin throw with a mark of 55.65m.
FOLLOW ALONG
Fans can follow this weekend's meet through live stats and social media. The link to live stats can be found online at UNLVRebels.com in the "schedule" section of the team's track & field page, as well as on the team's official social media channels. Updates will be provided through @UNLVTrackCC, the team's official Twitter account.
SCHEDULE OF EVENTS
Friday, April 7
Field Events
4:00 p.m. – Women's Discus Throw (Open)
Saturday, April 8
Field Events
10:00 a.m. – Women's Javelin Throw (Invitational)
11:00 a.m. – Women's Long Jump (Invitational)
11:00 a.m. – Women's High Jump (Invitational)
2:00 p.m. – Women's Shot Put (Open)
3:00 p.m. – Women's Triple Jump (Invitational)
5:00 p.m. – Women's Shot Put (Invitational)
Running Events
10:00 a.m. – Women's 400m Relay
10:20 a.m. – Women's 3000m Steeplechase
10:50 a.m. – Women's 1500m Run
12:05 p.m. – Women's 100m Hurdles
12:45 p.m. – Women's 400m Run
1:30 p.m. – Women's 800m Run
2:15 p.m. – Women's 100m Dash
4:30 p.m. – Women's 200m Dash
5:30 p.m. – Women's 5000m Run
6:15 p.m. – Women's 1600m Relay
Summary
Article Name
Rebels Run Back To Golden State This Weekend
Description
Rebels Run Back To Golden State This Weekend