REBELS SWEEP THE SHOCKERS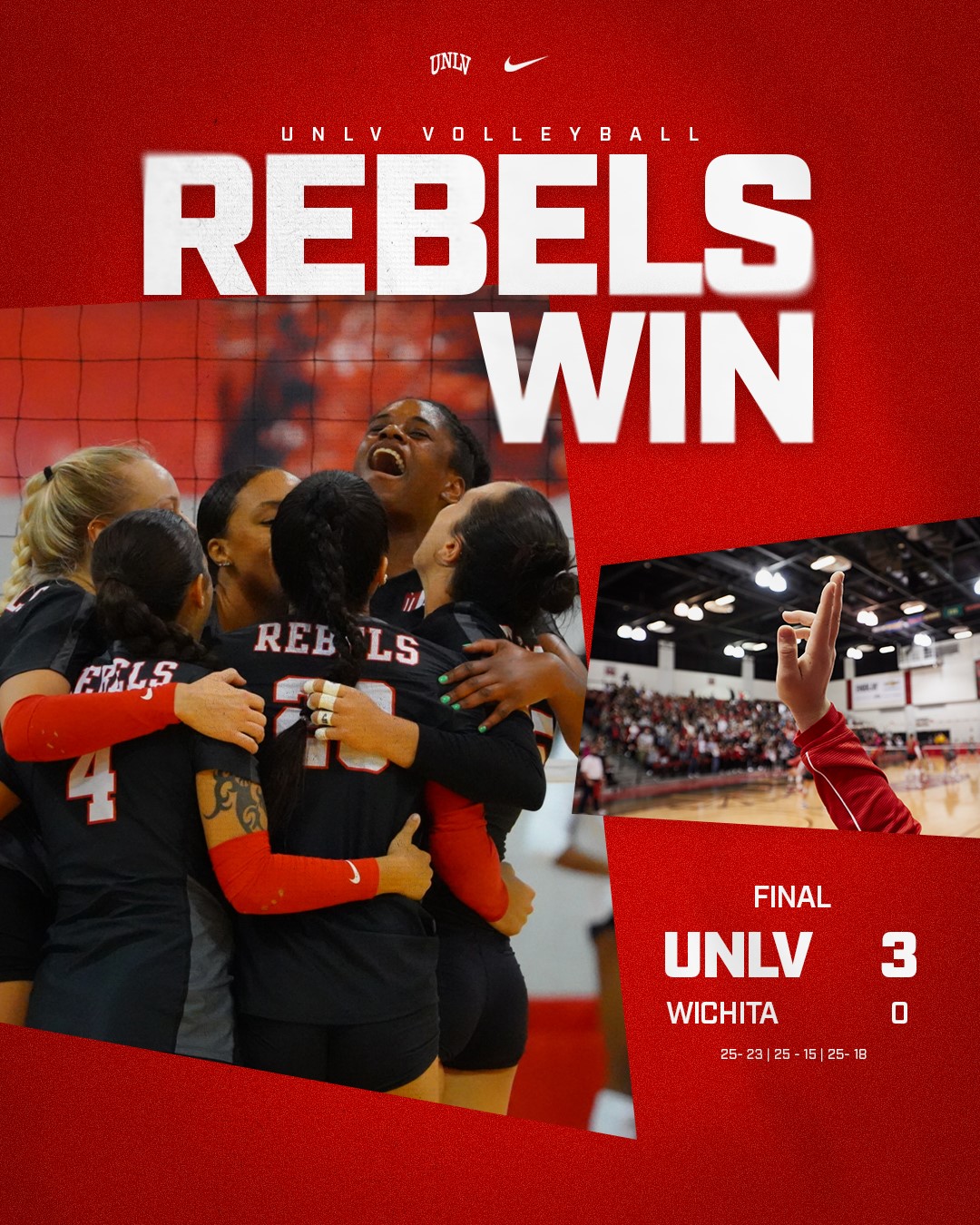 @UNLVvball | Final Box | Live Stats | Watch Live | Schedule | Tickets
The UNLV volleyball team (6-1) dominated Wichita State (3-3) in three sets Thursday morning during game one of the Kansas Invitational. The two-day tournament is being held at the Horejsi Family Volleyball Arena.
In an exciting back-and-forth battle during set one, the Scarlet & Gray came out on top 25-23, before dominating in the next two sets 25-15 and 25-18.
Redshirt-junior Isabel Martin set the pace for the Rebels with a triple-double consisting of 21 kills, 14 digs and 22.5 points scored. Junior Gaby Arretche-Ramos also paced UNLV, putting up six kills, one solo block, eight digs and seven points. The Scarlet & Gray were led by double-digit outings from Jhenna Gabriel's 28 assists and 11 digs and freshman Maya Sands's 15 digs.
The hitting contest went to UNLV as it out hit the Shockers .305 to .185. Sophomore Dakota Quinlan's team-best .467 hitting percentage and junior Jordyn Freeman's .444 hitting percentage made the Rebel duo the squad's leaders in attack efficiency.
UP NEXT: The Rebels will close out the Kansas Invitational with the final match against no. 19 Kansas, set for Friday evening at 4:30 p.m (PT).
TUNE IN, WATCH & LISTEN
Fans can follow this weekend's Kansas Invitational through live stats and social media. Only Friday night's contest against Kansas will be available to live stream through ESPN+. Links to video and stats can be found online at UNLVRebels.com in the "schedule" section of the volleyball page, as well as on the team's official social media channels: @UNLVvball (Twitter and Instagram) and @UNLVRebelVolleyball (Facebook).
OTHER NEWS & NOTES:
UNLV returned eight letterwinners this season.
Also returning to the squad from last season were Gabrielle Arretche-Ramos, Arien Fafard, Jordyn Freeman, Chloe Thomas, Isha Knight, Keyana Cruse, Dakota Quinlan, Livvy Setla, Isabel Martin and Thea Sweder. There are eight newcomers, which include three freshmen, a trio of transfers and a pair of graduate transfers.
UNLV is led by fifth-year head coach Dawn Sullivan, who looks to guide her squad to the postseason for the fifth straight season.
Junior Arien Fafard had her 1,000th career assist during the UNT Tournament on Aug. 27.
Summary
Article Name
Rebels Sweep The Shockers
Description
Rebels Sweep The Shockers