REBELS TO CLOSE OUT REGULAR SEASON AT DESERT HEAT CLASSIC
@UNLVTRACKCC | 2023 Schedule | Live Results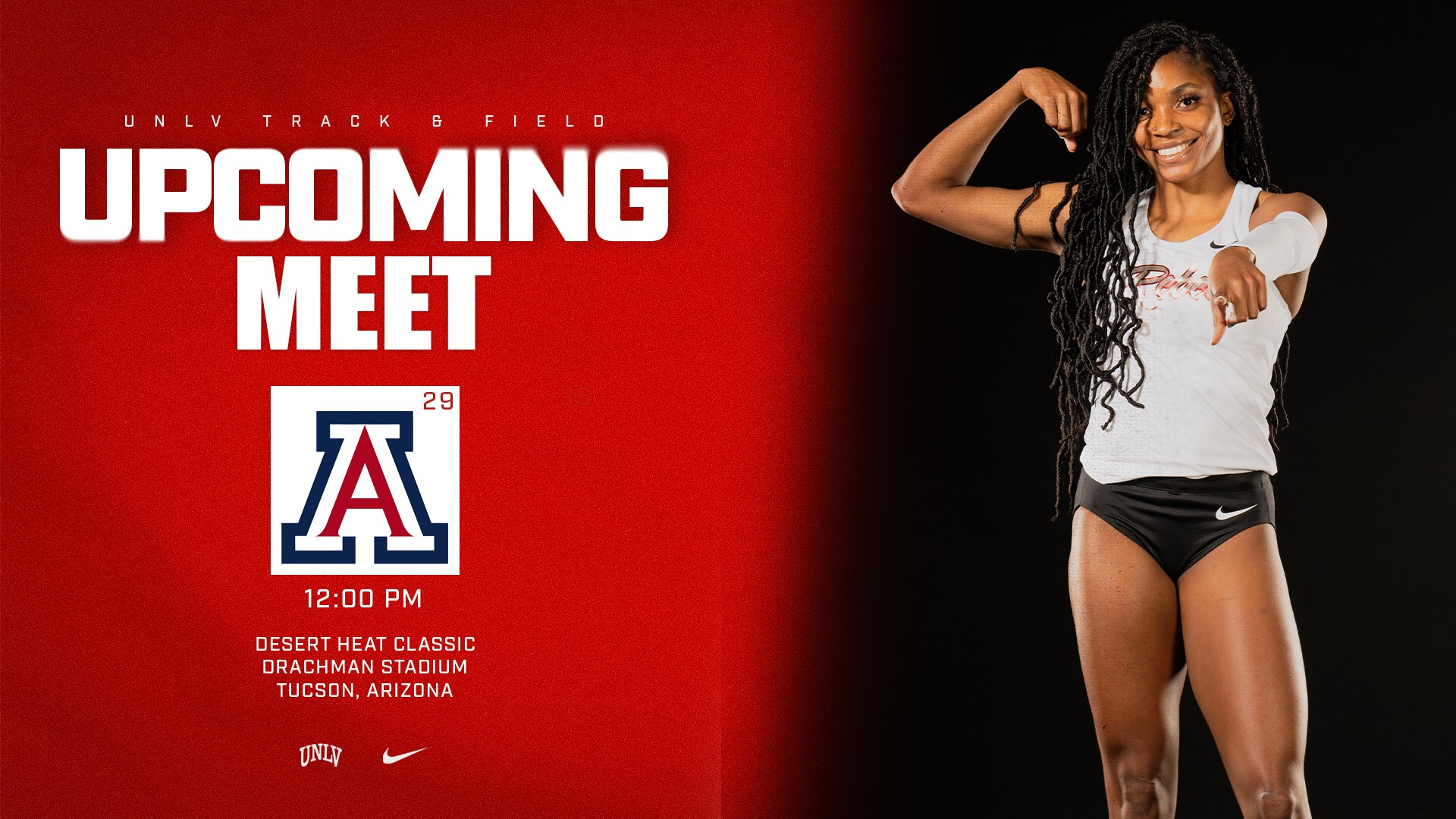 The UNLV track & field program will close out the regular season with a trip to Tucson, Arizona for the Desert Heat Classic set for this Saturday beginning at 12 p.m. The meet will be contested at Drachman Stadium on the campus of Arizona.
The Rebels will be the lone Mountain West representative and will be competing against the Pac-12's Arizona, Arizona State, Colorado and Oregon, as well as the SEC's Texas A&M and the Big 12's Iowa.
MOUNTAIN WEST RANKINGS: UNLV has a total of 10 student-athletes ranked in the top 10 for nine events in the Mountain West standings. Junior Deisiane Teixeira leads the conference in the women's javelin throw with a mark of 55.65m (182-07.00). Sophomore Rosa Santana sits first in the women's shot put with a mark of 18.39m (60-04.00), followed by senior Cassidy Osborne-Butler in fourth with a mark of 16.24m (53-03.50). Osborne-Butler also ranks third in the women's hammer throw (57.57m (189-02.00)). Senior Alia Scott sits third in the conference in the women's 400m hurdles (59.68). Sophomore Erin Thompson sits fourth in the women's high jump with a mark of 1.72m (5-07.75) and freshman Jennifer Soetebier ranks seventh (1.67m 5-05.75)). Sophomore duo Kennedi Porter and Shakeira Bowra rank fourth and seventh in the conference for women's 100m dash, with 11.71 and 11.78, respectively. Freshman Jana Lakner sits fifth in the women's 400m run (54.41). Junior Taylor Shorter ranks ninth in the women's 100m hurdles (14.25).
LAST TIME OUT: UNLV recorded seven personal bests at the Red Rock Invite.
SCHEDULE OF EVENTS
Saturday, April 29
Field Events
12:00 p.m. – Women's Hammer
2:30 p.m. – Women's Discus
3:00 p.m. – Women's Long Jump
3:30 p.m. – Women's High Jump
3:30 p.m. – Women's Pole Vault
5:00 p.m. – Women's Shot Put
6:30 p.m. – Women's Javelin
7:00 p.m. – Women's Triple Jump
Running Events
5:40 p.m. – Women's 100 Meter Hurdles
6:00 p.m. – Women's 800 Meter Run
6:55 p.m. – Women's 100 Meter Dash
7:15 p.m. – Women's 3000 Meter Steeplechase
7:40 p.m. – Women's 400 Meter Hurdles
8:00 p.m. – Women's 200 Meter Dash
8:25 p.m. – Women's 1500 Meter Run
8:55 p.m. – Women's 5000 Meter Run
Summary
Article Name
Rebels To Close Out Regular Season At Desert Heat Classic
Description
Rebels To Close Out Regular Season At Desert Heat Classic