Registration Open for American Lung
Association in Nevada's Scale The STRAT
on February 26, 2023
Register today at scalethestrat.com to climb all 1,455 stairs up the
iconic STRAT Hotel, Casino & SkyPod in Las Vegas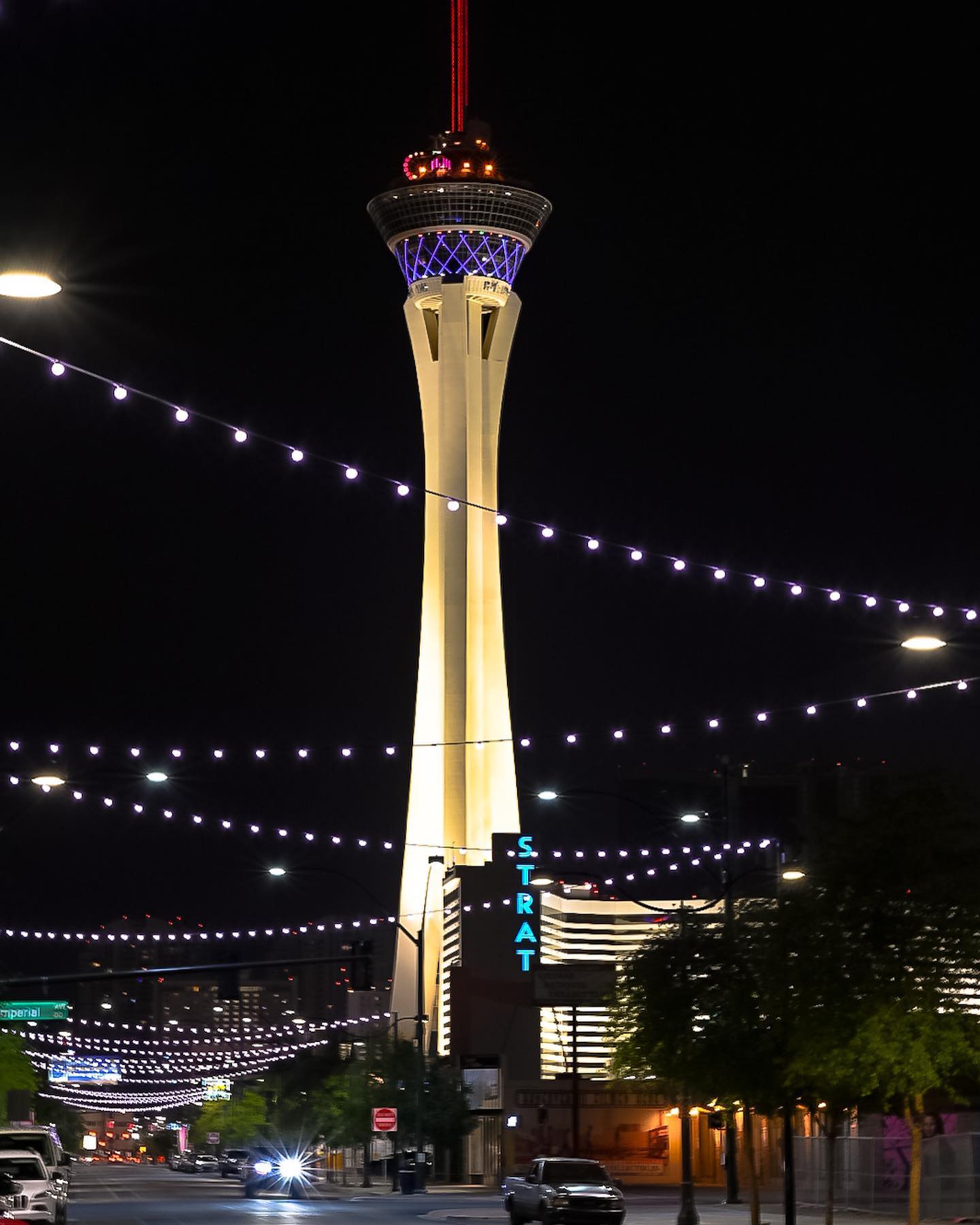 Join hundreds of climbers of all abilities on Sunday, February 26, 2023, for Scale The STRAT, the American Lung Association in Nevada's signature stair climb up all 108 levels of the iconic STRAT Hotel, Casino & SkyPod in Las Vegas.
Registration is now open at scalethestrat.com. Registration is $35 per climber, in addition to a $200 fundraising minimum. Scale The STRAT is a timed event, and official finish line photos will be available online after the climb.
Additionally, The STRAT will offer a special package for participants, including 35% off room bookings and a $20 food and beverage credit for 108 Eats and 108 Drinks. Using the code ALA23, the link to redeem the offer is available here.
The 1,455-step stair climb is the American Lung Association in Nevada's major fundraiser of the year and helps fund the nonprofit's lung health education, advocacy, and research efforts.
"There is no other Fight for Air stair climb in the country like Scale The STRAT," said Shannon Proctor, American Lung Association in Nevada executive director. "It is an opportunity for climbers to do good and feel great. Whether you climb for a top time or take it at your own pace, your participation will support those with lung disease fighting for every breath."
As always, climbers will be scheduled in heats every 15 minutes. Climbers will enter the stairwell one by one, with a staggered start.
"We are thrilled to once again welcome stair climbers from all over the world to The STRAT Hotel, Casino & SkyPod for Scale The STRAT in 2023," said Stephen Thayer, General Manager and VP of The STRAT Hotel, Casino & Skypod. "Every year, we donate staff time and the use of our iconic tower for this popular athletic fundraising event to support the American Lung Association in Nevada."
"Anthem is proud to once again be the presenting sponsor of this iconic event, something we have done since its inception," said Mike Murphy, president of Anthem Blue Cross Blue Shield Nevada. "Since that time, Scale The STRAT has raised more than $2.8 million to support the mission of the American Lung Association. We are excited to continue making a positive impact in the lives of those affected by lung disease."
To learn more about COVID-19 protocols, the American Lung Association, or Scale The STRAT, visit scalethestrat.com or email [email protected].
###
About the American Lung Association
The American Lung Association is the leading organization working to save lives by improving lung health and preventing lung disease through education, advocacy and research. The work of the American Lung Association is focused on four strategic imperatives: to defeat lung cancer; to champion clean air for all; to improve the quality of life for those with lung disease and their families; and to create a tobacco-free future. For more information about the American Lung Association, a holder of the coveted 4-star rating from Charity Navigator and a Gold-Level GuideStar Member, or to support the work it does, call 1-800-LUNGUSA (1-800-586-4872) or visit: Lung.org.
About The STRAT Hotel, Casino & SkyPod
The STRAT Hotel, Casino & SkyPod, formerly the Stratosphere, Casino, Hotel & Tower, has introduced a full reinvention of the iconic property since Golden Entertainment, Inc. took ownership in late 2017. Located on the north Strip at the gateway to the Arts District at 2000 S. Las Vegas Blvd., the hotel offers 2,427 guest rooms, including the newly remodeled "Elevate" series rooms and suites, and an 80,000-square-foot casino. The SkyPod, located at the top of the iconic tower at 1,149 feet high, is comprised of Top of the World, serving award-winning cuisine in a 360-degree rotating dining room on the 106th floor; the Observation Deck, which offers SkyJump, 108 Eats and 108 Drinks, located on the 108th floor; and thrill rides, located at the top of the tower, including: Big Shot, Insanity and X-Scream. The STRAT is home to residences for Rock & Roll Hall of Famers Sammy Hagar, who brings his legendary Cabo San Lucas birthday parties to life with "Sammy Hagar & Friends;" and Cheap Trick, whose shows pay tribute to monumental performances such as Live at Budokan, the band's legendary live album recorded in Tokyo.  The STRAT's main floor has introduced PT's Wings & Sports, View Lounge and STRAT Café, each offering chef-driven cuisine; the William Hill Sports Book; and REMIX Lounge. The STRAT offers two resort-style pools, WET24, located on the rooftop of the 24th floor, open seasonally; and the Elation Pool, with three oversized spas and poolside café. A variety of shows and entertainment include "Banachek's Mind Games Live," a mentalist act; Xavier Mortimer: The Dream Maker, an illusionist show; iLuminate, a multi-sensory blend of dance and technology; ROUGE, an exciting, topless spectacular and immersive, sensual experience; and L.A. Comedy Club, which showcases up-and-coming stand-up comics. Golden Entertainment, Inc.'s innovative guest loyalty rewards program, True Rewards, is now available at The STRAT and 140+ other locations. Free valet and self-parking are available anytime for all guests. More information is available at www.TheSTRAT.com or by calling 702-380-7777. The STRAT is on social media at Facebook, Twitter, Instagram and YouTube.
About Anthem Blue Cross and Blue Shield Nevada
Anthem Blue Cross and Blue Shield Nevada is the trade name of Rocky Mountain Hospital and Medical Service, Inc. HMO products underwritten by HMO Colorado, Inc. dba HMO Nevada. Independent licensees of the Blue Cross and Blue Shield Association. ANTHEM is a registered trademark of Anthem Insurance Companies, Inc. The Blue Cross and Blue Shield names and symbols are registered marks of the Blue Cross Blue Shield Association. Additional information about Anthem Blue Cross and Blue Shield in Nevada is available at www.anthem.com, Twitter or Facebook.
Summary
Article Name
Registration Open for American Lung Association in Nevada's Scale The STRAT on February 26, 2023
Description
Registration Open for American Lung Association in Nevada's Scale The STRAT on February 26, 2023