RUNNIN' REBELS BACK AT HOME TO HOST BOISE STATE WEDNESDAY NIGHT
8 p.m. game to be televised on CBS Sports Network; UNLV coming off road win at then-No. 21 New Mexico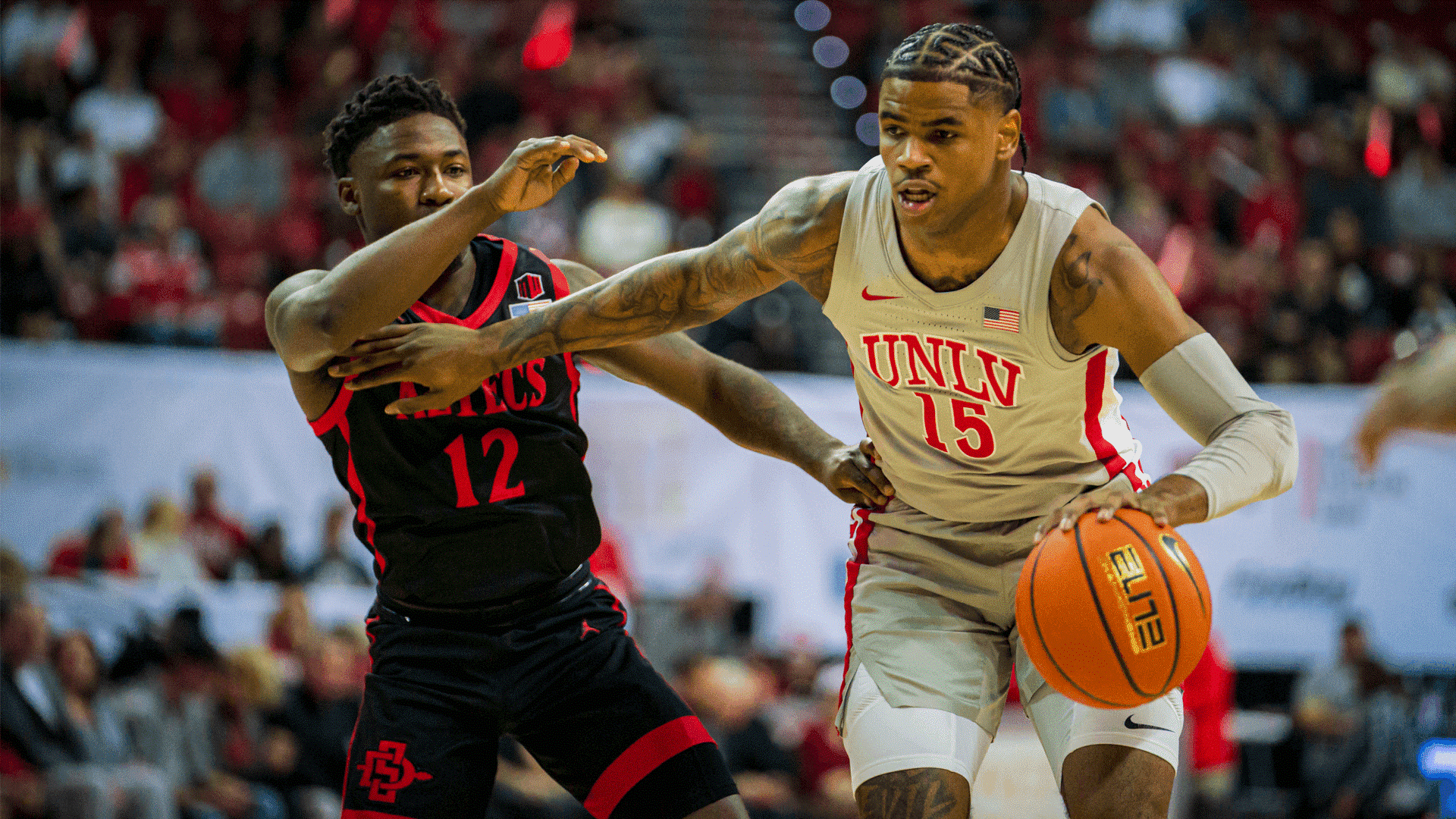 After winning its second game against a ranked team this season – this time at No. 21 New Mexico in front of a sold-out crowd at The Pit on Saturday, the UNLV men's basketball team (12-3 overall, 1-2 Mountain West) will return home to the Thomas & Mack Center to host Boise State (12-4, 2-1) on Wednesday, Jan. 11 at 8 p.m.
LAST TIME OUT: EJ Harkless scored 21 of his season- and game-high 25 points in the second half, while four other Runnin' Rebels finished in double figures in points: Keshon Gilbert (14), Jordan McCabe (12), Luis Rodriguez (12) and David Muoka (11) in the win Saturday night in Albuquerque. Harkless was named the MW's Men's Basketball Player of the Week for his efforts. Muoka had a team-high seven rebounds, while Harkless and Rodriguez each grabbed six. Gilbert and Harkless each dished out a game-high five assists, while Gilbert recorded a career-high-tying four steals. It was the Lobos' first loss of the season on their home court.
ABOUT THE ROSTER: This season's UNLV squad features six returners, nine newcomers, including six transfers from the Division I level, and a total of 10 upperclassmen. The lone returning starter is 6-foot guard Jordan McCabe, who was a senior last season and returns for his fifth year for 2022-23. Other returners include 6-3 senior guard Justin Webster, 6-10 senior center David Muoka, 6-4 sophomore guard Keshon Gilbert, 6-7 senior forward Victor Iwuakor and 6-3 senior guard Cameron Burist.
The newcomers include 6-10 redshirt sophomore forward Isaiah Cottrell, who is originally from Las Vegas and transferred to UNLV from West Virginia, 6-7 freshman guard Keyshawn Hall from Cleveland, Ohio, 6-3 fifth-year guard EJ Harkless, who transferred from Oklahoma, 5-11 sophomore guard Jackie Johnson III, who transferred from Duquesne, 6-10 junior forward Karl Jones, who transferred from LA Southwest College, 6-6 sophomore guard Shane Nowell, who transferred from Arizona, 6-4 fifth-year guard Elijah Parquet, who transferred from Colorado, 6-6 senior guard Luis Rodriguez, who transferred from Ole Miss and 6-1 junior guard Nick Walters, who transferred from the College of Southern Nevada.
After 15 contests, Harkless leads the team in scoring with 16.6 ppg (3rd in MW) and is contributing 4.4 rebounds, 3.6 assists (10th in MW) and 1.5 steals per game (7th in MW). Rodriguez is second on the team in scoring with 13.0 ppg, while leading the team in both rebounding (5.9 rpg, 9th in MW) and steals (2.3 spg, 2nd in MW, 21st in the country). Gilbert is also averaging double figures in scoring at 12.6 ppg with a team-leading 3.8 apg (7th in MW) and 2.3 spg (2nd in MW, 21st in the country). David Muoka is second on the team in rebounding (5.6 rpg) and leads the squad in blocks with 1.5 bpg (4th in MW).
ABOUT THE OPPONENT: Boise State comes to Las Vegas having won two straight games (vs. San Jose State, 67-64, on Jan. 3 and vs. Utah State, 82-59, on Saturday) and 11 of its last 13. The Broncos have four players averaging in double figures in scoring: Marcus Shaver Jr. (14.5 ppg, 9th in MW), Tyson Degenhart (13.4 ppg), Max Rice (11.9 ppg) and Chibuzo Agbo (11.5 ppg). Shaver Jr. also leads the team in rebounding (6.8 rpg, 7th in MW), assists (3.8 apg, 6th in MW) and steals (2.0 spg, 4th in MW). Boise State, who is receiving a vote in the Coaches' Poll, ranks 17th in the country in scoring defense (59.7) and 18th in field goal percentage defense (38.4). Boise State is the defending Mountain West champions as it went 27-8 overall and 15-3 in the league last season before winning the conference tournament. The Broncos ended their season in the NCAA Tournament's first round against Memphis. This season's team was picked to finish third out of 11 in the MW's preseason poll . Boise State's 16-man roster includes eight upperclassmen. The Broncos are coached by Leon Rice, who is in his 13th season at the school with a career record of 256-149 (.632).
TICKETS: UNLV men's basketball season ticket pricing has been adjusted for the 2022-23 season, with affordability and family-friendly value at the forefront of the changes. Tickets may be purchased online at UNLVtickets.com, on the phone by calling 702-739-FANS (3267) or in person at the Thomas & Mack Center Box Office.
PROMOTIONS: Wednesday's game will feature another $2 Beer Night and UNLV students will have the chance to win tickets to a concert featuring Future.
BROADCAST INFO: Wednesday's game will be televised nationally on CBS Sports Network with Chris Lewis and Bob Wenzel calling the action. Jon Sandler, former Runnin' Rebel Curtis Terry and Steve Cofield (sidelines) will handle the UNLV radio call, which may be heard live on ESPN Radio 1100 in Las Vegas. All streaming links and live stats will be available at UNLVRebels.com and through the UNLV Rebels App.
Summary
Article Name
Runnin' Rebels Back At Home To Host Boise State Wednesday Night
Description
Runnin' Rebels Back At Home To Host Boise State Wednesday Night