RUNNIN' REBELS TO PLAY THREE GAMES IN CANADA IN MID-AUGUST

Foreign tour will take place Aug. 15-20 in Vancouver, B.C., open practice scheduled for Aug. 13 at 10 a.m. at Mendenhall Center; Games will be broadcast live on radio in Las Vegas with delayed video on YouTube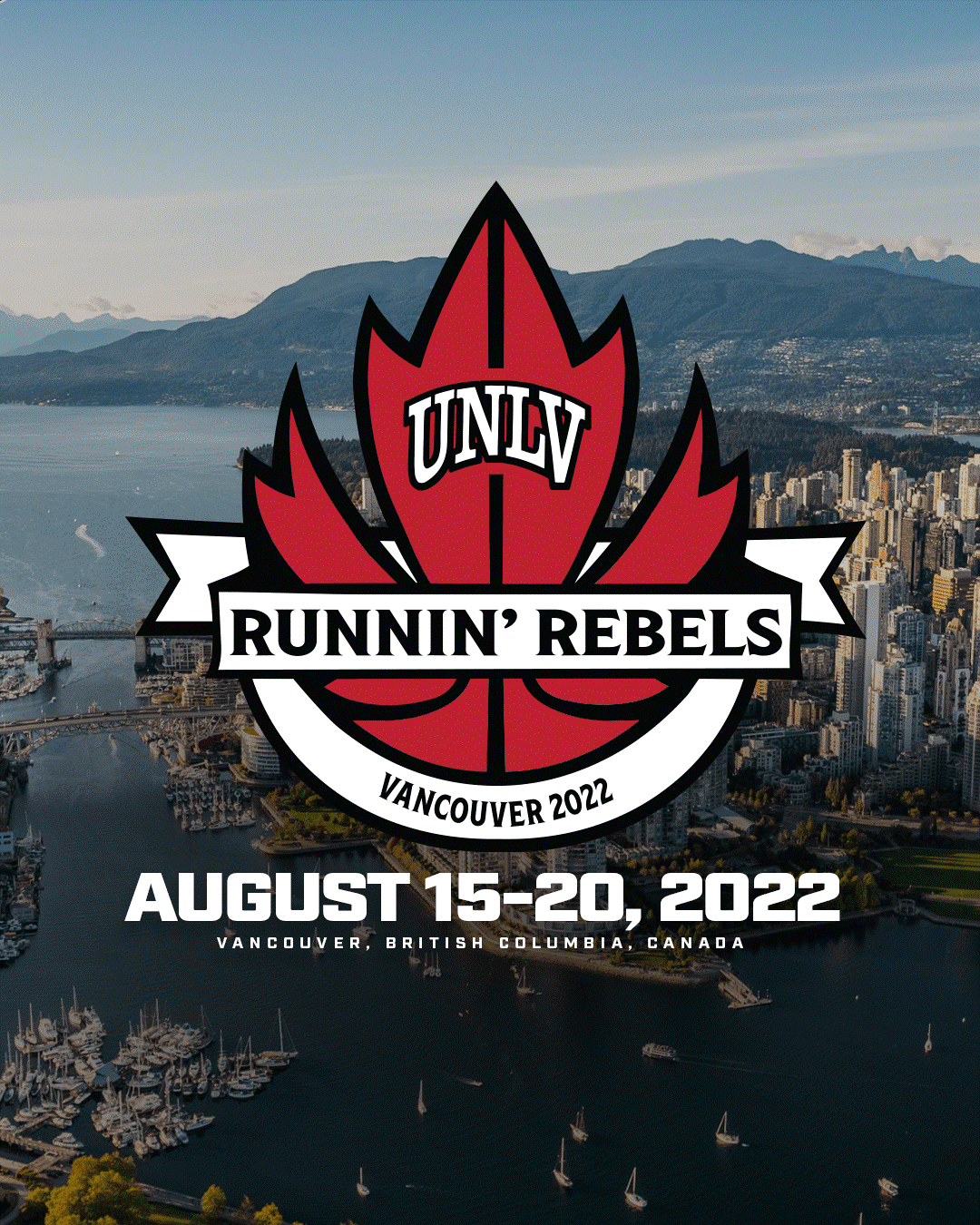 @UNLVAthletics  |  @TheRunninRebels
The UNLV men's basketball program will get an early start to the 2022-23 season as the Runnin' Rebels will play three exhibition games during a six-day foreign tour in Vancouver, British Columbia, Canada.
As part of the trip per NCAA rules, UNLV is allowed to have 10 days of practices, which start August 2. Saturday, August 13 has been designated as an open practice for fans to attend before the team leaves for Canada. The practice that day will begin at 10 a.m. in the Mendenhall Center with free admission and the team will sign autographs.
"We are very excited about the opportunities that this foreign tour will present for our team," head coach Kevin Kruger said. "The experiences and team bonding that will be developed will be beneficial as we head into this season, and having the extra 10 full practices has great value. We intend to also use this time to introduce our new guys to our program's culture and how we do things on a daily basis here as we prepare for the upcoming season."
UNLV's game schedule during the trip:
Tues., Aug. 16 – 7 p.m. – at University of British Columbia
Wed., Aug. 17 – 7 p.m. – vs. University of Calgary (played at UBC)
Fri., Aug. 19 – 7 p.m. – at University of the Fraser Valley
Each game will be broadcast live on radio in Las Vegas by Lotus Broadcasting (station TBD) with Jon Sandler and Curtis Terry calling the action. In addition, video from each game will be uploaded to the Runnin' Rebels' YouTube account ASAP following each game.
For fans traveling to Canada, tickets may be purchased for the first two games here and the third game here.
Fans are also encouraged to follow the Runnin' Rebels' social media accounts for regular updates throughout the trip: @RunninRebels (IG), @TheRunninRebels (Twitter), @RunninRebels (Tik Tok).
This marks UNLV's first foreign tour since 2016 in the Bahamas.
2022-23 ROSTER: This season's roster features six returners from last season's team and eight newcomers, including six transfers from the Division I level.
2022-23 SEASON TICKETS: Ticket prices for the 2022-23 season have been adjusted with affordability and family friendly value at the forefront of the changes. Click the links for more information or to purchase.
2021-22 SEASON RECAP: The Runnin' Rebels are coming off a successful 2021-22 season, which marked the first under head coach Kevin Kruger. The team accumulated 18 wins – its most in four years – and recorded 10 Mountain West victories, exceeding preseason expectations in the league standings.
With a revamped roster that included nine transfers, the team continually showed improvement as the season progressed, advancing 43 spots in the national KenPom ratings along the way.
In addition, Coach Kruger was recognized as one of the nation's top first-year head coaches in Division I men's college basketball.
Summary
Article Name
Runnin' Rebels To Play Three Games In Canada In Mid-August
Description
Runnin' Rebels To Play Three Games In Canada In Mid-August