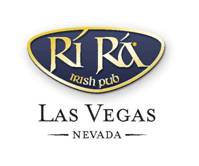 Ring in the New Year Twice at Rí Rá Las Vegas
Rí Rá Las Vegas celebrates New Year's Eve with two toasts to the New Year. In addition to the traditional midnight toast, the pub will ring in the Irish New Year at 4 p.m.
Rí Rá's New Year's Eve party is free and open to the public. The pub will celebrate this special occasion by hosting a 'Titanic' themed party. Attendees are encouraged to dress in their best ship passenger attire, as first class, second class or steerage passengers, with the best costumes winning prizes. The Shamrock Rovers will keep the party going from 9:30 p.m. to 2:30 a.m. by blending traditional Irish ballads and tunes with contemporary songs. During the party, Rí Rá will feature 'Titanic' themed menu items, including Brie En' Croute ($14), Filet Mignon Lili ($28), Baked Haddock with Sharp Sauce ($19), Shepherd's Pie ($16) and a Warm Rice Pudding for dessert ($8). Partiers can also enjoy $5 Black Velvets (champagne and Guinness) during the party.
Follow Rí Rá Las Vegas on Facebook and Twitter for the latest news and updates.
About Rí Rá Las Vegas
Crafted in the warm pub style of 19th century Ireland, Rí Rá Las Vegas is located inside The Shoppes at Mandalay Place. The authentic Irish pub features a multitude of artifacts that were carefully restored in Wicklow, Ireland and shipped to their new home in Las Vegas. Rí Rá Las Vegas contains an authentic Victorian Shop bar that began its life in Ireland in the 1880s, a whiskey bar adorned with an original glazed jewelry cabinet from 1900, an oak floor from a whiskey distillery and an 8-foot-tall, 500-pound carved plaster statue of St. Patrick dating back to 1850. The pub hosts live entertainment seven nights a week in a music room constructed with artifacts dating back to 1890 from the Olympia Theater in Dublin, Ireland. On the weekends, guests can kick back at Rí Rá Live, where every Friday and Saturday at 11:30 p.m. the best bands in town take the pub's stage. Born and raised in Dublin, Rí Rá Las Vegas owners David Kelly and Ciaran Sheehan have been close friends since they were 14-years-old. Kelly and Sheehan later partnered with Jay Luther, whom Kelly met while working for Guinness. Rí Rá Las Vegas is the 12th pub the trio has opened in the U.S.