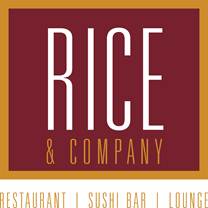 ROLL INTO THE HOLIDAY SEASON AT RICE AND COMPANY
"Santa's Roll" and "Roll in the New Year" debut just in time for the season
Danny Chen, Executive Chef of the Far East Asian bistro Rice & Company, brings his Christmas spirit and New Year's revelry this season with the introduction of his newest sushi creations, "Santa's Roll" and "Roll in the New Year" at Luxor Hotel and Casino.
Enjoy a jolly evening this December with the festive Christmas "Santa's Roll," made with crawfish, sliced cucumber and carrots and topped with sear ahi fluke, shiso leaf, coconut flake and togarashi, finished with a savory thai mayo sauce.
For a fresh start in 2012, try our "Roll in the New Year" sushi roll, representative of its name. This celebratory roll is made with cream cheese, smoked salmon, mango and is topped with shrimp, avocado and caviar. Served with spicy mango salsa and kabayaki sauce, "Roll in the New Year" is the ideal dinner resolution while experiencing the Luxor's newest contemporary Asian restaurant, Rice & Company.
About Rice & Company
The atmosphere combines classic and contemporary design features, offering guests a dynamic setting to enjoy their dining experience. There are three semi-private dining rooms for business meetings, rehearsal dinners, bachelor/bachelorette parties and more, accommodating 10, 30 and 40 guests, respectively.
Located on the Luxor's second level at the entryway to The Shoppes at Mandalay Place, Rice & Company is open daily from 5 p.m. until 11 p.m., and the lounge stays open until midnight. For more information or reservations, guests may call 702-262-4774 or visit www.luxor.com/restaurants/riceandcompany.aspx. Follow Rice & Company or become a fan at www.Twitter.com/riceandco or www.facebook.com/riceandco.