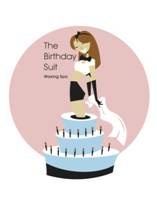 The Birthday Suit Gives Back and Pampers Guests for the Holidays
Guests can experience an array of services and products for a special 'tis the season' price
With the Holidays quickly approaching, The Birthday Suit-waxing spa wants to give back to the community by collecting new, unwrapped toys for those less fortunate which will be donated to 98.5 KLUC's Chet Buchanan & The Morning Zoo Toy Drive. Guests that come in with a donation will receive special discounts on services and a chance to receive a 60-minute Dermalogica facial.
From now through Sunday, Dec. 11, guests who bring in new, unwrapped toys valued at $10 or more will receive 10 percent off their same day service; toys valued at $20 or more will receive 20 percent off their same day service and guests who donate a new bicycle will receive a 60-minute Dermalogica Facial ($80 value). Limit of one discount per toy, per service and all participants must bring a copy of the toy's receipt to verify purchase and discount amounts.
Keeping up with the festivities, The Birthday Suit is also offering a special Holiday Gift Pack for $50 which includes The Birthday Suit's signature brand of Ingrown Hair Serum, Pineapple Enzyme Scrub and Lava Body Wash perfect for the gift giving season-even if it's a special treat for yourself.
The Birthday Suit is located at 7645 S. Rainbow Boulevard, Ste. 101, Las Vegas, Nev. 89139. Hours of operation are Monday through Friday 8:30 a.m. until 8 p.m., Saturday 8:30 a.m. until 7 p.m. and Sunday 10 a.m. until 4 p.m. For more information or to book an appointment please call 702-425-1343 or visit thebirthdaysuit.com
About The Birthday Suit
This stylish spa boasts 1200 sq. ft. of lofted ceilings and modern décor, providing a chic atmosphere. Equipped with four private treatment rooms and a separate waiting room for the kids, complete with child-friendly programming and activities, The Birthday Suit caters to a diverse array of clientele. Walk-ins for waxing services are welcomed. Additional services, such as custom facials are available by appointment. The Birthday Suit carries skin care products from top brands including Dermalogica and The Birthday Suit's custom line of washes, scrubs and ingrown hair serum.