THE KEVIN KRUGER RADIO SHOW BEGINS WEDNESDAY

Program will originate from Bailiwick at The Orleans Hotel & Casino and air live at 5 p.m. on KRLV 920 AM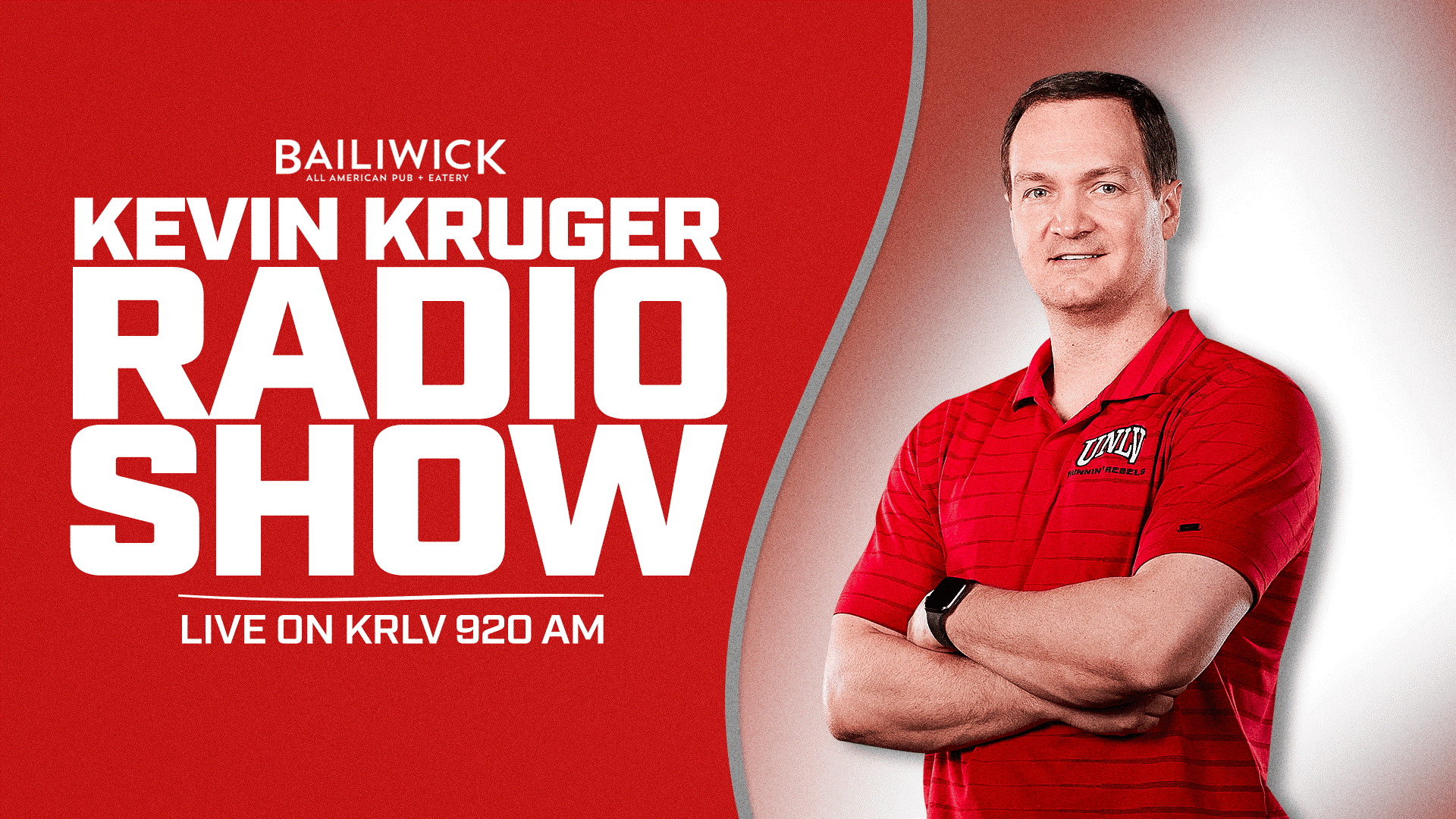 @TheRunninRebels  |  Purchase Tickets  |  Schedule
The Kevin Kruger Radio Show will make its 2022-23 season debut on Wednesday evening, airing live in Las Vegas on KRLV 920 AM from 5-6 p.m.
The show will take place on selected weekdays throughout the entire season and will originate from Bailiwick at The Orleans Hotel & Casino.
Hosted by Jon Sandler, UNLV Sports Properties' play-by-play voice of the Runnin' Rebels, along with former Runnin' Rebel and current radio analyst Curtis Terry, the show features UNLV men's basketball head coach Kevin Kruger.
Guests will be featured frequently throughout the season, including UNLV men's basketball assistant coaches and student-athletes.
Fans are encouraged to attend the show in person and questions to be asked on air may be Tweeted to @UNLVonTheRadio.
The full Kevin Kruger Radio Show schedule for 2022-23 (all shows will air live on KRLV 920 AM from 5-6 p.m.):
Wed., Nov 2
Wed., Nov. 9
Wed., Nov. 16
Wed., Nov. 30
Wed., Dec. 14
Wed., Jan. 4
Tues., Jan. 10
Wed., Jan. 18
Wed., Jan. 25
Wed., Feb. 1
Wed., Feb. 15
Wed., Feb. 22
Tues, Feb. 28
Kruger is in his second season at the helm of the program. The Runnin' Rebels will open the 2022-23 season with four straight home games at the Thomas & Mack Center: Monday, November 7 vs. Southern, Saturday, Nov. 12 vs. Incarnate Word, Tuesday, Nov. 15 vs. No. 24 Dayton and Friday, Nov. 18 vs. High Point.
2022-23 SEASON TICKETS: Ticket prices for the 2022-23 season have been adjusted with affordability and family friendly value at the forefront of the changes. Click the links for more information or to purchase. Mini plans and single-game tickets are also on sale now.
2022-23 ROSTER: This season's UNLV men's basketball roster features six returners from last season's team and eight newcomers, including six transfers from the Division I level.
FOLLOW US: For all things UNLV Runnin' Rebels, follow the social media accounts below:
Twitter: @TheRunninRebels
Instagram: @RunninRebels
TikTok: @RunninRebels
Facebook: @UNLVRunninRebelBasketball
YouTube: @RunninRebels
Summary
Article Name
The Kevin Kruger Radio Show Begins Wednesday
Description
The Kevin Kruger Radio Show Begins Wednesday