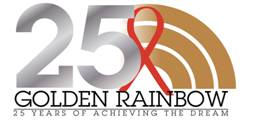 Tickets For Golden Rainbow's 26th Annual "Ribbon Of Life" Spectacular Now On Sale
Local HIV/AIDS nonprofit hosts fundraising production June 24 at The Smith Center for the Performing Arts
Tickets for Golden Rainbow's 26th "Ribbon of Life" fundraising production start at $38 and are now available for purchase at thesmithcenter.com, goldenrainbow.org and The Smith Center box office at 702.749.2000. This year's "Ribbon of Life" will take place inside Reynolds Hall at The Smith Center for the Performing Artson Sunday, June 24 at 1 p.m.
Confirmed performers include Clint Holmes, Reva Rice and the cast of Vegas the Show!, Broadway in the Hood, Las Vegas Deaf Choir as well as the casts of Jubilee!, Phantom – The Las Vegas Spectacular and more.
Debuting in its new home, The Smith Center for Performing Arts, "Ribbon of Life" draws thousands of supporters each year and is easily one of the biggest shows in Southern Nevada. Last year's spectacular included "Everything I Am" by PEEPSHOW headliner and co-star of E!'s "Holly's World" Josh Strickland, "The Color Purple" by the cast of THE LION KING, "Footloose" by Human Nature and Clint Holmes' rendition of "West Side Story," which earned a standing ovation from the crowd.
Keep up with the latest news on the 26th annual "Ribbon of Life" event on Facebook or Twitter.
About Golden Rainbow
Celebrating 25 years of service to the Southern Nevada area, Golden Rainbow is a nonprofit organization that provides housing and direct financial assistance to men, women and children living with HIV/AIDS. Founded by members of the entertainment industry in 1987, Golden Rainbow is committed to serving the HIV/AIDS community through fundraisers like Ribbon of Life and HIV/AIDS related education. For more information, visit www.goldenrainbow.org or call 702.384.2899.