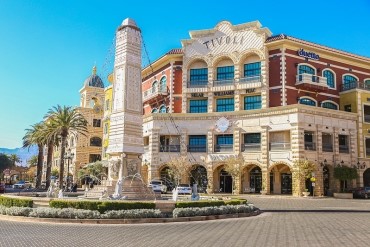 L to R: Promotional Graphic for Ales & Tails; Tivoli Village's Alta Drive entrance.
(Photos Courtesy of Tivoli Village)
TIVOLI VILLAGE INVITES GUESTS TO ALES & TAILS
PET ADOPTION EVENT, SUNDAY, OCT. 16
WHAT:
Tivoli Village and Las Vegas' Jason Mahoney of ALT 107.5 will host Ales & Tails at The Piazza. This pet adoption event will include dogs onsite from the Samadhi Legacy Foundation and Heaven Can Wait Animal Society available for adoption. In addition, attendees can learn more about veterinarian care, dog training and animal welfare and safety from Durango Animal Hospital, imPETus Animal Training, Pawsunbroken Rescue & Sanctuary and Clark County Animal Protection Services.
Guests 21 years or older can also support local animals in need and drink cold craft beers inside PKWY Tavern's beer garden, with 50 percent of proceeds going to adoption agencies. Lastly, visitors can enjoy a dog photo op area as well as pup cups available for purchase with proceeds also benefiting adoption agencies.
WHEN:
Sunday, Oct. 16
12 to 3 p.m.
WHERE:
The Piazza at Tivoli Village next to Restoration Hardware
400 South Rampart Blvd
Las Vegas, NV 89145
COST:
Admission to Ales & Tails is complimentary. To reserve your space at the event's beer garden by PKWY Tavern, click here.
PARKING:
Free Parking
ABOUT TIVOLI VILLAGE
From dancing in the streets to yoga on the Piazza, old-world elegance blends seamlessly with today's active lifestyle at Tivoli Village. Anchored by Restoration Hardware's RH Las Vegas, the outdoor center is complemented by a curated collection of retailers ranging from luxury brands to one-of-a-kind boutiques. Enticing restaurants include local favorites such as Al Solito Posto, Echo & Rig Butcher and Steakhouse, Leoné Café and El Dorado Cantina, while Kilo Club serves as an upscale members-only gym beyond traditional options. Located in one of the most affluent sections of Southern Nevada, Tivoli Village is 15 minutes from the Las Vegas Strip, conveniently situated off Summerlin Parkway. The center proudly boasts 370,000 square feet of retail and restaurants and 300,000 square feet of Class A office space. Covered parking and curbside pickup zones are provided.  Restaurant and store hours vary. For more information on Tivoli Village visit tivolivillagelv.com or follow along on Instagram or Facebook.
Summary
Article Name
Tivoli Village Invites Guests to Ales & Tails Pet Adoption Event, Sunday, Oct. 16
Description
Tivoli Village Invites Guests to Ales & Tails Pet Adoption Event, Sunday, Oct. 16