REBEL BASEBALL ANNOUNCES 2022 SCHEDULE
UNLV Baseball will play 56 regular-season games, including 30 against Mountain West competition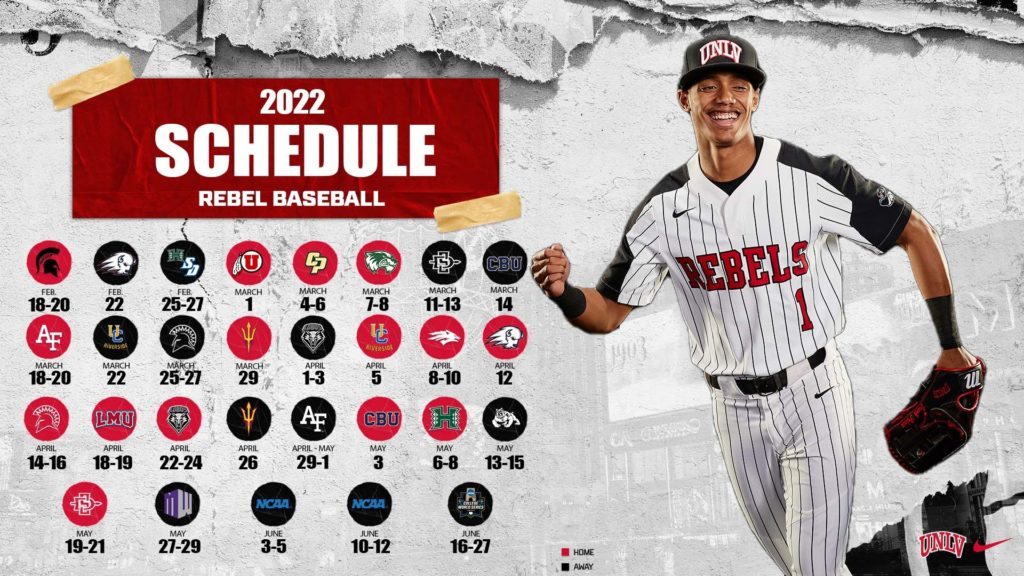 LAS VEGAS (UNLVRebels.com) – The UNLV baseball team will play a total of 56 regular-season games in 2022, with 30 of those against Mountain West competition and 26 versus 11 nonconference squads. In all, the Rebels will play 34 home contests in Las Vegas with 33 of those on campus at Earl E. Wilson Stadium and one more – a March 29 affair against Arizona State – at the Las Vegas Ballpark in Downtown Summerlin.
The Scarlet & Gray will play 10 three-game series against each MW squad with five at home (Air Force, Fresno State, San Jose State, New Mexico and San Diego State) and five on the road (San Diego State, San Jose State, New Mexico, Air Force and Fresno State). Eight of the 10 conference series will take place on weekends (Friday night-Sunday) except for two home contests against San Jose State on April 14-16 (Thursday-Saturday) and San Diego State May 19-21 (Thursday-Saturday).
UNLV will kick off the 2022 season with a four-game series versus Michigan State (Feb. 18-20) before hitting the road for a single game at Dixie State (Feb. 22) and three at Fowler Park & Cunningham Field against San Diego and Hawaii (Feb. 25-27).
The Scarlet & Gray will return home for a single game against Utah (March 1), a three-game series against Cal Poly (March 4-6) and two-game contest against Utah Valley (March 7-8). UNLV will open MW play with a three-game series at Tony Gwynn Stadium facing San Diego State (March 11-13), followed by a single game at Cal Baptist (March 14).
The Rebels head back home for the first MW home series against Air Force (March 18-20) before returning to the golden state for a single game contest at UC Riverside (March 22) and a series facing San Jose State (March 25-27). A makeup affair against the Sun Devils will be held at the Las Vegas Ballpark in Downtown Summerlin March 29 before hitting the road, again, for a series facing the New Mexico Lobos in Albuquerque (April 1-3).
From April 5 until the conclusion of the regular season on May 21, the Rebels will play 18 contests against Mountain West foes: vs. UNR (April 8-10), vs. San Jose State (April 14-16), vs. New Mexico (April 22-24), at Air Force (April 29-May 1), at Fresno State (May 13-15) and vs. San Diego State (May 19-21). There are six nonconference tilts in this time frame, five of those taking place at Earl E., with one against UC Riverside (April 5) and Dixie State (April 12), two against Loyola Marymount (April 18-19), one at Arizona State (April 26), one vs. Cal Baptist (May 3) and three against Hawai'i (May 6-8).
The MW Championship will be hosted by San Diego State and take place at Tony Gwynn Stadium from May 27-29.
Summary
Article Name
UNLV BASEBALL NEWS: 2022 UNLV Baseball Schedule Announced
Description
UNLV BASEBALL NEWS: 2022 UNLV Baseball Schedule Announced