UNLV VOLLEYBALL SET TO OPEN SEASON AT COLORADO'S BUFFS INVITATIONAL
Defending Mountain West champs open Malia Shoji era Friday in Boulder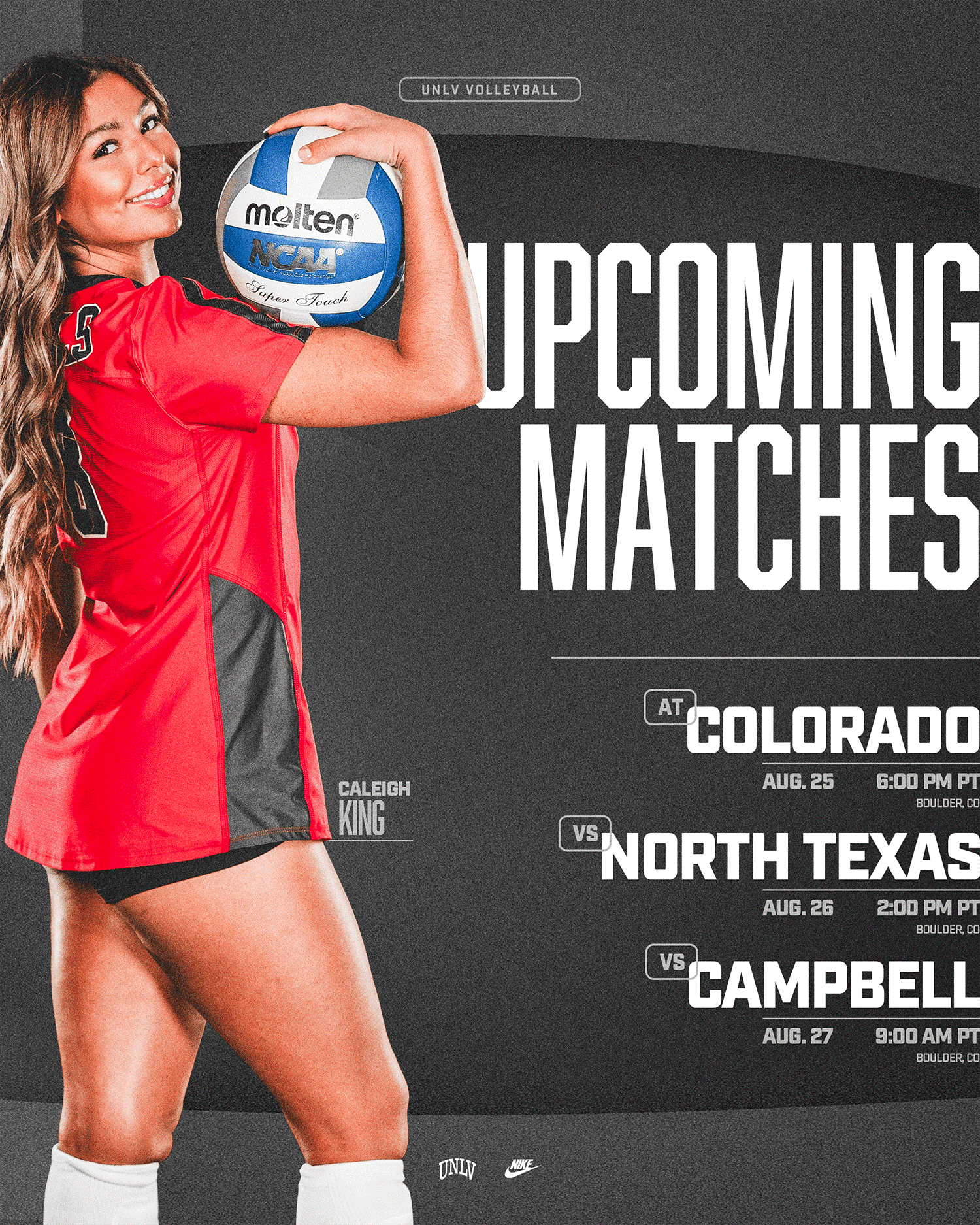 Buy UNLVtickets | @UNLVvball | Schedule
The defending Mountain West regular-season champion UNLV volleyball team is set to open the 2023 season on Friday at Colorado's Buffs Invitational.
The Rebels, who are under new leadership in first-year head coach Malia Shoji, will face Colorado on Friday, Aug. 25 at 6 p.m. PT at the CU Events Center in Boulder, then battle North Texas on Saturday, Aug. 26 at 2 p.m. PT before closing out the invitational on Sunday, Aug. 27 at 9 a.m. PT vs. Campbell. All three matches will be streamed live here: https://pac-12.com/live/cubuffs
The Rebels return 11 letterwinners from last season's team, including the 2022 MW Player of the Year and the 2023 Preseason MW Player of the Year in senior outside hitter Isabel Martin. Also returning are last season's all-conference honorees: senior outside hitter Gabrielle Arretche-Ramos and senior middle blocker Jordyn Freeman. Martin also earned all-region honors last season and was named an honorable mention All-American.
The Rebels, who have been named the preseason league favorites along with Utah State in a poll voted on by the conference's head coaches, have also added five new players to their 2023 roster.
"I couldn't be more proud of the work this team and staff has put in this offseason and preseason," Shoji said. "We have been able to establish our systems, build trust both on and off the court, and I am excited for us to put it into action."
Other Rebel individuals to keep an eye on as the season begins are junior middle blocker Dakota Quinlan and freshman libero Caleigh King.
UNLV went 26-5 overall in 2022, including a 17-1 record in Mountain West play, and made another NCAA Tournament appearance.
ABOUT THE OPPONENTS:
Colorado
The Buffaloes are coming off a successful 2022 season where they reached the 20-win plateau, marking the second time they have achieved that mark under head coach Jesse Mahoney, who is in his eighth season at the helm. Colorado has an impressive 30-2 record in home non-conference matches under Mahoney.
North Texas
The Mean Green finished last season with a record of 16-15. UNT returns its top scorer from last season in Treyuanna Rush along with Sh'Diamond Holly, who led the team with 153 blocks last year.
Campbell
The Camels won 19 matches last season and recorded a 14-2 conference record the year prior. Campbell welcomes back their top five scorers, who all logged 200 or more kills in 30 matches in 2022.
HOME OPENER: UNLV will host its first home match on Tuesday, Sept 12 against Southern Utah before welcoming Coppin State, Portland and Lamar to the Cox Pavilion at the UNLV Tournament Thursday-Saturday, Sept. 14-16. The full season schedule may be found here.
UNLV SEASON TICKETS: Season tickets for UNLV volleyball are on sale now and may be purchased at UNLVtickets.com or by calling 702-739-FANS (3267). Season tickets are $50 for adults (13 and older), and $40 for active alumni, seniors, and faculty and staff.
Summary
Article Name
UNLV VOLLEYBALL SET TO OPEN SEASON AT COLORADO'S BUFFS INVITATIONAL
Description
UNLV VOLLEYBALL SET TO OPEN SEASON AT COLORADO'S BUFFS INVITATIONAL