WE HEART MAGGIE'S BUTTERFLY BASH TO BENEFIT CHILDREN'S HEART FOUNDATION RETURNS FOR FINAL YEAR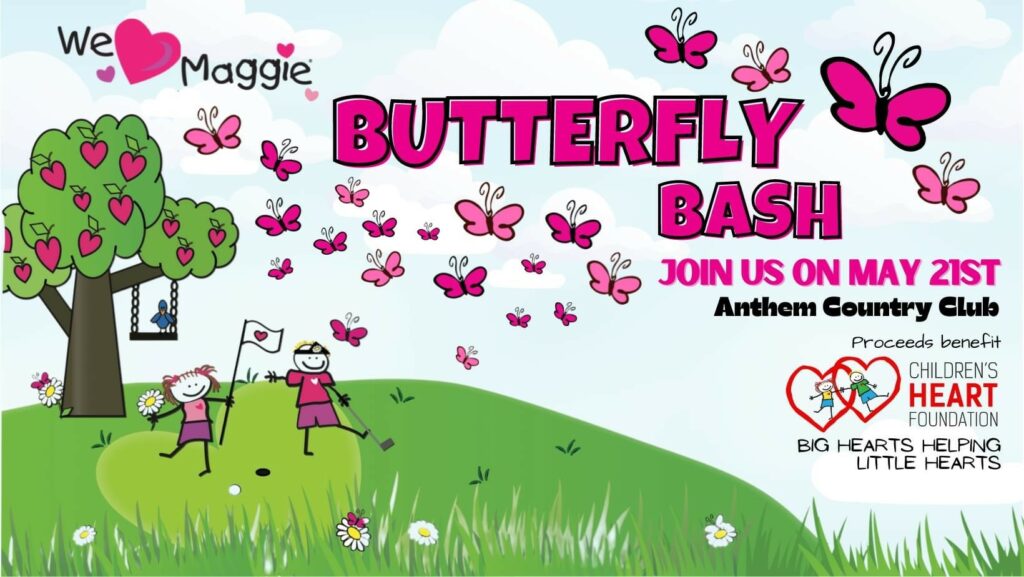 LAS VEGAS – May 11, 2022 – Returning for one night only, We ♥ Maggie draws to a close after 13 years with its final event, the We ♥ Maggie Butterfly Bash at Anthem Country Club on Saturday, May 21 with a festive and memorable evening complete with delicious signature cocktails, dinner, silent and live auctions and for the final year, a beautiful sunset butterfly release.  Hosted by radio diva and friend to Children's Heart Foundation, Steph Mackenzie, the Butterfly Bash raised much needed funding for Children's Heart Foundation and its programming and assistance for heart families in need throughout Nevada.  For tickets or to make a donation, please visit www.weheartmaggie.com or call the Children's Heart Foundation at 702-967-3522.
We ♥ Maggie celebrates the life of young Marguerite "Maggie" Anne Stewart.  Energetic, inspirational, and happy, Maggie passed away in July 2008 at 14 months of age due to complications during a procedure to correct a congenital heart defect.  Her loving and devoted parents, John and Mollie Stewart, immediately founded the golf tournament to celebrate her short, yet love-filled, life. Since beginning in 2009, We ♥ Maggie has raised more than $1.3 million for the organization and logged countless hours of fun, golf and family time all to support the Children's Heart Foundation.
"For more than a decade and raising more than $1 million for Children's Heart Foundation we have honored our sweet girl, Maggie, who blessed us daily for 14 months with her loving and infectious spirit, and, in her memory, we have bonded and helped more heart families,"," says John Stewart, co-founder of We ♥ Maggie. "While we've been fortunate to impact numerous lives and have fun and success, we are now looking forward to refocusing on other ways to honor our sweet Miss Maggie and we are sure she is looking down on our family with pride in the difference we have made over the past 14 years."
Sponsors of We ♥ Maggie include The Dino Olivetti Foundation, Pit Stop, Schmidt Properties, Bruce & Nancy Brekke and Taylor Derrick Capital.
Research, education and family assistance are at the heart of Children's Heart Foundation's mission.  In the United States, CHD is 60 times more prevalent than childhood cancer, and nearly twice as many children die each year as die from all forms of childhood cancers combined. Research, still grossly underfunded in the field of pediatric cardiology, is the greatest hope for children living with a CHD a chance to live long, healthy lives due to medical and surgical advances and expert care. It is the hope this annual event continues to improve the level of care provided to those impacted by CHD.
About Children's Heart Foundation
Founded in 2001, the Children's Heart Foundation is committed to making a difference in the lives of children with heart conditions through empowering families through emotional, educational and financial support leading to a higher quality of life.  Children's Heart Foundation has four main goals: to lend support to families as they deal with the emotional and financial toll exacted by a child's heart condition, to provide a medically-supervised camp experience for children with heart conditions, to educate healthcare professionals and the general public on pediatric cardiology issues; and to support research in the area of pediatric cardiology.  For more information regarding Children's Heart Foundation, please call (702) 967-3522, visit www.chfn.org, "like" on Facebook at www.facebook.com/ChildrensHeartFoundation or follow @HeartKidsNV on Instagram or Twitter.
Summary
Article Name
We Heart Maggie Returns for Final Event on May 21 to Benefit the Children's Heart Foundation
Description
We Heart Maggie Returns for Final Event on May 21 to Benefit the Children's Heart Foundation