9th Island Luau Presented by Palms and Old Lahaina Luau Benefiting Maui Strong Fund – Nov. 4 and Nov. 5
A Celebration of Community and Connection – Tickets Now on Sale

In response to the devastating wildfires in August 2023, Palms Casino Resort has partnered with Old Lahaina Luau (OLL) to raise funds and awareness for ongoing Maui relief efforts. This isn't just any Hawaiian Lu'au, it's the best Hawaiian Lu'au and Palms is making it "Vegas-style" by bringing the performers of Old Lahaina Lu'au to Las Vegas. The evening will celebrate and share the rich Hawaiian culture through hospitality, food, and entertainment. Net proceeds from the 9th Island Luau will be donated to Hawaii Community Foundation's Maui Strong Fund, a 501c3 organization providing financial resources to support the immediate and long-term recovery needs of the people and places impacted.
The show includes music, stories, and modern hula (hula 'auana) and Polynesian dance; the traveling cast of 24 includes Hawaiian musicians, hula dancers, and a storyteller; including four musicians in the band, one solo musician, three drummers, four male dancers, eight female dancers, emcee, chanter, technician, and a manager/chaperone.
The celebration of community and connection will take place in KAOS at Palms Casino Resort on Saturday, Nov. 4, and Sunday, Nov. 5 beginning at 6:00 p.m. each night. Tickets are $150 each and are now on sale. Tickets can be purchased via Ticketmaster for Saturday and Sunday.
Tickets include a Hawaiian buffet, traditional Hawaiian lei for each guest, complimentary Mai Tai, and entertainment provided by performers directly from the famous Old Lahaina Luau including table-side hula lessons.
"We are proud to say we have a very strong connection with the Hawaiian people," said Palms General Manager Cynthia Kiser Murphey. "Not only do we have a significant number of Hawaiian residents and visitors who frequent Las Vegas but also more than 50 team members that hail from the islands of Hawaii, many of whom have family and friends living in Maui. It's our honor to host an authentic event that brings together the rich tradition and culture of Hawaii while giving back to the Maui Strong Fund. The opportunity to create an event featuring the original Old Lāhainā Lū'au is perfectly in line with our core values of the Palms Cares program."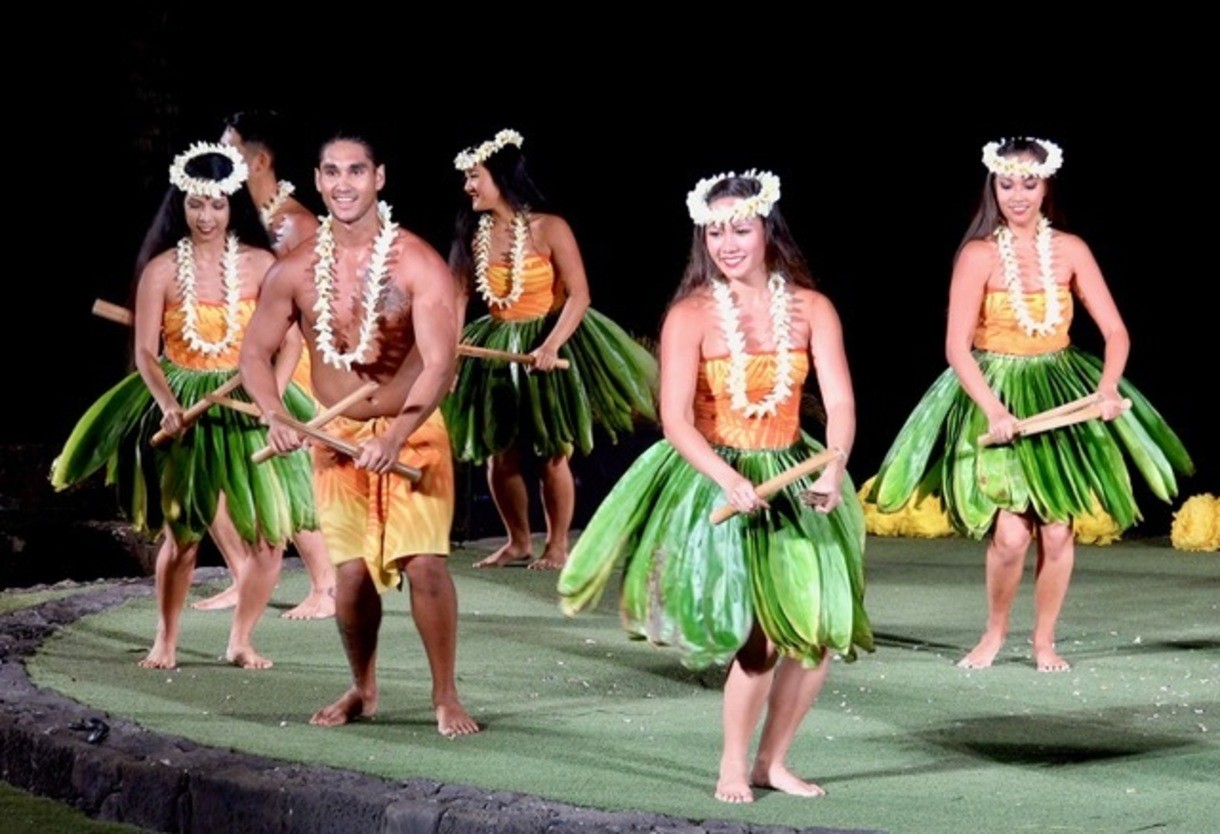 The Show:
Feel the beat of the pahu and the Hawaiian drums pulsate through your body as the stage entertainment begins and the story of Hawaii is told through dance. This musical and mystical performance begins with early migration to the islands. The story continues with ancient hula and chants to communicate with the gods in the heavens. The next intricate dance tells of the missionaries and celebrates the influential King Kalākaua. The final dance is inspired by the new waves of tourism and immigrants to the Hawaiian islands. The costumes in each dance are detailed, beautiful, and accentuate the graceful movements of the best hula dancers on Maui. Old Lāhainā Lūʻau is known for having some of the most talented entertainers on the island.
About Old Lahaina Luau
While the Old Lāhainā Lūʻau, located at 1251 Front Street, Lāhainā, HI was not destroyed by the fire, it is currently closed due to its proximity to the disaster and the loss of the community surrounding it. With more than 44% of its employees displaced, and faced with rebuilding their offices and their community, OLL saw an opportunity to give back through this unique partnership. OLL is one of the most beloved and culturally rich attractions in Hawaii, and by bringing it to the 9th Island, OLL believes it will give hope to the Hawaiian community.
The Old Lāhainā Lūʻau has grown from its humble beginnings in 1986 to a renowned and respected leader in the industry. At nearly 100 percent capacity year-round, OLL serves 340 guests seven (7) evenings a week, with a dedicated staff of 200 employees. Hoʻokipa (hospitality), Poʻokela (excellence), and aloha (love) are still the hallmark values expressed every evening at the lūʻau. For more information, visit, Old Lāhainā Lū'au Maui's Most Authentic Hawaiian Luau at www.oldlahainaluau.com.
About Palms Casino Resort
Palms Casino Resort is making history as the first resort in Las Vegas fully owned and operated by a Native American Tribe. Palms Casino Resort features two distinct towers with 766 hotel rooms and suites, a diverse mix of bars, restaurants, live entertainment venues, and immersive lifestyle experiences across a 95,000-square-foot reimagined casino. Offering free valet and self-parking, the resort also includes over 190,000 square feet of meeting, convention, and event space; the Pearl, a 2,500-seat theater; an expansive pool, The Spa & Salon at Palms; a wedding chapel; the Brenden Theatre 14-screen cinema and nearly 600 units at Palms Place condominiums.
Palms is located just west of the center of the Las Vegas Strip off I-15 on Flamingo Road. Palms Casino Resort is owned by The San Manuel Gaming and Hospitality Authority ("SMGHA") an affiliate of the San Manuel Band of Mission Indians. For more information visit http://www.palms.com/ or the Palms Press Room. Follow Palms on social media Facebook Twitter Instagram.
Summary
Article Name
9th Island Luau Presented by Palms and Old Lahaina Luau Benefiting Maui Strong Fund
Description
9th Island Luau Presented by Palms and Old Lahaina Luau Benefiting Maui Strong Fund