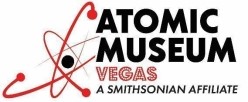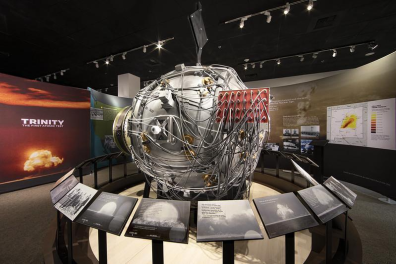 Replica of the Trinity Gadget inside the Atomic Museum.
(Photo Courtesy of Chris Wessling for the Atomic Museum)
ATOMIC MUSEUM TO LAUNCH AUDIO TOURS FEATURING NARRATIONS FROM COMMUNITY PARTNERS, PROMINENT FIGURES IN NUCLEAR INDUSTRY
Audio Tours Available Beginning Friday, Oct. 27
The Atomic Museum announces it will launch audio tours featuring narrations from community partners and prominent figures within today's nuclear industry. Launching on Friday, Oct. 27, audio tours will include more than 20 markers visitors can scan throughout the museum's gallery space to activate recordings developed by Guide-ID.
Guests will soon be able to experience narrations in the Trinity exhibit by Dorothy Oppenheimer Vanderford, granddaughter of J. Robert Oppenheimer; Major General Harencak, head of the Nevada National Security Sites; representatives from the Desert Research Institute; museum docents and trustees; and other community partners.
Audio tours will be available for $6 and can be purchased with museum admission at the box office. For more information on the Atomic Museum, visit atomicmuseum.vegas.
ABOUT THE ATOMIC MUSEUM
The Atomic Museum is operated and maintained by its parent company, the Nevada Test Site Historical Foundation (NTSHF), an IRS 501(c)3 charitable, non-profit organization chartered in Nevada. The Atomic Museum is one of 37 museums designated as an Affiliate Partner of the Smithsonian Institution and is a repository for one of the most comprehensive collections of nuclear history in the world. Covering nuclear history beginning with the first test at the Nevada Test Site on January 27, 1951, the Atomic Museum's exhibitions and programming also address current affairs related to the nuclear industry. For more information, go to atomicmuseum.vegas and follow on Facebook, Instagram and Twitter
Summary
Article Name
Atomic Museum to Launch Audio Tours
Description
Atomic Museum to Launch Audio Tours