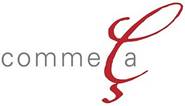 COMME ÇA OFFERS SPECIAL CATERING MENU FOR HOLIDAY SEASON
Comme Ca, David Myers' bustling French brasserie at The Cosmopolitan of Las Vegas, will bring the spirit of the holiday season to life with an array of classic French offerings for holiday parties and private events.
With striking views of the Las Vegas Strip, Comme Ça's expansive dining room offers a stunning setting for holiday parties. The private dining room seats up to 24 guests, and the entire restaurant can accommodate up to 200 guests for a seated dinner and 400 guests for a holiday mixer.
Dining options include prix fixe menus starting at $55 per person, as well as more elaborate menus complete with holiday pairings. For a festive event, guests may opt for food stations to encourage mingling or family-style feasts to engage guests by sharing an array of Comme Ça's selections.
Executive Chef Brian Howard has developed an assortment of holiday selections to complement parties including crispy duck confit, braised lamb shank and cinnamon pot de creme. Guests will also enjoy Comme Ça's many favorites, including smoked salmon and steak tartare; French country salad and roasted beets; Artisan cheeses and charcuterie; chilled seafood from the raw bar including oysters, shrimp and Maine lobster; prime meats such as filet mignon and perfectly roasted chicken; caviar and pastries, and much more.
Comme Ça has an array of perfect pairings to keep the holiday cheer flowing. Patrons may enjoy their choice of cocktails, beer, house wine, soft drinks, bottled water and fruit juice with the addition of a bar package, priced by the hour. Hosts may also elect to mix up the drink offerings with a pairing of cocktails from Comme Ça's signature prohibition-era libations, Champagne selections, dessert cocktails and more.
For more information about booking a private dining party, visit www.CommeCaRestaurant.com, or call 702.698.7910.
About Comme Ça
Los Angeles-based David Myers brings his bustling modern brasserie Comme Ça, the second location outside of its popular West Hollywood flagship, to The Cosmopolitan of Las Vegas. Inspired by France's vibrant neighborhood brasseries, the rustic chic Adam D. Tihany-designed restaurant serves up hearty brasserie classics including handcrafted cocktails. Comme Ça is situated within P3 Commons at The Cosmopolitan of Las Vegas, an innovative neighborhood of restaurant experiences that convey the makings of the perfect dinner party. Not only welcoming and highly personal, but also spontaneous with a delightful sense of discovery, the P3 culinary collection embodies a synergistic approach to the modern face of Las Vegas dining. At Comme Ça, lunch is served daily from noon to 5 p.m. and dinner is served from 5:00 p.m. to 11:00 p.m. The Hourglass (late-night) menu is available from 11 p.m. to close nightly. In 2011, Comme Ça received the Wine Spectator award and was named "Best Restaurant" by 944 Magazine. Comme Ça's famed 'Penicillin' was also selected as "Best Cocktail" by Vegas Seven Weekly Newspaper. For reservations, call 877.893.2001 or 702.698.7910, or please visit www.cosmopolitanlasvegas.com or www.commecarestaurant.com for more information.