Credit One Bank® DONATES SCHOOL SUPPLIES TO ANNUAL
COMMUNITIES IN SCHOOLS OF NEVADA FILL THE BUS EVENT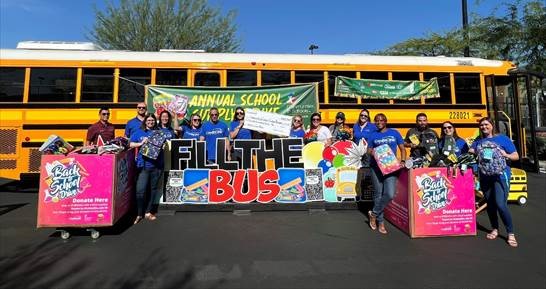 Today, July 21, Credit One Bank, a pillar in the Las Vegas community, continued their support for Communities In Schools of Nevada (CIS) by donating a check for $6,520, and over 6,030 school supplies including 1,133 markers, 45 backpacks, 11 lunch boxes, and 71 pairs of scissors, for a total donation valued at over $11,237. Supplies were collected over a three-and-a-half-week period by Credit One Bank employees.
"I'm proud of our Credit One Bank team who each year supports Fill the Bus donation efforts with enthusiasm and excitement. As our team continues to grow and evolve, we have not wavered in our support and dedication to give back to the local Las Vegas community," said Todd Mayhew, senior vice president of human resources at Credit One Bank.
For over a decade, the Fill the Bus school drive has raised supplies for students and their families in the Clark County School District. With each new school year, it is critical that students have the tools they need to perform to the best of their abilities, and Communities in Schools of Nevada helps ensure those needs are met.
About Credit One Bank
Credit One Bank, N.A. is a financial services company based in Las Vegas. Driven by data, Credit One Bank offers a spectrum of products for people in all stages of their financial life including credit cards through the Visa®, Mastercard® and American Express® networks. Founded in 1984, Credit One Bank is one of the fastest-growing credit card providers in the United States. Credit One Bank is the Official Credit Card of NASCAR®, the Las Vegas Raiders, the Vegas Golden Knights, and Best Friends Animal Society®, and is a proud partner of WWE®. Learn more at CreditOneBank.com and on social media (@CreditOneBank) on Facebook, Instagram, Twitter, YouTube, and LinkedIn.
About Communities In Schools of Nevada
Communities In Schools of Nevada (CIS) is the fifth-largest state office of the nation's leading evidence-based dropout prevention organization that believes every child has potential – regardless of race, zip code or socioeconomic background – but may lack equal opportunity to succeed. CIS places caring, well-trained, full-time employees in high poverty schools to build trusting relationships with students and families, assess their needs and remove the barriers they face to learn and graduate. CIS taps into a network of more than 120 agencies and nonprofits to meet student needs – literally bringing the community into the schools it serves. CIS has innovated ways to collaborate with partners during the COVID-19 pandemic to ensure continuity of care, meeting students online, at home, or in the community to provide supports. Included in CIS' strategies and culture are principles and practices of diversity, equity, and inclusion. As a result, CIS breaks down immediate and systemic barriers to create and sustain equitable outcomes. In total, CIS serves more than 80,000 students, including 12 schools in Western Nevada, 12 schools in Northeastern Nevada, and 57 schools in Southern Nevada. Nationally, Communities In Schools provides services in more than 2,900 schools in 26 states and the District of Columbia, serving 1.7 million young people and their families every year. For more information, please visit the website http://www.cisnevada.org and follow CIS of Nevada on Facebook, Twitter and Instagram.
Summary
Article Name
Credit One Bank Donates School Supplies to Annual Communities in Schools of Nevada Fill the Bus Event
Description
Credit One Bank Donates School Supplies to Annual Communities in Schools of Nevada Fill the Bus Event