DOYLE LAWSON AND QUICKSILVER BLUEGRASS FESTIVAL HAS BEEN RENAMED THE MALPASS BROTHERS BLUEGRASS AND COUNTRY FESTIVAL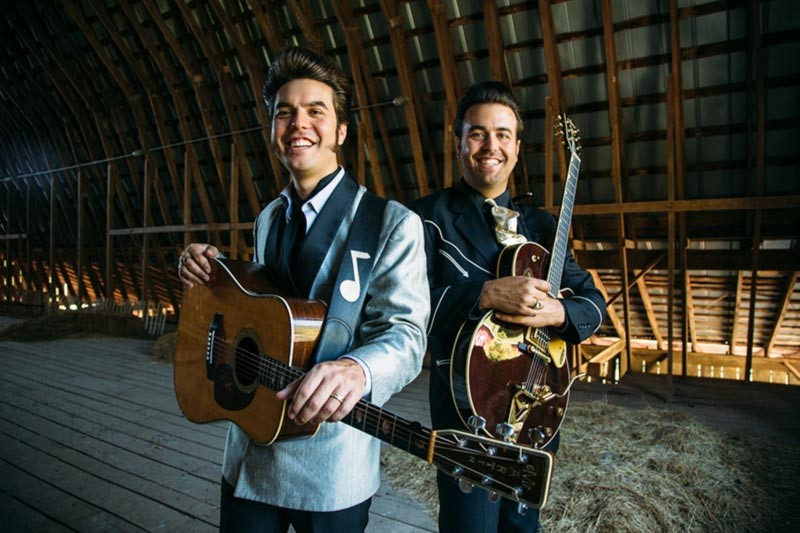 The 41-year festival is held annually at Denton FarmPark in Denton, NC
"North Carolina loves their native sons The Malpass Brothers and everyone will love The Malpass Brothers Bluegrass and Country Music Fest at the Denton Farm Park in Denton, NC!" – Doyle Lawson
After recently announcing his retirement (Bluegrass Today, The Bluegrass Situation, WTVF NewsChannel 5), bluegrass giant Doyle Lawson has decided to pass the baton for his 41-year annual festival, held at Denton FarmPark in Denton, NC, to The Malpass Brothers. The Doyle Lawson and Quicksilver Bluegrass Festival will now be named The Malpass Brothers Bluegrass and Country Festival, sponsored by Springer Mountain Farms.
"For 41 years it has been an honor, pleasure, and privilege to be the host site of the Doyle Lawson and Quicksilver Bluegrass Festival," says Karen Miller, Manager, Denton FarmPark. "We are sad to be saying goodbye to Doyle as our festival host. He is and will always be a legend in bluegrass music. At the same time, it is our honor and privilege to be the host site of The Malpass Brothers Bluegrass and Country Music Festival. We are looking forward to this next chapter of music at Denton FarmPark."
Taking place May 5-7, 2022, this year's festival brings a blend of Bluegrass, Americana, and Country to the FarmPark and its festival loyalists. The Malpass Brothers, Deeper Shade of Blue, Russell Moore & IIIrd Tyme Out, Donna Ulisse, Darin & Brooke Aldridge, and many more will bring a weekend of great music with entertainment that the whole family can enjoy!
"Doyle Lawson is one of the true legends in Bluegrass music. Just to be a small part of anything he is involved with is an honor," said Chris Malpass. "We have had the privilege of being at his festival for a few years now and it's always great. Taylor and I are truly honored to have the opportunity to carry the torch for our hero's music of yesterday while we showcase the music and artist of today. We look forward to hosting this legendary festival and are excited to keep the music we love alive for future fans. Congratulations to Mr. Doyle on his retirement and his future endeavors."
"It is a complete honor to be taking over a legendary festival like Denton. It has been my favorite festival in all my years of touring," shared Taylor Malpass. "Doyle Lawson is one of the finest men and musicians in the business and to come in after his retirement is a dream come true. We will do our best to keep this festival as traditional as we can while still giving new artists a chance to grace the stage of this legendary festival."
"10 years ago if you would've told me that the hottest act on the Bluegrass would perform with drums, electric guitar, and never play Bluegrass, I would've thought you were crazy. But, 10 years ago I had not seen The Malpass Brothers," shares Ernie Evans. "Not only have they paved the way for others but they've fearlessly bulldozed a path inspiring others to be themselves. Debi and I would like to say congratulations and are excited to see where this new venture takes them."
For ticket purchases or camping reservations call (336) 859-2755 or download a form and mail it in or email it to [email protected] and they will confirm availability and cost total. Visit dentonfarmpark.com for more information.
The Malpass Brothers on Tour:
Jan 29, 2022 Willingham Theatre Yadkinville, NC
Feb 12, 2022 Walhalla Performing Arts Center Walhalla, SC
Feb 17, 2022 Palatka Bluegrass Festival Palatka, FL
Feb 20, 2022 Stage Door Theater at Blumenthal PAC Charlotte, NC
Feb 26, 2022 FL Classic Music Festival Brooksville, FL
Mar 05, 2022 Mainstreet Crossing Tomball, TX
Mar 18, 2022 Withlacoochee Bluegrass Festival Dunnellon FL
Mar 19, 2022 The Malpass Brothers & Carolina Blue Old Rock School Valdese, NC
Mar 20, 2022 First UMC Marysville Marysville, OH
Mar 24, 2022 The Pines Theater Lufkin, TX
Mar 25, 2022 New Granbury Live Granbury, TX
Mar 26, 2022 32nd Annual Heart of Texas Music Festival Brady, TX
Mar 31, 2022 Historic Rylander Theatre Americus, GA
Apr 01, 2022 Orange Blossom Opry Weirsdale, FL
Apr 04, 2022 Clay Cooper Theatre Branson, MO
Apr 22, 2022 Reeves Theatre Elkin, NC
Apr 28, 2022 The Village at Deaton Creek Hoschton GA
Apr 29, 2022 Ritz Theatre Toccoa GA
Apr 30, 2022 Little Roy & Lizzy Festival Lincolnton GA
May 5-7, 2022 Malpass Brothers Bluegrass & Country Festival Denton, NC
May 19, 2022 The Palace Theatre Crossville, TN
May 21, 2022 The Wayne Theatre Waynesboro, VA
May 22, 2022 American Music Theatre Lancaster, PA
Jun 03, 2022 NEPA Bluegrass Tunkhannock, PA
Jun 10, 2022 Cherokee Bluegrass Festival Cherokee, NC
Jun 11, 2022 HoustonFest Galax, VA
Jun 18, 2022 Willow Oak Park Roxboro, NC
Jun 22-23, 2022 JennyBrook Bluegrass Festival Tunbridge, VT
Jun 30, 2022 Remington-Ryde Bluegrass Festival Centre Hall, PA
Jul 08, 2022 Hudson's on Mercer Dripping Spring, TX
Jul 09, 2022 LanTex Theatre Llano TX
Jul 10, 2022 Texas Theater Seguin, TX
Jul 23, 2022 Renaissance Center Wake Forest, NC
Aug 18, 2022 Town of Clayton, Outdoor summer concert series
Aug 26, 2022 Clay Cooper Theatre Branson, MO
Aug 27, 2022 Lakes Bluegrass Festival Backus, MN
Sep 23, 2022 The Dunn Center for the Performing Arts Rocky Mount, NC
Sep 24, 2022 Recovery Road Bluegrass Fest at The Lodge on Hatley Farm Albemarle, NC
Oct 10, 2022 Georgia Mountain Fair Hiawassee, GA
Nov 04, 2022 Clay Cooper Theatre Branson, MO
Dec 16, 2022 Fountain's General Store Fountain, NC
Jan 13, 2023 San Angelo Performing Arts San Angelo, TX
Jan 21, 2023 Paramount Theatre Goldsboro, NC
Mar 11, 2023 Old Dominion Barn Dance Hopewell, VA
For more tour info, visit themalpassbrothers.com/tour/.
About The Malpass Brothers:
As young boys, Christopher and Taylor Malpass soaked up the music of their granddad's phonograph records. Christopher earned his first talent show trophy at age 7, and Taylor was playing mandolin by the time he was 10.  In their teens and early '20s, they were invited by country music icon, Merle Haggard, to perform as his opening act. They traveled and recorded with Hag for the next 7 years. Currently fan favorites on RFD-TV shows like Larry's Country Diner and Country's Family Reunion, the brothers are now coming into their own as they promote the work and music of the classic country artists they treasure while creating new music and making their own mark in the lineage of a rich American cultural heritage. For more, visit themalpassbrothers.com.
About Denton FarmPark:
Denton FarmPark is a family-owned historical park with 15 restored buildings including a general store, grist mill, church, plantation house, blacksmith shop, and a log cabin. A full-size steam train encompasses the park on a 1½ mile track. The campground accommodates 500 campsites. Many events are held here so look under the events tab to see what is coming up. We have the LARGEST steam, gas, and antique farm machinery show in the Southeast! Come see us & thank you for your interest! For more, visit dentonfarmpark.com.
Summary
Article Name
DOYLE LAWSON AND QUICKSILVER BLUEGRASS FESTIVAL HAS BEEN RENAMED THE MALPASS BROTHERS BLUEGRASS AND COUNTRY FESTIVAL
Description
DOYLE LAWSON AND QUICKSILVER BLUEGRASS FESTIVAL HAS BEEN RENAMED THE MALPASS BROTHERS BLUEGRASS AND COUNTRY FESTIVAL