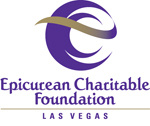 EPICUREAN CHARITABLE FOUNDATION SCHOLARSHIP RECIPIENTS PREPARE CHRISTMAS RECIPES
The scholarship recipients of the Epicurean Charitable Foundation of Las Vegas (ECF) bring the holiday spirit through putting their own spin on traditional family Christmas recipes.
A freshman at the University of Las Vegas, Nev., Mercedes Sanchez loves to make her mother's favorite holiday recipe, arroz con leche (rice with milk). The recipe is a tribute to their family's Cuban background.
Vesna Boscovic, a junior at the University of Las Vegas, Nev., is majoring in hotel management. For a traditional Serbian Christmas side dish, Boscovic's specialty recipe is Sarma (stuffed cabbage rolls).
Arroz Con Leche:
Ingredients: 1 cup of Jasmine rice  1 cup of 2% milk 1 can of condensed milk 1 can of evaporated milk 1 table spoon of vanilla extract  1/3 of a cup of sugar 1 teaspoon of orange or lemon zest 1 cup of raisins (optional) 1 cup of coconut (optional)   Instructions: 1. Mix all ingredients together in a large pot and cook on medium heat for one hour, or until the rice is completely soft. 2. Pour mix into large casserole dish or individual cups and add cinnamon powder over the mix. 3. Let mixture cool at room temperature. 4. Refrigerate for 2 hours. 5. Serve and enjoy.
SARMA (Stuffed Cabbage Rolls):
Prep time: 20 minutes Cooking Time: 3 hours   Ingredients:  1 large head cabbage (or buy already steamed cabbage leaves) 1 pound ground chuck 1/2 pound ground pork 1 cup raw rice 1 package dehydrated onion soup mix 6 smoked ribs, ham hock, or other smoked meat   Instructions: 1. Steam the cabbage leaves and remove the ribs from each leaf (or use the pre-made ones) 2. Mix ground chuck, ground pork, rice and onion soup mix. Put 2 tablespoons of the mix on each leaf, fold top of the cabbage leaf up over meat, then fold sides to the center and roll.  Repeat until meat filling is enclosed. 3. On the bottom of the pot you are using, place a few whole steamed cabbage leaves and layer the rolls on top of each other. 4. Place pieces of chopped smoked ribs (or other meat) on top of the last layer of rolls. 5. Add enough water to cover the rolls (could also add some tomato sauce) but stop before the water covers the top layer. 6. Cover the dish and cook on the stove for 3 hours at 325 degrees (low-medium). 7.  Remove from pot and serve.
About Epicurean Charitable Foundation Las Vegas
Comprised of more than 40 of Las Vegas' top food and beverage executives, the Epicurean Charitable Foundation not only awards students with scholarship funds to attend any four-year accredited university of their choice, it also provides mentorship throughout each student's college career and helps to place the students in internships and jobs.  2011 marks the tenth year of the Epicurean Charitable Foundation and in its tenure the foundation has provided over one million dollars to local scholars and also over one million in charitable community grants to such organizations as Make-A-Wish Foundation, Lied Discovery Children's Museum, UNLV Rebel Athletic Foundation, Nevada Blind Children's Foundation, Cleveland Clinic Lou Ruvo Center for Brain Health and the Nevada Cancer Institute.  The Epicurean Charitable Foundation Las Vegas can be reached 702-932-5098 or by visiting
www.ECFLV.org
. Become a friend on Facebook:
www.facebook.com/epicureanlv
or follow ECFLV on Twitter:
www.twitter.com/epicureanlv
.