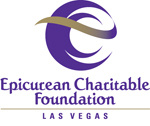 EPICUREAN CHARITABLE FOUNDATION'S SCHOLARSHIP RECIPIENTS
SET THE BAR HIGH WITH NEW YEAR'S RESOLUTIONS
Once the clock strikes 12, scholarship recipients of Epicurean Charitable Foundation of Las Vegas (ECF) plan to get rid of the old and in with the new with their New Year's resolutions in 2012.
Students from ECF will set the bar high in January with personal, academic and career goals for the New Year.
Whether it's finding the job of her dreams or getting straight As this spring, Beatriz Portillo, a freshman at the University of Nevada, Las Vegas, (UNLV) plans to have a busy year. For a personal challenge, Portillo hopes to overcome her fear of heights and zip line across the Grand Canyon. The Harry Potter fan also plans to work hard and save money for a trip to the Wizardly World of Harry Potter at Universal Studios in Orlando, Fla.
Cindy Ureno, a junior at UNLV, is primarily focused on finding a summer internship with a reputable company to learn the ropes in the culinary industry. She also plans to graduate early and finish school by December 2012. Despite her busy schedule for the upcoming year, Ureno's personal goal is to enjoy new experiences with friends in her last year of college.
Jonathan Grant's main goal is to follow his passion and get back into the kitchen during his senior year at UNLV. An ambitious chef, Grant plans to roll up his sleeves and learn valuable real life work experience from his mentor, Sean DiCicco, Vice President of Food and Beverage at Mandalay Bay Resort & Casino.
UNLV senior, Leizell Seligbon, a runner who plans to participate in two half marathons in 2012, will physically challenge herself and train on a daily basis. To further explore the culinary world, Seligbon wants to become more adventurous and experience different restaurants throughout Las Vegas.   
About Epicurean Charitable Foundation Las Vegas
Comprised of more than 40 of Las Vegas' top food and beverage executives, the Epicurean Charitable Foundation not only awards students with scholarship funds to attend any four-year accredited university of their choice, it also provides mentorship throughout each student's college career and helps to place the students in internships and jobs.  2011 marks the tenth year of the Epicurean Charitable Foundation and in its tenure the foundation has provided over one million dollars to local scholars and also over one million in charitable community grants to such organizations as Make-A-Wish Foundation, Lied Discovery Children's Museum, UNLV Rebel Athletic Foundation, Nevada Blind Children's Foundation, Cleveland Clinic Lou Ruvo Center for Brain Health and the Nevada Cancer Institute.  The Epicurean Charitable Foundation Las Vegas can be reached 702-932-5098 or by visiting ECFLV.org. Become a friend on Facebook: facebook.com/epicureanlv or follow ECFLV on Twitter: twitter.com/epicureanlv.