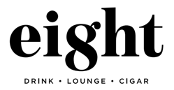 Experience Luxury in the Fast Lane During
Big Race Weekend with Eight Lounge's Ultra Lux Menu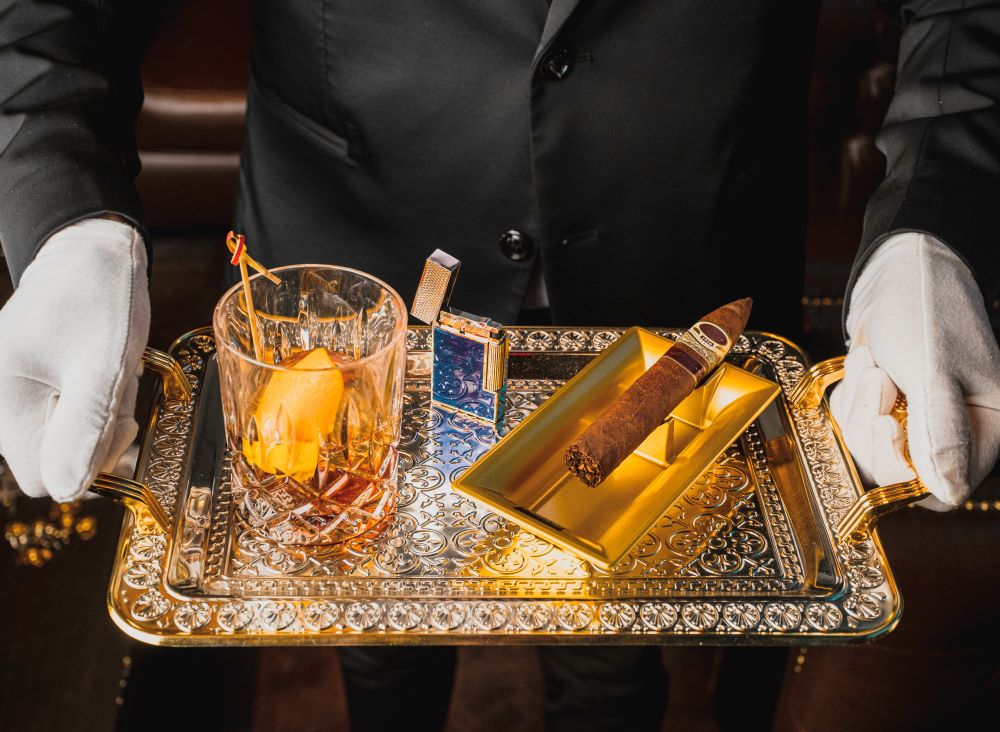 The "Fumée d'élégance" menu will offer a selection of premium cigars and spirits pairings from around the world.
Eight Lounge, Clique Hospitality's elevated cigar and spirits lounge at Resorts World Las Vegas, is gearing in for the big race in Las Vegas with the "Fumée d'élégance," or "Smoke of elegance" menu. Showcasing top cigars and spirits from around the world, the menu will be available from Thursday, Nov. 16 through Saturday, Nov. 18.
The " Fumée d'élégance " menu includes:
"Clean Air" features a 1.5 oz. pour of Macallan M single malt scotch, with a nose of vanilla, green apple, ginger, nutmeg, cinnamon, oak and juicy oranges along with a raisin and sultana finish. It is paired with a Davidoff Royal Release Robusto cigar, offering smooth flavors of oak wood, leather and fresh spices with a creamy aftertaste of milk chocolate, priced at $1,000.
"Diffuser" features a 2 oz. pour of Remy Martin Louis XIII, a truly complex cognac that has matured over decades, unveiling notes of myrrh, honey, dried roses, plum, honeysuckle, cigar box, leather, figs and passion fruit. It is elegantly paired with Gurkha HMR, known as His Majesty's Royal Reserve. This cigar comprised of a 15-year Connecticut Maduro wrapper with a 12-year-old Dominican binder and filler that's infused with one bottle of the world's finest cognacs. This package is priced at $2,500.
"Slip Stream" features four 1.5 oz. glasses of Glenfiddich Single Malt Scotch Whisky aged 40 years, revealing unforgettable notes of intense dried fruit, roasted coffee, stewed apple, dry oak, bitter chocolate and faint peat. The flavors provide a balanced experience paired with four Arturo Fuente Destino al Siglo Pasion cigars, with strong peppery profile with hints of dark chocolate, leather and slight earthiness. The package also includes a limited edition Eight Lounge branded Trident cigar cutter and is priced at $5,000.
"Pole Position" features a 2010 Château Latour, Pauillac 1er Grand Cru Classé, marked by its deep, dark, and opaque appearance with perfumed notes of black fruits, cedar, raspberries, blackberries and violets. Paired with the exquisite wine is a box of Padrón 1926 80th Anniversary cigars, each with the signature Padrón flavors of cocoa, coffee, nuts, and toast, with notes of orange peel, leather and a touch of spice on the finish The package also includes a limited edition Eight Lounge branded Trident cigar cutter and is priced at $5,500.
"The Chicane" features the renowned Glenfiddich Luxury Flight, with a medley of exquisite notes ranging from fruit and sherry to fig, dark chocolate, vanilla, and oak. This exceptional flight has whiskey that has been aged for 14 to 40 years, promising a truly memorable experience. It is thoughtfully paired with the medium-bodied and truly unique Gurkha Maharaja cigar, crafted from a proprietary blend of the finest tobaccos available, creating a smooth and sweet sensation on the palate. The package, including a limited edition Eight Lounge branded Trident cigar cutter, is priced at $15,000.
"The Chequered Flag" package, designed for 12 guests, includes a premium cigar collection, featuring an Elie Bleu Opus 25th cabinet and Fuente Opus 25th Anniversary cigars. This exquisite cabinet is crafted from red gum wood, adorned with marquetry and bronze accents, serving as a stunning commemoration for one of the finest cigar brands in the world. Accompanying the cigars is a private cigar locker in Eight's custom-built, walk-in humidor until New Year's Eve 2024. Each guest can savor a 1 oz. pour of Glenfiddich 50-year-old whiskey, known for its vibrant, zesty and vanilla toffee notes, with subtle hints of smoke. Additionally, the package includes a limited edition Eight Lounge branded Trident cigar cutter and a lavish 6-liter Veuve Clicquot Brut Champagne Yellow Label Methuselah, displaying a delightful combination of white fruits, vanilla and brioche. This luxurious package is priced at $250,000.
In addition to the "Fumée d'élégance" menu, Eight Lounge will be offering a sophisticated spirit and cigar pairing allowing guests to choose between the rich, volcanic essence of Volcan X.A. priced at $65 or the deep, oaken luxury of Hennessy X.O. priced at $75. Both drink options will be elegantly served over a meticulously sculpted ice cube infused with vibrant notes of fresh orange. To complement these exquisite spirits, guests can savor the Arturo Fuente Rare Pink Sophisticated Hooker cigar, priced at $120. This cigar features tasting notes of nutty graham cracker sweetness with prominent hints of red meat, black pepper, and caramel, culminating in a sweet and nutty finish. Eight Lounge offers a carefully curated collection of high-end, premium cigars and spirits as well as craft cocktails available in a luxurious lounge and terrace. Located in The District of Resorts World Las Vegas, Eight Lounge is open Monday through Friday from 4 p.m. to close and Saturday and Sunday from 1 p.m. to close. For more information and to make a reservation, please visit Eight Lounge or contact (702) 676-7405.
About Eight Lounge
Eight Lounge, a lush cigar and cocktail lounge at Resorts World, takes its name from the lucky number in Chinese culture. The number eight is incorporated throughout the 7,000-square-foot space featuring a custom-built walk-in humidor and 2,200-square-foot terrace. Eight offers more than 150 cigars from Drew Estate, Arturo Fuente, and Ashton, along with an ever-changing rotation of other top-notch cigars. Eight also offers premium cocktails crafted by mixologists well-versed in the flavor profiles of premium tobaccos to expertly pair premium cigars with spirits and craft cocktails. Eight Lounge is open from 4 p.m. to close Monday through Friday; 1 p.m. to close on Saturday and Sunday. Eight Lounge's retail humidor is open daily from 11 a.m. to 2 a.m.
About Clique Hospitality:
Clique Hospitality, founded by hospitality innovator Andy Masi in 2014, has conceptualized nearly two dozen nightlife and dining destinations in San Diego and Las Vegas. The company's Las Vegas day and nightlife portfolio includes The Barbershop Cuts & Cocktails and CliQue Bar & Lounge at The Cosmopolitan of Las Vegas; Easy's Cocktail Lounge at ARIA Resort & Casino; Eight Lounge and Gatsby's Cocktail Lounge at Resorts World Las Vegas; and DAYLIGHT Beach Club at Mandalay Bay Resort and Casino. The company's Las Vegas dining portfolio includes Bottiglia Cucina & Enoteca and Borracha Mexican Cantina located at Green Valley Ranch Resort Spa and Casino in Henderson; Side Piece Pizza at Red Rock Casino Resort and Spa in Summerlin; The Still Drafts, Crafts & Eats at The Mirage; Tailgate Social Sports Bar & Grill at Palace Station Hotel and Casino; and Proper Eats Food Hall at ARIA Resort & Casino. Clique will soon unveil three new, immersive concepts at Durango Casino & Resort in Southwest Las Vegas: Mijo Modern Mexican Restaurant and Bel-Aire Lounge, both opening in fall 2023, and Bel-Aire Backyard, opening late spring 2024. Clique Hospitality's Southern California day and nightlife destinations include Oxford Social Club and The Pool House at Pendry San Diego. Clique's San Diego restaurant portfolio includes the new SET Steak & Sushi at Pendry Newport Beach; Joya Kitchen in La Jolla; Lionfish Modern Coastal Cuisine at Pendry San Diego; Serea Coastal Cuisine at Hotel Del Coronado and Temaki Bar in Encinitas. Clique will soon unveil two new destinations at The Inn at Rancho Santa Fe: Lilian's and Bing's Bar, both opening in Fall 2023. More information about Clique Hospitality and the company's full portfolio is available on the website at
Summary
Article Name
Experience Luxury in the Fast Lane During Big Race Weekend with Eight Lounge's Ultra Lux Menu
Description
Experience Luxury in the Fast Lane During Big Race Weekend with Eight Lounge's Ultra Lux Menu