UNLV'S EJ HARKLESS NAMED MOUNTAIN WEST MEN'S BASKETBALL PLAYER OF THE WEEK FOR SECOND TIME

Senior guard scored season-high 25 points with six rebounds and five assists in Runnin' Rebel win at No. 21 New Mexico Saturday night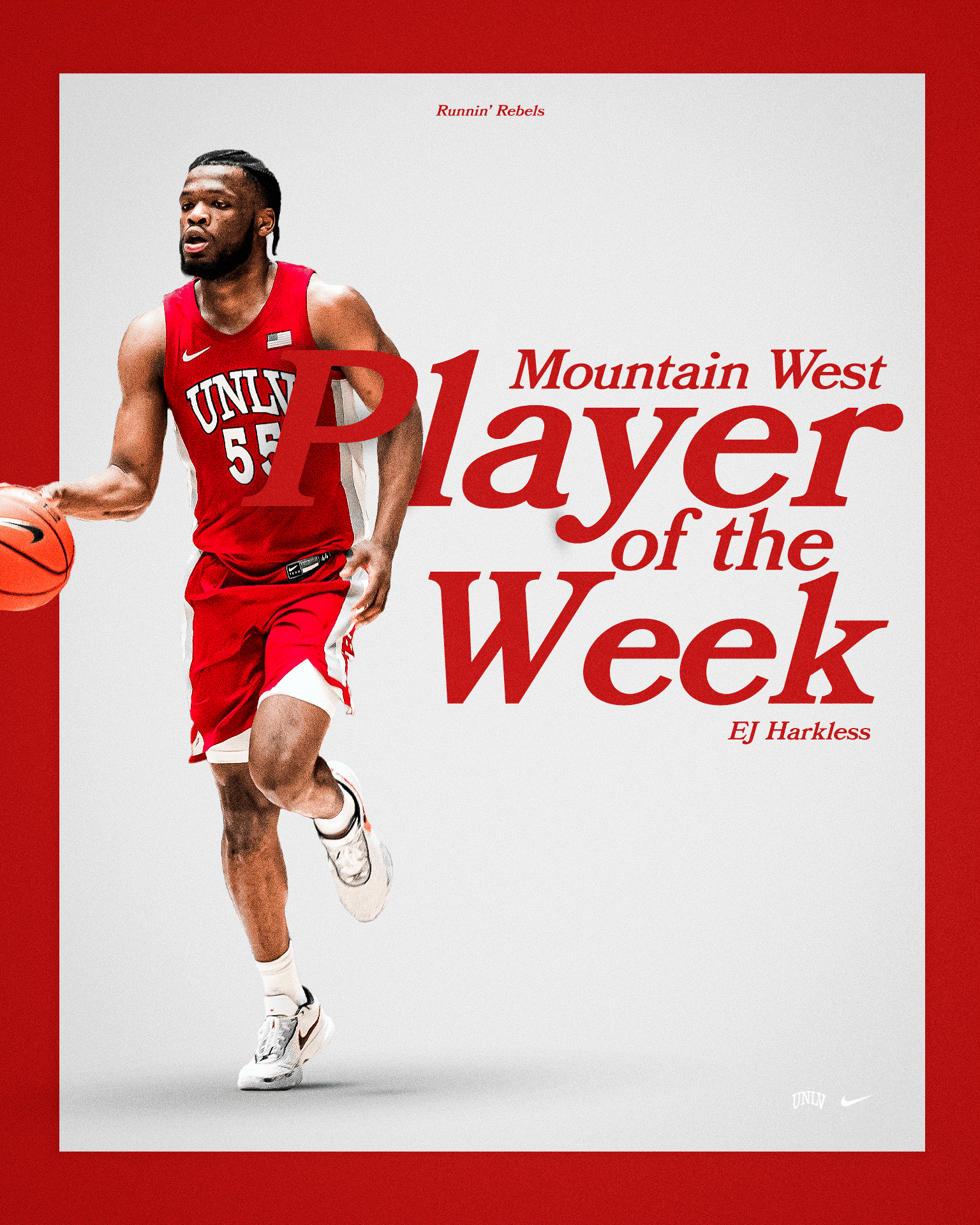 UNLV senior EJ Harkless was named the Mountain West Men's Basketball Player of the Week for the second time this season, the league announced Monday. He had previously been selected for the honor on November 21.
In UNLV's lone game of the week – an 84-77 road win over No. 21 New Mexico at the sold-out Pit Saturday night in Albuquerque – Harkless scored 21 of his season- and game-high 25 points in the second half.
The victory snapped a two-game losing streak for UNLV (12-3 overall, 1-2 MW) and marked its second win over a ranked team this season as it also beat then-No. 21 Dayton at home in November.
Originally from San Bernardino, California, Harkless, a 6-foot-3-inch guard who transferred to UNLV from Oklahoma, was 8 of 16 from the field against the Lobos, including 2 of 5 on 3-pointers, while making all seven of his free-throw attempts. The Lobos entered the game undefeated on their home floor.
Harkless also contributed six rebounds, a game-high-tying five assists with only one turnover and a steal and a block in 35 minutes of action, giving the Runnin' Rebels their first win in conference play this season. In the second half alone, Harkless was 7 of 11 from the field and 2 of 4 on 3-pointers.
It was UNLV's eighth win over New Mexico in the last nine meetings overall and the Runnin' Rebels are now 6-3 in their last nine games at The Pit.
NEXT FOR THE RUNNIN' REBELS: UNLV will host Boise State (12-4, 2-1) at the Thomas & Mack Center on Wednesday, Jan. 11 at 8 p.m. It will be another $2 Beer Night and UNLV students will have the chance to win Future tickets.
BUY TICKETS: Tickets for the game may be purchased at UNLVtickets.com, by calling 702-739-FANS or in person at the TMC Box Office.
Summary
Article Name
Harkless Named Mountain West Player Of The Week For Second Time
Description
Harkless Named Mountain West Player Of The Week For Second Time