Clock in for the New, New Year Schedule for the
21+ NIGHT SHIFT at Meow Wolf's Omega Mart. NEW!
Winter Evenings Just Got a Little More Fun for Adult Shoppers Across the Multiverse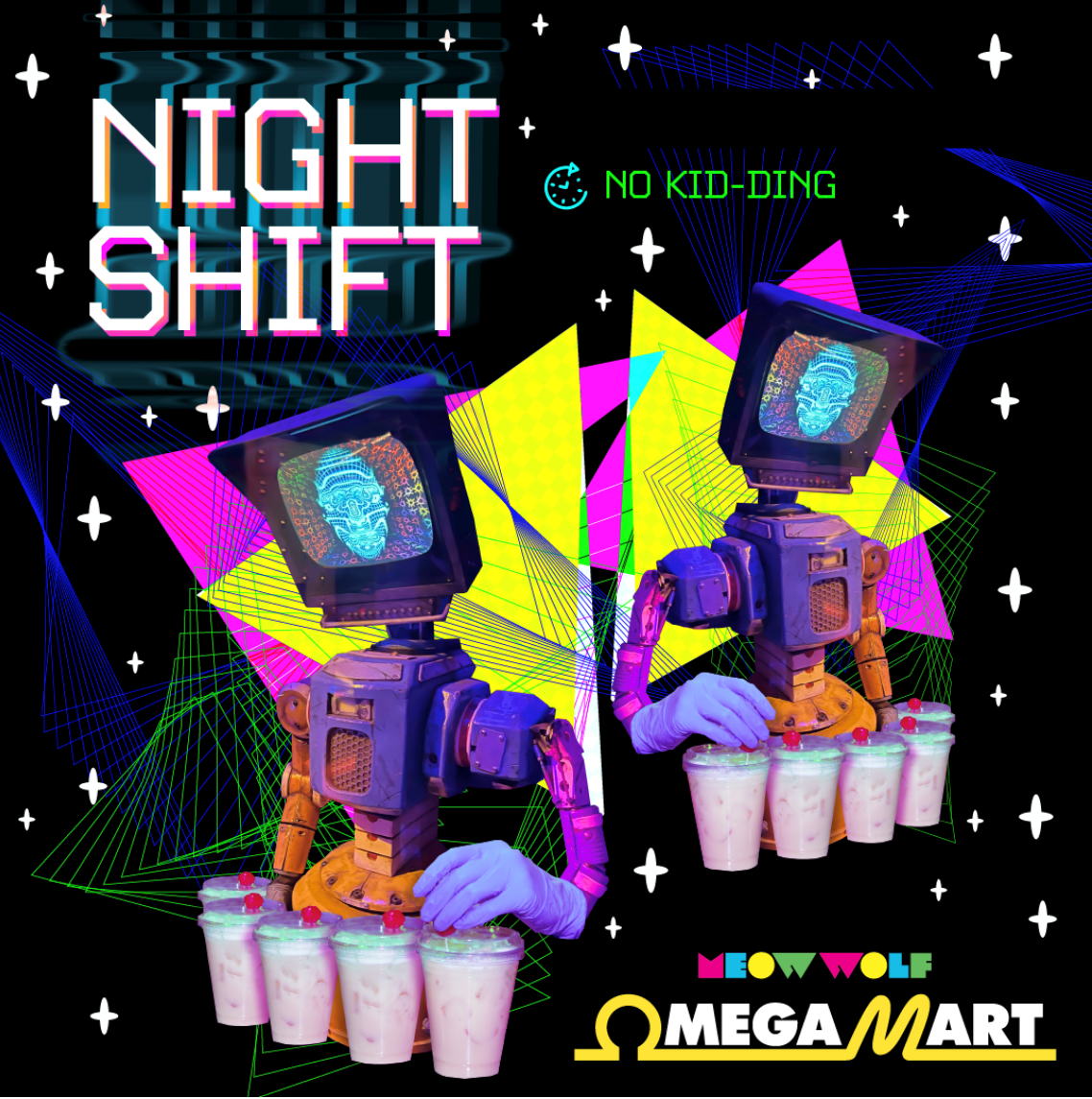 New. We've posted the new schedule for the new year. Sip, shop, and explore – major fun, sans minors. Meow Wolf's Omega Mart at Area15 makes this winter a bit grown-upier with ever-popular 21+ Night Shift Thursdays in January, February and March, all beginning Thursday, January 12 at 8:00 p.m.
Omega Mart, Meow Wolf's immersive art exhibition, invites properly-aged Earthicans to fill their baskets with Emergency Clams and Tattoo Chickens and pop through the portals to worlds that'll fill their imagination – all in the grown-up dimension. If they locate the hidden speakeasy, Datamosh, they might wish to savor a smokey Source or grab a sip at several remote cocktail spots, while gaming to their heart's content with their "Boop" card without youngsters.
Even though you've punched in before, a quick reminder from the adulting manual: the rules and important information!
–Night Shift begins at 8:00 p.m on:
Thursday, January 12
Thursday, January 26
Thursday, February 9
Thursday, February 23
Thursday, March 16
Thursday March 30
-Shoppers must be 21 and older. IDs will be checked at the door. Canmels and Happles are, of course, welcome without ID.
-Tickets are $39 for Nevada residents, $49 for out of state visitors, and available in advance online.
For more information about Meow Wolf, visit MeowWolf.com and stay connected on social media at @meow__wolf on Instagram, @MeowWolf on Twitter, and @MeowWolfLasVegas on Facebook.
About Meow Wolf
Meow Wolf is a Santa Fe-based arts and entertainment company that creates immersive, interactive experiences to transport audiences of all ages into fantastic realms of story and exploration. The company's first location in Santa Fe opened in 2016 and showcases the THEA Award-winning, international sensation, House Of Eternal Return, where two million visitors have now discovered a multidimensional mystery house with secret passages, portals to magical worlds, and surreal, maximalist and mesmerizing art exhibits.
In 2019, Meow Wolf expanded beyond Santa Fe and opened Kaleidoscape, the world's first artist-driven ride at Elitch Gardens in Denver. Meow Wolf recently opened their second permanent installation, Omega Mart, at AREA15 in Las Vegas and their third permanent installation in Denver opened in September 2021, Convergence Station. Two new portals are set to open in Dallas in 2023 and Houston in 2024. Meow Wolf is proud to be the only certified B-Corporation in the themed entertainment industry.
Summary
Article Name
Clock in for the New, New Year Schedule for the 21+ NIGHT SHIFT at Meow Wolf's Omega Mart. NEW!
Description
Clock in for the New, New Year Schedule for the 21+ NIGHT SHIFT at Meow Wolf's Omega Mart. NEW!