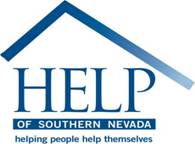 HELP OF SOUTHERN NEVADA TEES UP FOR
18TH ANNUAL GOLFERS' ROUNDUP ON JUNE 25
HELP of Southern Nevada is gearing up for its Golfers' Roundup tournament on June 25 at The Las Vegas Country Club.
Each year, supporters of HELP of Southern Nevada rally together to compete in Golfers' Roundup, an 18-year-old competitive golf tournament and luncheon benefitting the local charity.  Board member Tom Kummer will act as the golf chairperson for the 16th consecutive year.  Heading back to The Las Vegas Country Club for 2012, HELP of Southern Nevada is eager to share its continued success with everyone who will be attending Golfers' Roundup.
"Everyone who participates in the Golfers' Roundup is lending a hand to the over 100,000 people Help of Southern Nevada will serve this year," said Terrie D'Antonio, president of the nonprofit.  "Our growth and the quality and sustainability of our operations depend on the people who support us at events like Golfers' Roundup."
Individual tickets for the tournament are $300 per person or $1,200 for a group of four.  Sponsorship opportunities are also available.  This year's tournament registration will begin at 7 a.m. with a shotgun start at 8 a.m.  All tournament participators will enjoy a continental breakfast prior to tee time and a delicious luncheon at the conclusion of the course.  Awards and raffle prize winners will be announced at the luncheon.
To purchase tickets or inquire about sponsorship opportunities, contact Abby Quinn at 702.836.2130 or [email protected].
ABOUT HELP OF SOUTHERN NEVADA
HELP of Southern Nevada operates nine departments, provides jobs to ninety employees and serves approximately 100,000 unduplicated clients each year.  The services HELP provides assist low-income families, homeless teens and adults among other individuals, to become more self-sufficient through direct services, trainings and referrals.  Programs available include Emergency Resources, Family Services, Weatherization, Community Alternative Sentencing, Work Opportunities Readiness Center, Holiday Assistance, Nevada 2-1-1 Call Center and Homeless and Youth Services.  For more information, call HELP of Southern Nevada at 702-369-4357 or visit www.helpsonv.org.