Dino Safari: A Walk-Thru Adventure unleashes custom Nevadadromeus onto its Base Camp
In honor of Nevada Day, locals can enjoy $15 tickets Oct. 27-31 to see Nevadadromeus and additional Nevada connections featured throughout this this larger-than-life experience
Popular attraction extends its visit through Summer 2024!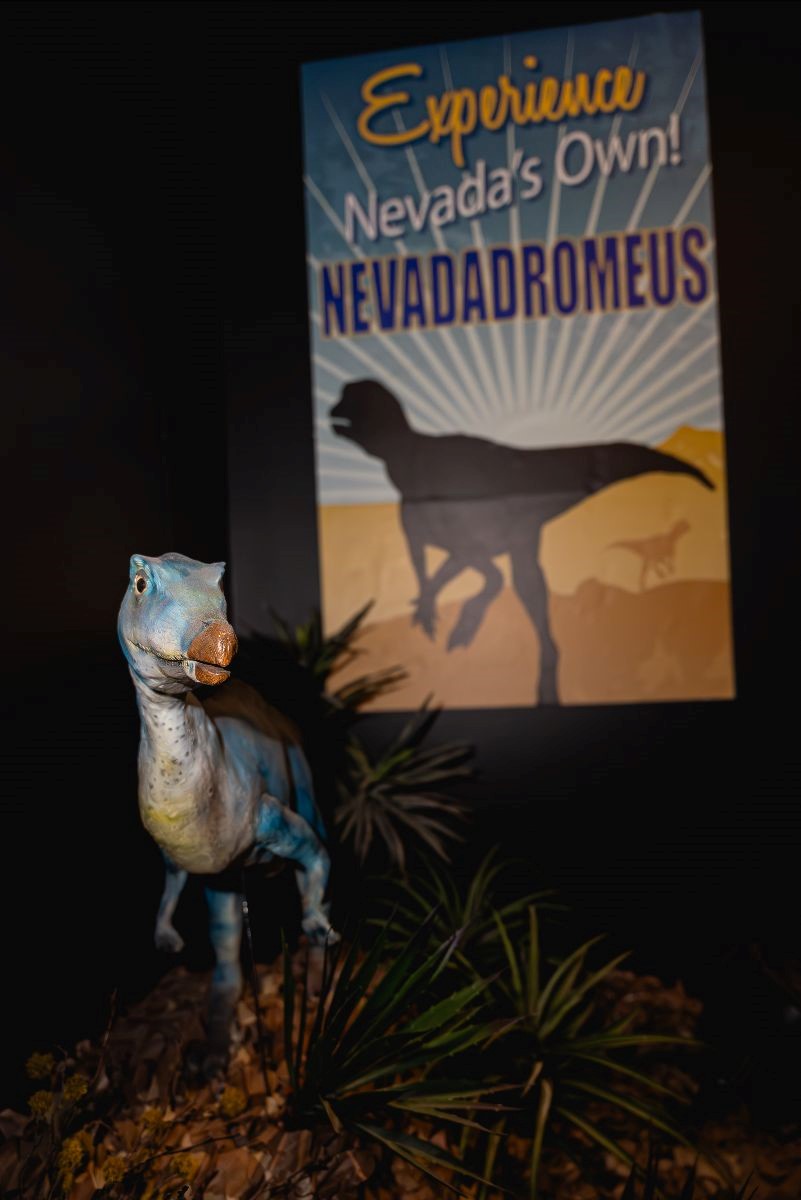 Travel back in time to the age of the dinosaur and not just around the world, but see who roamed throughout Nevada as Dino Safari: A Walk-Thru Adventure localizes its larger-than-life experience with a custom Nevadadromeus and various other Nevada connections. Located at the Horseshoe Las Vegas (formerly Bally's), the popular attraction has been extended through the summer of 2024. In honor of Nevada Day, Dino Safari will offer locals $15 tickets from October 27-31st; tickets must be purchased onsite and show a valid Nevada ID.
These Nevada-specific area dinosaurs have been added with a focus on the recent discovery of Nevadadromeus in 2021 by paleontologists Joshua Bonde and Becky Hall. To pay homage to this huge Nevada news, yet small in stature, Imagine Exhibitions commissioned a custom life-sized dinosaur for the local attraction, with an area dedicated to it inside Dino Safari's Base Camp.
"I am thrilled about this scientific discovery which adds to the rich history of Nevada," says Tom Zaller, CEO of Imagine Exhibitions. "It is through the work of paleontologists that we can share these amazing discoveries. Along with experiencing these amazing creatures, I hope to encourage our younger guests who come to our attraction to consider a career in the sciences, especially paleontology."
Atlanta-based Imagine Exhibitions created the exhibition in collaboration with world-renowned Ph.D. Dinosaur Paleontologist Gregory M. Erickson, one of only 150 full-time professional dinosaur paleontologists worldwide.
According to Dr. Erickson, Nevadadromeus was a small, bipedal plant-eating dinosaur that sported a beak and long, slender hind legs. It is currently the only named species of dinosaur from Nevada. The first half of Nevadadromeus's name honors its discovery in Nevada, the 38th state to be admitted to the union. The second half refers to its long, slender hind legs showing it was swift and agile – attributes this small herbivore needed to escape much larger dinosaurian predators. The name means "Nevada Runner."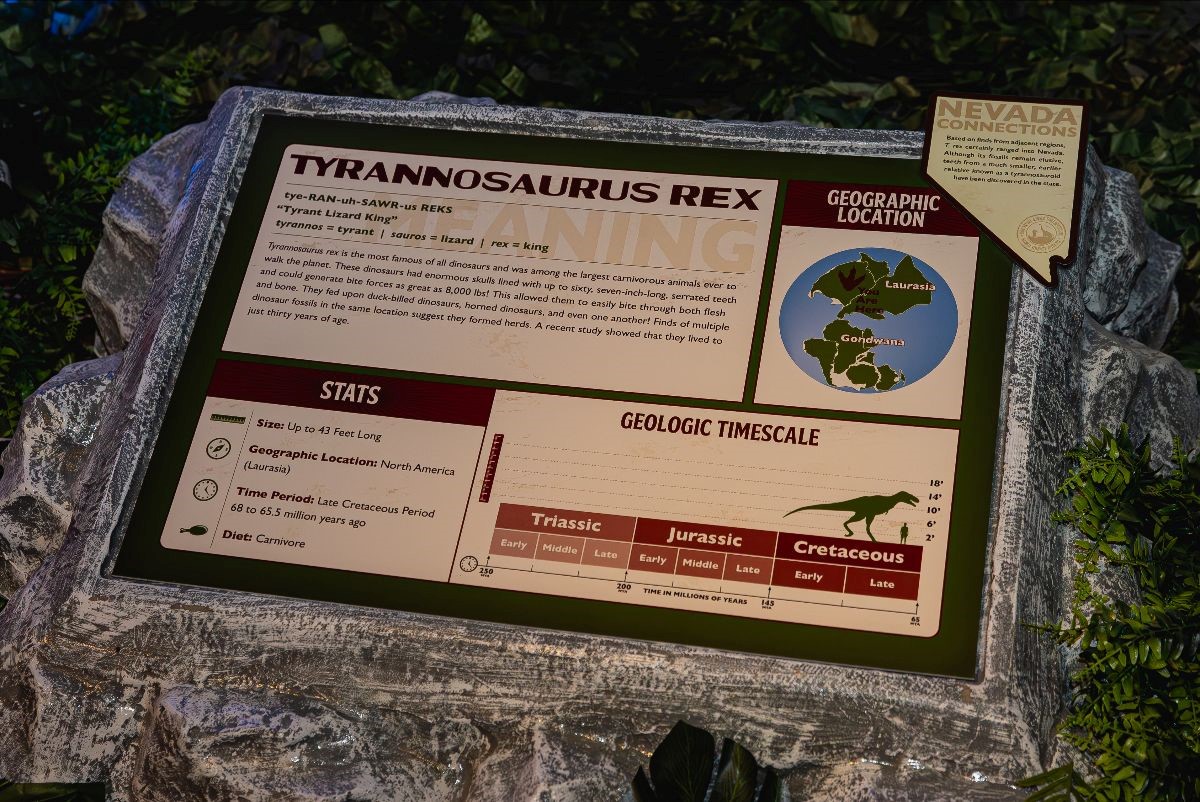 Additionally, six "Nevada Connections" have been added to existing dinosaur tombstones that call out links to the dinos and the Southern Nevada region:
Hadrosaur:
In 2008, University of Nevada, Las Vegas students were hiking through Valley of Fire State Park (just 45 miles from the tombstones). Stopping for lunch, they made a remarkable discovery. Jutting from the rocks was the skeleton of a dinosaur! It represented a new type of "duck-billed dinosaur" whose name is soon to be announced.
Laellyasaura:
Fossils reveal that small herbivorous dinosaurs, like Laellyasaura, once claimed the region surrounding Nevada as their home.
Iguanodon:
Scraps of fossil bones and teeth show that the Silver State boasted its own thumb-spiked herbivore, similar in appearance to its European counterpart.
Plateosaurus:
New evidence shows that super-sized descendants of prosauropods – known as titanosaurs, perhaps 100 feet in length or more – once thundered across the Nevada landscape.
Tyrannosaurus Rex:
Based on finds from adjacent regions, T. rex certainly ranged into Nevada. Although its fossils remain elusive, teeth from a much smaller, earlier relative known as a tyrannosauroid have been discovered in the state.
Velociraptor:
Indigenous Ute and Paiute people were clearly the first to recognize dinosaur fossils from Nevada. Among these include tracks and skeletal materials from small menacing carnivorous "raptors" that have yet to be described scientifically.
Located on the lower level at Horseshoe Las Vegas, the experience showcases how dinosaurs evolved over time, offers hands-on challenges for visitors to solve, and depicts natural elements that often occurred during this time. The thrilling adventure features captivating virtual reality technology, spectacular installations and interactive activities for children of all ages.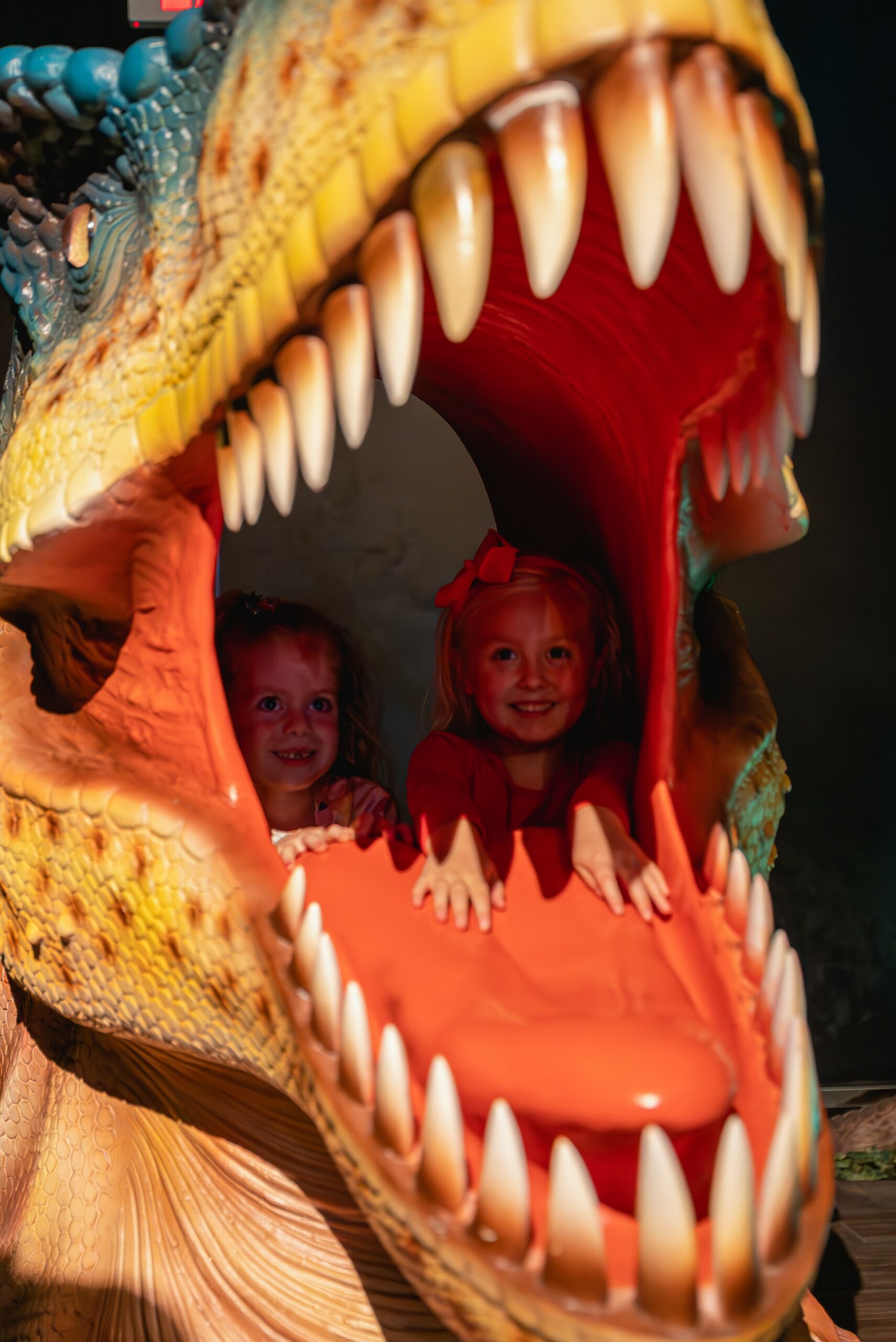 Dino Safari: A Walk Thru Adventure is open daily from 11 a.m. to 7:30 p.m. Tickets start at $23, and children 3 and under are free. Dino Safari is also available for birthday parties, with additional perks for both the birthday celebrant and their guests. For more information or to purchase tickets, visit DinoSafari.com. Connect socially with Dino Safari at facebook.com/dinosafariwalkthru or on Instagram @dinosafariusa. #DINOSAFARI
About Imagine Exhibitions
Atlanta-based world leader in narrative-driven, immersive theatrical design, storytelling, and immersive experiences, Imagine Exhibitions, Inc. creates sophisticated, high-quality experiences for museums, brands, venues, and integrated resorts across the globe. From ideation to operation, Imagine's team of industry peers draws upon decades of success in the fields of immersive design experiences and entertainment to consistently create and implement memorable and thought-provoking environments. The company's custom experiences deliver focused messaging and serve to increase attendance wherever it is presented. Imagine Exhibitions, Inc. is a global pioneer in traveling entertainment, responsible for many internationally recognized exhibitions such as Harry Potter™: The Exhibition, Titanic: The Exhibition, The Hunger Games: The Exhibition, Angry Birds: The Art & Science Behind a Global Phenomenon, Jurassic World: The Exhibition, and Downton Abbey: The Exhibition. Imagine Exhibitions is currently presenting more than 40 unique exhibitions in museums, science centers, aquariums, integrated resorts and non-traditional venues worldwide. The company also continues to design, open and operate its venues, creating and implementing permanent and semi-permanent museums, brand and entertainment properties, and food and beverage experiences. For more information, visit ImagineExhibitions.com or find us on Facebook.
About Imagine Exhibitions in Las Vegas
In addition to Dino Safari: A Walk Thru Adventure at Horseshoe Las Vegas, Imagine Exhibitions also operates the Real Bodies exhibition, and The Cabinet of Curiosities, and The Lock bar and speakeasy. Imagine also operates Discovering King Tut's Tomb at Luxor Hotel & Casino. For more information about Imagine Exhibitions Las Vegas experiences, visit ImagineExhibitions.com.
About Horseshoe Las Vegas
The newly rebranded Horseshoe Las Vegas is located at the center of the world-renowned Las Vegas Strip, across from Caesars Palace and next to Paris Las Vegas. The 44-acre resort consists of two 26-story hotel towers with more than 2,800 guestrooms, including the renovated Resort Rooms and 244 suites. Home to the World Series of Poker® (WSOP), the resort features nearly 70,000 square feet of casino space and a Hall of Fame Poker Room. For entertainment, Dita Von Teese stars in "DITA LAS VEGAS: A Jubilant Revue" in the historic Jubilee Theater. Additionally, The Magic Attic exclusively offers magic-inspired productions. Dining options include Horseshoe's signature fine dining experience, Jack Binion's Steak; a food court; Nosh Deli and LavAzza. Guy Fieri's newest concept, Flavortown Sports Kitchen, also joins the roster of eateries. The resort offers a fitness center, the Blu Pool and attractions such as Twilight Zone by Monster Mini Golf, REAL BODIES, The Cabinet of Curiosities Lounge, Dino Safari: A Walk Thru Adventure and the ARCADE at Horseshoe Las Vegas. Horseshoe Las Vegas is operated by a subsidiary of Caesars Entertainment, Inc. (NASDAQ: CZR). For more information, please visit caesars.com/horseshoe-las-vegas or the Caesars Entertainment media room. Find Horseshoe Las Vegas on Facebook and follow on Twitter and Instagram. Must be 21 or older to gamble. Know When To Stop Before You Start.® If you or someone you know has a gambling problem, crisis counseling and referral services can be accessed by calling or texting 1-800-GAMBLER, Caesars License Company, LLC.