Corner Bar Promises Tricks, Treats and More This Halloween with the Return of The Block for 5 Nights of Fun
The Halloween Edition of The Block will bring the
spook to East Fremont from Thursday, Oct. 26 – Tuesday, Oct. 31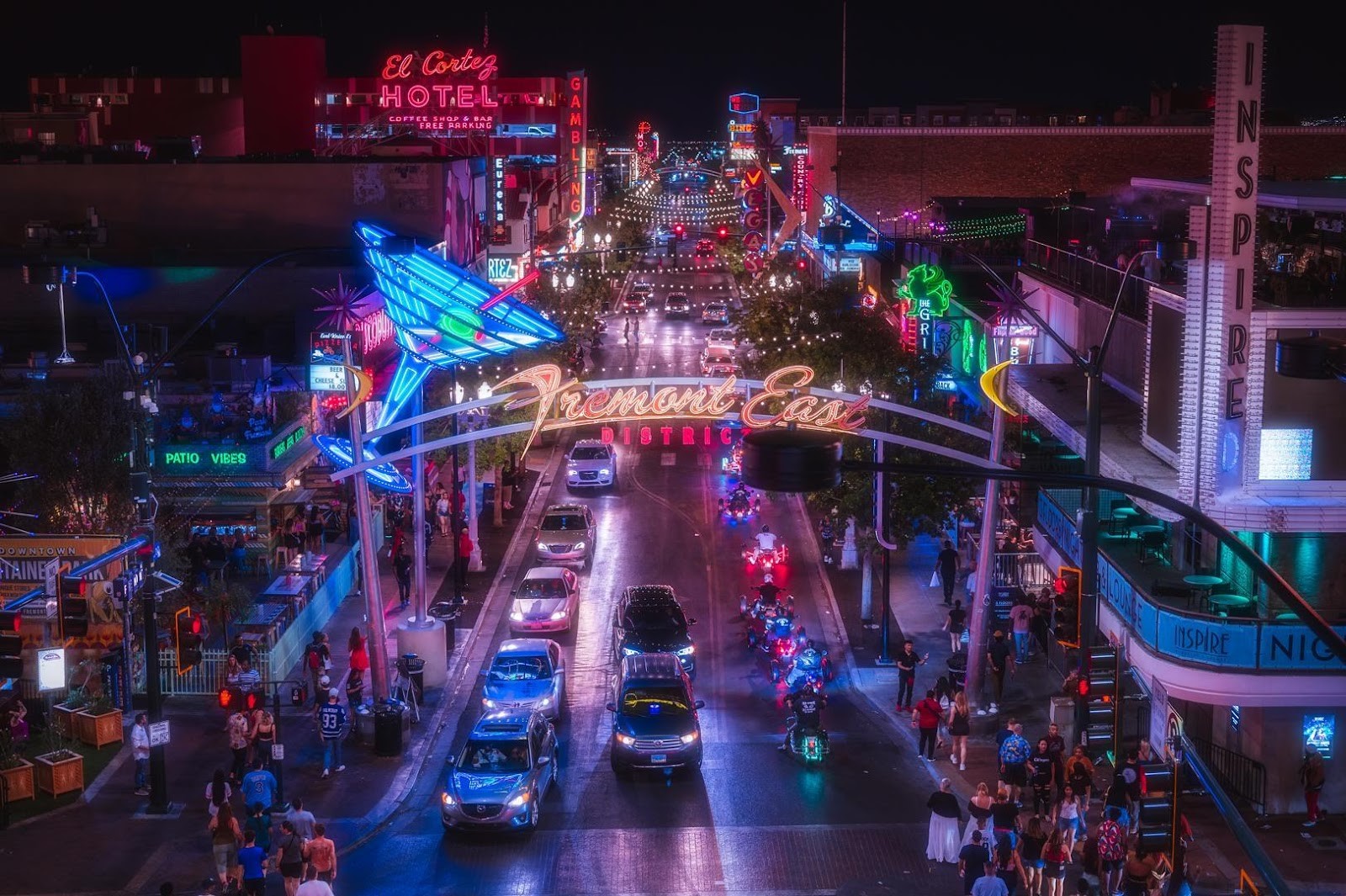 Corner Bar Management will help light up the night like a Jack-O-Lantern for the Halloween edition of The Block with events at Cheapshot, Commonwealth, DISCOPUSSY, La Mona Rosa, Lucky Day, We All Scream and Fergusons Downtown, from Thursday, Oct. 26 – Tuesday, Oct. 31. Additionally, Corner Bar has partnered with The Beverly Theatre to bring Halloween classics to the big screen all week long.
Making its return after a high-energy Life Is Beautiful weekend, The Block will be extra hot for nearly a whole Hallo-week with five action packed nights, apart from Monday, Oct. 30 due to venue closures. The action will be nonstop across a slew of Corner Bar venues including electrifying DJ sets at We All Scream, Discopussy and Commonwealth; sultry yet spooky burlesque shows brought to you by Cheapshot's The Jiggle Room; an exclusive mezcal dining experience at La Mona Rosa, Mezcal Motel; and much more. The spooky madness will culminate Halloween night at Commonwealth with Cauldron Noir, a mystical and seductive drag and burlesque show featuring mesmerizing belly dancers, contortionists and more presented by Cervena Fox.
Corner Bar is also partnering with The Beverly Theatre to bring the fear to the silver screen, with showings of Halloween and horror classics perfect for getting in the spooky spirit. Iconic films will include "The Shining," "Young Frankenstein," "Texas Chainsaw Massacre" and many more. Showtimes and tickets can be found at the link here.
A list of all the events for The Halloween edition of The Block has been included below. For individual tickets, reservations and more information, visit https://www.blockparty.vegas/halloween-weekend.com
Thursday, Oct. 26
Bajo Mundo powered by RVLTN & Altura at We All Scream, from 10 p.m. – 3 a.m.

Bajo Mundo will bring a slew of premiere DJs to We All Scream, with talent including DJ AR, Danco, Father Kap, DJ Exile, Skunkz, Vegaduzit, Gream, Wet, Willy, Bizzy, Jeyfari, i5 and Santoyo.

Unity Presents Blind Tiger at Discopussy, from 10 p.m. – 3 a.m.

Blind Tiger is an artist collective and underground house music community based in Los Angeles, CA, deeply rooted in the after-hours scene. Playing music that is dark and sexy at their "secret afters," their sounds feature a strong underlying bass groove, paired with a relentless 4×4 beat that becomes the backbone of the whole night.
Friday, Oct. 27
YEHM2 and Friendly Fire at We All Scream from 9 p.m. to 3 a.m.

Chicago producer YehMe2 has remained a prolific figure in electronic music over the past decade. As one half of Flosstradamus, Josh Young was an integral part of the rise of electronic music on a global scale. His new moniker sees him keeping the same energy and personality that fans know and love, but now with limitless creative control to create his own sound.
Friendly Fire is a Los Angeles-based house duo comprised of Day Trip founder Adam Auburn and Space Yacht co-creator LondonBridge. Both are responsible for two of the most influential brands in West Coast house music, bringing their unique style of high energy house music to clubs and festivals around the country.

Destructo presented by Holy House at DISCOPUSSY from 10 p.m. to 4 a.m.

Longtime music industry figure Gary Richards goes by the name Destructo, producing and spinning an explosive mixture of electro-house and rap. He has collaborated with major emcees like E-40, Too $hort and Busta Rhymes, among others.

The Jiggle Room presented by Raquel Reed at Cheapshot (Two shows) from 8:30 p.m. – 10:00 p.m. and 11:00 – 12:30 p.m.

Prepare to be dazzled with an unforgettable night of seductive allure and sensational performances at Cheapshot's newest Burlesque Variety Show, brought to you by Raquel Reed.

Freak The Beat with Discolines Angrybaby, Alex Parra, Halftime Hooper and Benjo at Ferguson's from 7 p.m. – 12 a.m.

Freak The Beat returns to Fergusons Downtown this Halloween with special guest Disco Lines and support from Angrybaby, Alex Parra, Halftime Hooper and BENJO. Ferguson's invites all music freaks to come in costume and be ready for a fun-filled evening with multiple activations, photo-ops, and a costume contest.
Saturday, Oct. 28
Nick Bike at We All Scream from 11 p.m. to 4 a.m.

For over 15 years, Nick Bike has made a mark in the industry with crowds across the continent. His edits have become a mainstay for many DJs and becoming popular with others such as Questlove, Just Blaze, Gilles Peterson and D-Nice.

Fremont House Mafia and Space Wizard at DISCOPUSSY from 10 p.m. to 1 a.m. and 1 a.m. – 4 a.m.

Composed of Downtown mainstays, DJ Wizdumb, DJ Shaun, & 530, the trio known as Fremont House Mafia focuses on the fun side of house and techno with recognizable vocals and vibrating baselines.

Altura – Viva El Perro Halloween Edition at La Mona Rosa and Commonwealth from 10 p.m. to 4 a.m.

Altura has been serving Vegas with endless Reggaeton/Latin party experiences throughout the city and they're bringing the party to both La Mona Rosa and Commonwealth, bringing all who attend authentic Latin party experiences.

Loteria Dia De Los Muertos Edition at Lucky Day from 7 p.m. – 10 p.m.

Hosted by Andrew Martinez, this is a historic Mexican Game of Chance. With seasonal and topical editions of the original game, the evening will be a humor-filled and friendly competitive environment.
Sunday, Oct. 29
Claude VonStroke at Discopussy from 10 p.m. – 4 a.m.

Most people know Claude VonStroke for his smiling DJ persona touring every major city, festival, and basement after-party around the world. VonStroke has released four original artist albums, a remix album and a live album recorded when he closed the famed Movement Festival in his original hometown of Detroit, Michigan. Some other music highlights include working on records with Bootsy Collins, Rihanna, Disclosure and Kevin Saunderson as well as a few #1 & #2 hits on Beatport.

Mezcal Motel with Los Platanos at La Mona Rosa from 7 p.m. – 9 p.m.

A live music and Mezcal experience presented by Madre Mezcal featuring Los Platanos, a local Latin jazz-inspired jam band.
Tuesday, Oct. 31
Cauldron Noir presented by Cervena Fox at Commonwealth from 9 p.m. – 12 a.m.

Commonwealth invites all to a spellbinding Halloween spectacle, Cauldron Noir curated by the extraordinary Cervena Fox. With mesmerizing belly dancers, contortionists, fierce drag, and seductive burlesque, the event promises an unforgettable journey into the mystical.
# # #
About Corner Bar Management:
Created by Las Vegas entrepreneur Ryan Doherty, Corner Bar Management is behind some of the city's most popular nightlife venues, including Commonwealth, The Laundry Room, Park on Fremont, DISCOPUSSY, Lucky Day and Peyote, all found within Fremont East Entertainment District. In the spring of 2022, Corner Bar Management opened two new venues in Downtown Las Vegas: Cheapshot, an intimate showroom and discotheque; and We All Scream, an 1,000-person nightclub and ice creamery. In 2023, the team welcomed La Mona Rosa, a Tulum-inspired cantina with authentic and elevated Mexican fare; and Meatball Hero, a gourmet gastro-truck serving Italian-inspired sandwiches from a renovated 1954 International Silver Dome trailer. Corner Bar Management actualizes its passion for local arts and the slightly unconventional through detail-oriented concepts that inspire conversation and community gathering. More information is available at www.CornerBarMgmt.com, and at @CornerBarMgmt on Facebook and Instagram.
About Cheapshot
Presented by the notorious "Miss Behave" Amy Saunders and Corner Bar Management, the creators of some of Vegas' most imaginative destinations, Cheapshot showcases loose, live, and down 'n' dirty entertainment at 517 E. Fremont St. Suite 100. Draped in rich reds with touches of gold accentuated by soft lighting, Cheapshot reigns supreme as the most intimate showroom and discotheque in Las Vegas at 3,000 square feet with seating for 99. Elegant booths and plush seating surround the stage, which presents an ever-changing lineup of bawdy performances. Bartenders serve cheap, stiff drinks with a wink and a grin, priming the audience for a night of irreverent entertainment. Tickets, the entertainment lineup and more can be found on Cheapshot's website, as well as on Instagram and Facebook.
About Commonwealth
Commonwealth offers a stylish social scene within the burgeoning bar district in Downtown Las Vegas. The 6,000-square-foot cocktail bar is a collision of art and industrial architecture mapped across two floors. Inside, wooden beams drip with crystal chandeliers and original brick walls coated in newspaper remnants tell the secrets of a bygone era. A rooftop bar offers a DJ booth and dance floor framed by tables for lounging, with 360-degree views of downtown Las Vegas. Mixologists sling hand-crafted cocktails from a menu of signature drinks as well seasonal selections, but by night, Commonwealth's antiquated feel melts into a vibrant club scene hosting national and international DJ talent. Commonwealth is open 10 p.m. to 3 a.m. Wednesday and Thursday, from 6 p.m. to 3 a.m. Friday and Saturday, and from 10 p.m. to 3 a.m. on Sunday. More information on Commonwealth is available at www.commonwealthlv.com and on Facebook, Instagram and Twitter. Commonwealth is home to The Laundry Room, an internationally acclaimed cocktail haven with limited seating and a menu of exceptional craft cocktails. The Laundry Room has a very exclusive admission process, providing a focus on the guests and a great attention to detail on their cocktails. The Laundry Room is open daily at 6 p.m. until late. More information is available by calling 702-445-6400, at www.laundryroomlv.com, on Facebook, Instagram and Twitter.
About DISCOPUSSY
DISCOPUSSY, a 6,500-square-foot after-hours dance haven, brings mainline house and techno to Fremont East. Conceptualized and designed by Ryan Doherty of Corner Bar Management, the centerpiece is a custom-built disco-octopus made of more than 10,000 laser cut components illuminated by more than 5,000 individually addressable light-emitting diodes. Beneath, dance culture comes alive on the Void Acoustics sound system as world-renowned producers and emerging underground DJs control the decks deep into the night. A tribute to the hacienda days of Detroit, New York and London, DISCOPUSSY's inky atmosphere is brightened only by piercing lasers, the iconic octopus and the electric personalities who frequent. DISCOPUSSY is open 10 p.m. to 4 a.m. on Friday and Saturday, and from 10 p.m. to 2 a.m. on Tuesday, Thursday and Sunday. More information is
About La Mona Rosa
La Mona Rosa, Spanish for "the pink monkey," is a Tulum-inspired hideaway nestled within Las Vegas' eclectic Fremont East neighborhood. Located at 100 S. Sixth St., La Mona Rosa is instantly recognizable by its namesake, 7-foot pink neon monkey clinging to the restaurant and bar's exterior. The 3,500-square-foot interior features an open kitchen which is visible from the dining room and cocktail bar overlooking S. Sixth Street, as well as a lively patio. The menu, curated by executive chef duo Daniel Arias and Isidro Marquez-Castillo, is a celebration of Mexico's diverse regions, robust flavors and culinary techniques through traditional dishes complemented by handcrafted cocktails. With the addition of a bespoke stage, La Mona Rosa is the centerpiece of live entertainment, dynamic nightlife experiences and energetic brunches on East Fremont. La Mona Rosa is open 5 to 11 p.m. on Tuesday and 5 to 10 p.m. Wednesday through Sunday, with brunch available from 11 a.m. to 4 p.m. Friday through Sunday. More information can be found at www.lamonarosalv.com and on Facebook, Instagram and Twitter at @lamonarosalv.
About Lucky Day
Lucky Day, located at 516 E Fremont St., boasts an impressive selection of rare mezcals, small-batch tequilas and signature cocktails within an intimate atmosphere. An explosion of color and light, Lucky Day blends a cacophony of knick-knacks, discarded fortunes, eccentric art, stained glass windows and tattered memories with a canopy of 15,000 custom handmade programmable LED lights in all shapes and sizes. From DJs spinning Latin house and Mexican bingo to themed trivia and more, Lucky Day packs entertainment into every day of the week. Lucky Day is open from 7 p.m. until late Monday through Friday and from noon until late on Saturday and Sunday. Reservations can be made by texting 702-291-7599. More information is available on the website at www.LuckyDayDTLV.com or on Facebook, Instagram and Twitter.
About We All Scream:
An art-filled nightclub and not-for-profit ice creamery benefiting public art, Corner Bar Management's We All Scream is now open at 517 E. Fremont St. A 10,000-square-foot veritable warren of wonderment, the indoor-outdoor compound is a stomping ground for music and art aficionados alike. Void Acoustics sound systems fuel We All Scream's vintage dairy truck-turned-DJ booth on the ground-level patio, and the custom, ice cream cone-shaped DJ booth imbedded with LED sprinkles on the rooftop dance floor. Backed by 360-degree views of downtown's grit and neon glow, We All Scream drips with vibrant, floor-to-ceiling murals by internationally renowned artists. We All Scream opens at 10 p.m. Thursday through Saturday. More information is available online at www.weallscream.com, and on Instagram, Facebook and Twitter at @weallscreamdtlv.
Summary
Article Name
Corner Bar Promises Tricks, Treats and More This Halloween with the Return of The Block for 5 Nights of Fun
Description
Corner Bar Promises Tricks, Treats and More This Halloween with the Return of The Block for 5 Nights of Fun