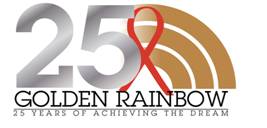 GOLDEN RAINBOW'S 26th ANNUAL "RIBBON OF LIFE" PRODUCTION
stuns audience with unforgettable performances june 24
Production raises more than $200,000 to assist HIV/AIDS community, exceeds last year by $50,000
Celebrating 26 years of service to Southern Nevada's HIV/AIDS community, Golden Rainbow presented its annual "Ribbon of Life" fundraising production at The Smith Center for the Performing Arts on Sunday, June 24.
Approximately 1,630 attendees filled the breathtaking Reynolds Hall as 380 performers from the best Strip shows and entertainment companies took the stage in the fight against HIV/AIDS. Hosted by 8 News Now anchor Chris Saldaña and appropriately themed "Ovations," this year's acts included performers from Vegas! The Show in "Ovations of Josephine Baker," Broadway in the Hood with "Circle of Life," Jubilee! in "Sing, Sing, Swing," Las Vegas Tenors' rendition of "Rock of Ages," Clint Holmes with "Suite from Porgy and Bess," performers from PEEPSHOW, Frank Marino's Divas Las Vegas and Centrifuge teamed up for "In the Heights," The Las Vegas City Ballet along with performers from Jubilee!, Phantom: The Las Vegas Spectacular, Nevada Ballet Theatre with a medley from "West Side Story," and many more. A few of the numbers wowed the crowd to standing ovations. Special guests including KSNE Sunny 106.5's Melanie Myers and Zach Dillon, Golden Globe-winning actress and Grammy-nominated singer Pia Zadora, and actor Danny Pintauro joined in on the action, introducing select acts throughout the show. For the second consecutive year, Freed's Bakery helped Golden Rainbow celebrate with a three-tiered cake donned with red draping, gold flowers and pearls made from icing.
This year's record-breaking show raised more than $200,000. In addition to the onstage spectacular, Golden Rainbow hosted a silent auction with exclusive prizes such as vacation packages, Tiffany & Co. jewelry, designer handbags, show tickets, dinner packages, one-of-a-kind art and more. The auction raised $17,000. All proceeds from the fundraiser directly benefit the organization's Direct Financial Assistance and Affordable Housing Programs.
The 2011 production drew around 1,150 guests and raised approximately $150,000. As a result of last year's fundraising efforts, the nonprofit provided 7,413 nights of shelter, 1,178 days of utility assistance, 1,620 days of transportation and medical and dental assistance to more than 500 households.
The 2013 "Ribbon of Life" spectacular is set to return to The Smith Center for the Performing Arts on Sunday, June 30. For more information on Golden Rainbow or to order copies of this year's "Ribbon of Life," please visit www.goldenrainbow.org.
About Golden Rainbow
class="MsoNormal">Golden Rainbow is a nonprofit organization that provides housing and direct financial assistance to men, women and children living with HIV/AIDS. Founded by members of the entertainment industry in 1987, Golden Rainbow is committed to serving the HIV/AIDS community through fundraisers like Ribbon of Life and HIV/AIDS related education. For more information, visit www.goldenrainbow.org or call 702.384.2899.
[flgallery id=30 /]
Photo credit: David Tingey