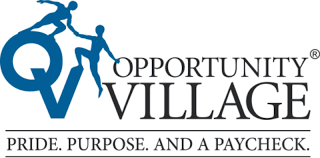 Registration for 19th Annual Las Vegas Great Santa Run Opens July 1
All funds raised go to support adults with disabilities in the Las Vegas area
It's Christmas in July as registration opens for the 19th Annual Las Vegas Great Santa Run on July 1. As one of the primary fundraisers for Opportunity Village, participation in the 5k run or 1-mile Kris Kringle Jingle walk directly supports people with disabilities in Southern Nevada. This year, the Las Vegas Great Santa Run, presented by Circle K, is scheduled for Dec. 2 in Downtown Las Vegas. The festivities begin at 8 a.m., with the 5k run starting at 10 a.m. The 1-mile Kris Kringle Jingle starts at 10:30 a.m.
To register, visit www.lvsantarun.com. Registration is $25 per participant during the Christmas in July early-bird pricing. The Las Vegas Great Santa Run is an all-ages event, and children under 3 are free. For those who prefer a virtual experience, simply select the virtual option during registration and complete your run by Dec. 2. Pets are also welcome to attend the Las Vegas Great Santa Run, with a $10 pet registration that includes a pet swag bag.
"We are making this year's Las Vegas Great Santa Run bigger and better than ever, with fun prizes for fundraising efforts, great entertainment, and surprises for our runners and walkers," said Bob Brown, President and CEO of Opportunity Village.
Las Vegas Great Santa Run participants can earn a prize for fundraising, beginning with a $5 donation. Prizes range from free hot chocolate at The Magical Forest to a three-day cruise in Baja, Mexico. In addition, teams of 20 or more people also receive special discount registration pricing when registering together: $25 per person until Sept. 30, and $35 per person until Nov. 19 when team registration closes.
Stay updated with all things Las Vegas Great Santa Run by following the event's social media accounts on Facebook, Instagram, and Twitter @lvsantarun.
About Opportunity Village
Since 1954, Opportunity Village has been dedicated to helping people with disabilities find the very best version of themselves. Through workforce development, community employment, day services, inclusive housing, arts and social recreation, they are able to find new friends, realize future career paths, seek independence and community integration, and unleash creative passions. Opportunity Village thrives with the funding from our social enterprises, signature events and the generous philanthropy of our donors and community partners. Together, we are successfully empowering, employing, and serving people with disabilities – positively impacting lives. For more information on Opportunity Village, visit www.opportunityvillage.org