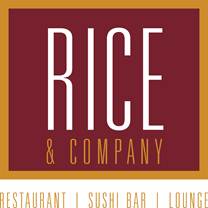 RICE AND COMPANY TO OFFER TRADITIONAL PRIX FIXE MENU FOR CHINESE NEW YEAR
Luxor's new Asian bistro also will debut its "Dragon Roll" for the Year of the Dragon
To symbolize a year of good fortune with power and wealth, Rice & Company at Luxor Hotel and Casino will celebrate the Year of the Dragon with an array of offerings during the Chinese New Year, Monday, Jan. 23 through Monday, Feb. 9. The indulgent four-course feast, created by Executive Chef John Kan, includes distinctive starters and traditional entrées paired with a decadent dessert sampler and is priced at $65 per person.
As a way to celebrate happiness in the Chinese culture, guests will begin their meal with a choice of traditional Pan-Fried Pot Stickers, Vegetable Spring Rolls or the new "Dragon Roll," made with eel, sliced cucumber, fresh avocado and caviar. For the second course, guests may choose between Mixed House Seasonal Greens with a savory signature ginger dressing or Egg Drop Soup made with vegetables and scallions.
The main course will feature three savory selections: Fresh Orange Peel Chicken with a tangy spicy citrus flavor; Beef and Broccoli stir-fried in garlic oyster sauce; or Garlic Shrimp with stir-fried Asian vegetables.
The delicious dessert sampler includes an array of sweet treats including exotic fruit, Cheesecake, Raspberry Gelato and Rice & Company's signature Chocolate Passion, a chocolate mousse roll, passion fruit gel and chocolate cake served with vanilla crème anglaise. Guests also will receive a freshly baked fortune cookie with a special note inside offering a sweet reward, such as complimentary dessert.
Rice & Company now is accepting reservations for friends and family to celebrate the Chinese New Year.
About Rice & Company
The atmosphere combines classic and contemporary design features, offering guests a dynamic setting to enjoy their dining experience. There are three semi-private dining rooms for business meetings, rehearsal dinners, bachelor/bachelorette parties and more, accommodating 10, 30 and 40 guests, respectively.
Located on the Luxor's second level at the entryway to The Shoppes at Mandalay Place, Rice & Company is open daily from 5 p.m. until 11 p.m., and the lounge stays open until midnight. For more information or reservations, guests may call 702-262-4774 or visit www.luxor.com/restaurants/riceandcompany.aspx.  Follow Rice & Company or become a fan at www.Twitter.com/riceandco or facebook.com/riceandco.