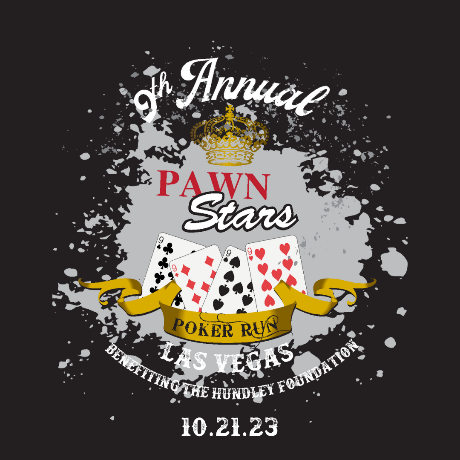 RICK HARRISON LEADS 9th ANNUAL 'PAWN STARS POKER RUN'
TO BENEFIT HUNDLEY FOUNDATION
ON SATURDAY, October 21, 2023
WHO: Rick Harrison of HISTORY'S hit reality show "Pawn Stars" will lead his 9th Annual "Pawn Stars Poker Run" this year on October 21st to benefit The Hundley Foundation. The foundation supports families and individuals struggling with all the complications epilepsy brings into someone's life and family.
WHAT: Harrison will lead motorcycle riders through Las Vegas starting at the World Famous Gold & Silver Pawn Shop. Other stops include the 105-year old historic Pioneer Saloon in Goodsprings, NV, and the Porchlight Grille, as well as new participant, Las Vegas Harley-Davidson. The final stop brings the riders back into downtown Las Vegas to Pawn Plaza for the official after party featuring a raffle, live band, and catering by Rick's Rollin' Smoke BBQ & Tavern. Participants will have their chance to win $2,000 for best hand and $1,000 for the worst hand, among many other prizes.
WHEN: Saturday, October 21, 2023
Registration will begin at 9:30 a.m. and kick stands up at 10 a.m. Last bike in is at 2:00 p.m. with a celebration party to follow.
To register, visit LAS VEGAS – 9th Annual Pawn Stars Poker Run Tickets, Sat, Oct 21, 2023 at 9:30 AM | Eventbrite

WHERE: Ride Starts at: World Famous Gold & Silver Pawn Shop – 713 S. Las Vegas Blvd.
Stop: Porchlight II – 9410 West Sahara, Suite 140
Stop: Pioneer Saloon – 310 W. Springs Street Goodsprings, NV
Stop: Las Vegas Harley Davidson – 5191 S. Las Vegas Blvd.
End Party: Pawn Plaza – 725 S. Las Vegas Blvd.
ABOUT THE HUNDLEY FOUNDATION:
The Hundley Foundation is dedicated to improving the lives of children and families in need. The foundation will support initiatives that focus on health, wellness, education, and other charitable causes. It was established by NFL QB Brett Hundley and his sister Paris in 2019. For more information, or to make a donation visit Home | Brett Hundley Foundation.
Summary
Article Name
Rick Harrison Leads 9th Annual 'Pawn Stars Poker Run'
Description
Rick Harrison Leads 9th Annual 'Pawn Stars Poker Run'