FuelFest Gears Up For their 2nd Annual Las Vegas show
Las Vegas Speedway from October 6 & 7, 2023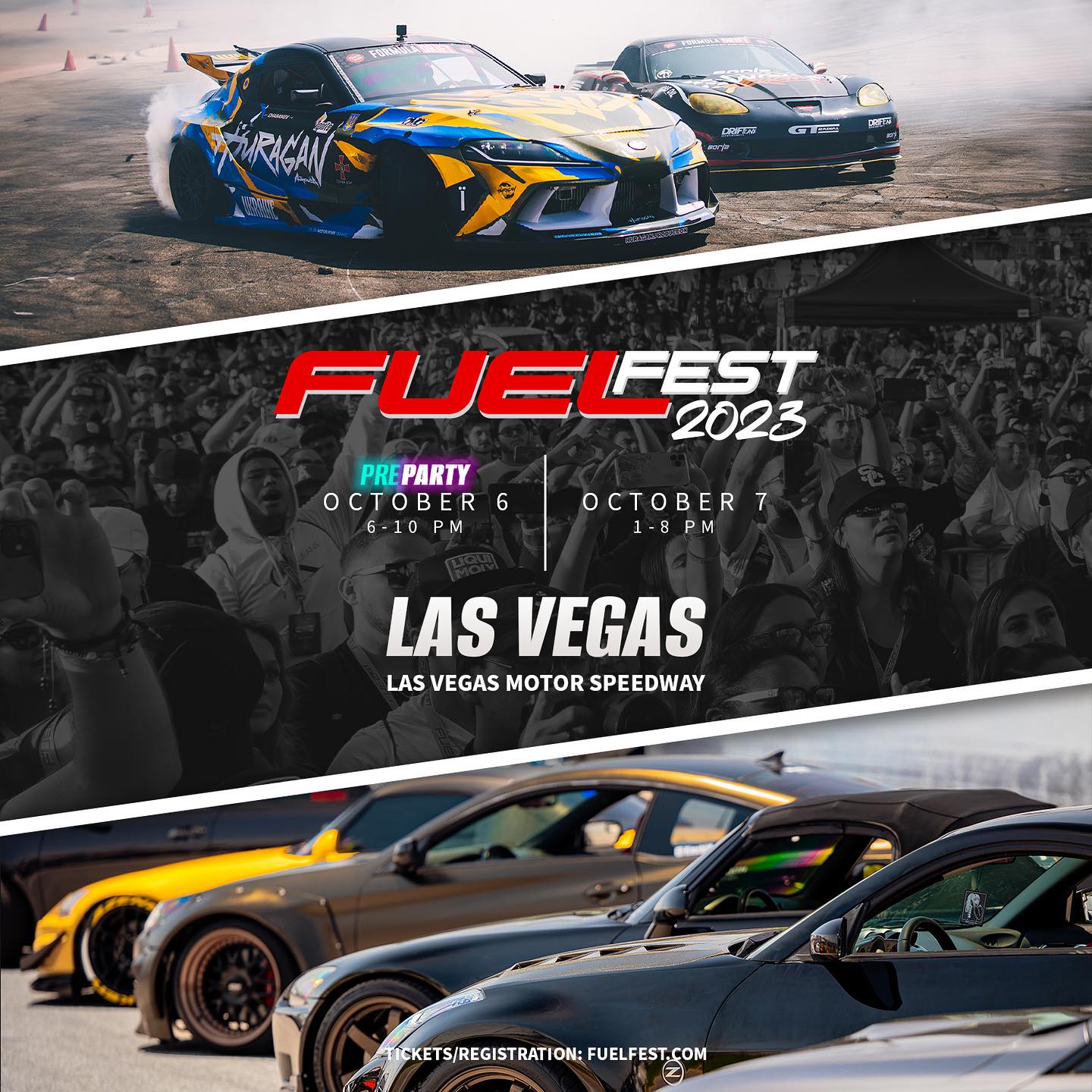 Following record-setting shows in Los Angeles, West Palm Beach and Dallas-Fort Worth and their 1st show in New Jersey, FuelFest is set to open gates for their 2nd year at Las Vegas Speedway on Friday, October 6th for their PRE-PARTY from 6-10pm and their main show on Saturday, October 7th from 1:00 – 8:00pm, located at 7000 Las Vegas Blvd., just 15 miles Northeast of the Las Vegas strip.
Now in its fifth year of hosting events globally from Los Angeles, South Florida, Dallas, New Jersey, Phoenix, Las Vegas, Abu Dhabi and Tokyo — FuelFest blends the enthusiast's passion for the automotive world with appearances by Fast and Furious franchise stars, Cody Walker and Tyrese Gibson, drifting and ride-alongs, celebrities, live music, culture and more. This year, the show will feature more than 600 top custom, exotic, rare and exclusive cars and trucks combined with drift exhibitions, off-road & monster truck demos, and brand-new interactive exhibits and experiences. Tickets start at $30-$45 per person/Kids 12 and under are FREE.
The action-packed event will feature exhilarating live-action in every corner of the show such as drifting, replicating famous Japanese drift courses, multiple live performances from hip hop artists and DJs on the Yokohama Festival Stage, special guests walking the show, and more. Drift drivers will showcase their precision driving skills throughout the show. For those looking to elevate the thrilling experience even more, FuelFest offers ride alongs in the drift cars and monster trucks, VIP access with premium benefits, early admission access for FuelClub members, limited edition merchandise and more.
On Friday night for the first time ever from 6-10, enjoy an amazing pre-party with over 300 Toyota Supras on display, drifting with ride alongs, merchandise for sale, vendor and sponsor booths, tasty cold beer and drinks, great craft food, and more. It's the perfect way to preview Saturday and end the work week with a fun night out full of fast cars and action.
Custom interactive displays from Premium Car Area sponsored by Meguiar's, vehicle wrap reveals from STEK, custom cars on display with Liqui-Moly, collector pins from Leen Customs, testing your strength with the U.S. Marines, legendary cars brought to you by Shelby American and many other exciting custom exhibits happening at FuelFest.
A portion of the event's proceeds benefit Reach Out WorldWide, the non-profit charity founded by Paul Walker and continued by his brother, Cody Walker. Founded in 2010, the organization was created by the late actor and producer after a massive earthquake devastated Haiti with the inspiration to organize a relief team that responded to the disaster. ROWW's mission is to fill the gap between the availability of skilled resources in post-disaster situations. As of 2023, ROWW has raised over $360,000 through its FuelFest events to benefit those in need and has deployed to several disaster areas including Tampa Bay following Hurricane Ian and Turkey following the devastating earthquakes. Additionally, Cody and Felicia Walker collaborated with The Weather Channel in 2022 on a new series "Fast: Home Rescue," to help rebuild homes across the United States that were impacted by natural disasters.
"We can't wait to show the city all the new elements we have added to make the show even better.," says Cody Walker, co-founder of FuelFest. Get your tickets now, I can't wait to see you on October 6 & 7 in Las Vegas"
FuelFest brings the passion of the automotive community to major cities across the globe, showcasing an eclectic collection of cars and music while creating an everlasting experience that leaves fans looking forward to the next event. The 2023 FuelFest World Tour will also make its way to Las Vegas, Scottsdale, and internationally to Tokyo and Abu Dhabi. Keep on the lookout for more surprise locations! For event information, car registration and tickets can be found now at www.FuelFest.com, as well as on social media channels, including Facebook, Instagram and TikTok!
About FuelFest
Co-founded by Cody Walker and Chris Lee, FuelFest is their vision of creating a world-class automotive celebration to incorporate the passion of entertainment and art launched in 2019. With each having many successful endeavors, the collaboration of their visions brought to life through FuelFest and beyond impacted enthusiasts of all ages, communities and the industry. FuelFest is committed to helping fulfill Paul's Legacy by contributing a portion of the proceeds from every show to Reach Out WorldWide – garnering the passion and generosity of the car community to help spread goodwill and make a true difference in lives that need it most. For further press information and opportunities visit www.FuelFest.com.
About Reach Out WorldWide
Reach Out WorldWide (ROWW) was founded in 2010 by the late actor/producer, Paul Walker. After a massive earthquake devastated Haiti, Paul spontaneously organized a relief team that responded to the disaster. On the trip, Paul saw a gap between the availability of skilled resources and the requirement for such personnel in post-disaster situations. Upon returning from Haiti, Paul established ROWW with the purpose of fulfilling this unmet need. Since Paul's passing, ROWW continues to be a platform for like-minded individuals to make a difference in other people's lives. It started as an idea and has transformed into a culture equally benefiting the volunteers as much as the people they are assisting. It's turning the "I generation" into a "goodwill generation." It's giving good people not just a voice but a chance to act.
Tyrese Gibson – Award-winning Recording Artist and Actor
Tyrese is one of the world's most beloved and bankable performers. A multi-Grammy nominated and Platinum-certified recording artist, Tyrese enjoys an equally successful and prolific acting career. Notably, he recurs in two of the highest-grossing film franchises of all-time – "Fast and the Furious" and "Transformers." Additional film credits include his break-out role in John Singleton's "Baby Boy" and "Four Brothers" opposite Mark Wahlberg. This year, Tyrese starred in "Fast X" and "Morbius" with Jared Leto.
Summary
Article Name
FuelFest Gears Up For their 2nd Annual Las Vegas show Las Vegas Speedway from October 6 & 7, 2023
Description
FuelFest Gears Up For their 2nd Annual Las Vegas show Las Vegas Speedway from October 6 & 7, 2023