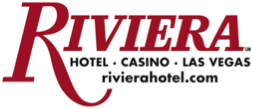 Riviera Hotel & Casino Announces Changes to Daily Bingo Session Schedule

Las Vegas Strip's only bingo room now offers four sessions daily

The Riviera Hotel & Casino, home to the only bingo room on the Las Vegas Strip, announces a change to its daily bingo schedule. The daily sessions are at 1 p.m., 3 p.m., 5 p.m. and 7 p.m. inside the Bingo Room, located adjacent to the back valet.

The state-of-the-art Bingo Room features handheld units, new fixed-base units and the classic paper games. Each bingo session features a Progressive Hotball and Progressive Double Action Game. Complimentary beverages are provided for all bingo players.


About The Riviera Hotel & Casino
Celebrating more than 55 years of non-stop entertainment, the Riviera Hotel & Casino is one of the iconic casino and hotel destinations in Las Vegas. With over 2,000 hotel rooms and 160,000 square feet of convention space, the Riviera brings a rich tradition of quality, service and hospitality excellence. Located on the north end of Las Vegas Boulevard, the Riviera features over 100,000 square feet of casino space with all of the latest games along with award winning entertainment and a variety of dining options. For more information, visit www.RivieraHotel.com <http://www.RivieraHotel.com> .